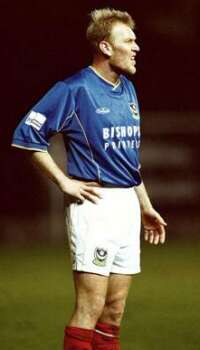 Robert Prosinecki
Before we complain too much though our hosts have also had the same amount of travelling over the holiday period having played at Preston on Saturday. I can think of no reason why, with games two days apart, some common sense cannot be applied to arranging the fixtures.
Portsmouth have been one of the fun clubs this season and have certainly provided many a laugh for supporters of other clubs as they have jumped from one apparent crisis seemingly into another. Make no mistake the problem is still there in chairman Milan Mandaric who has the most appropriate of initials.
Quite who has been doing what at Portsmouth has been difficult to ascertain. Until last week Graham Rix was the manager but I think even Rix found that difficult to believe at times. Things were pretty ridiculous before Rix was even appointed as first Tony Pulis and then Steve Claridge were quickly dismissed but it became pure farce when Harry Redknapp was appointed Director of Football above him.
Redknapp wasn't there to step on the shoes of Rix of course, he just got on with signing players that Rix might not want and then when they played badly slag them off publicly. Mandaric even got in on the act and signed Robert Prosinecki all by himself.
Now I am trying to imagine a similar scenario at Turf Moor with some out of work long standing Premiership manager coming in with a similar brief. Could you imagine how Stan would react when players he has no desire to sign start arriving courtesy of the new man with the odd favourite of Barry Kilby thrown in.
It gets better at Portsmouth though. They sold central defender Darren Moore to West Brom (not a decision that Rix made) and then said they needed a Moore type central defender of the type of Moore (not a Rix comment either).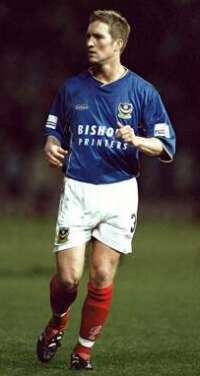 Jamie Vincent
The best one came though when Mandaric stopped the players' wages after some poor performances. After damaging team spirit he then had to back track and pay them. He still thinks he was right but having had to do a u-turn surely he can see he was completely wrong.
To be honest with all these crazy goings on it is difficult to believe that Rix didn't resign some time ago but last week he was finally sacked. Even then they reduced it to pure farce. Mandaric said fans were writing to him asking for Rix to go but he wanted to give him as much time and chance as possible. When Redknapp reluctantly (reluctantly – don't make me laugh) took the job he said Mandaric had been pushing him to do so since their cup hammering against Leyton Orient in January. So they don't tell the truth either.
Portsmouth was a club full of speculation last week with rumours of all sorts of coaches and players coming in so much so the club had to issue a statement saying that there would be no changes in playing or coaching before the summer. They promptly signed three players, Mark Summerbell from Middlesbrough and Scott Wilson from Rangers on loan and former Clarets target Eddie Howe who finally found himself a club where he wouldn't have to move house. Not only that they sold another Burnley target Peter Crouch to Villa in a £5 million move.
With this background it is incredible to believe that they have done as well as they have. They are currently 16th in the league and only one result away from being mathematical certainties not to go down. They have in fact no chance of going down unlike last year when a last day win ensured their safety.
When we kicked off against them at the Turf we were in our lowest position all season of ninth and they were just two places and four points below us. It was a less than inspiring game that the Clarets really deserved to win. We finally got in front through Graham Taylor before Crouch equalised when an intended shot got a deflection to him.
That 1-1 draw was followed but six consecutive wins by the Clarets but that is the total number of victories for Portsmouth in 24 games. Six others have been drawn but 12 lost.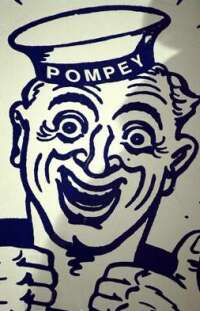 Milan Mandaric?
Five of those wins have come at home against Manchester City 2-1, Nottingham Forest 3-2, Stockport 2-0, Coventry 1-0 and Millwall 3-0 with the one away victory at Forest 1-0 to complete a double.
The defeats have been plentiful and in a spell during December and January the home win against Stockport brought the only points in a run of eight league games. There was even worse too with an embarrassing 4-1 home defeat to Leyton Orient in the FA Cup during that run.
The last win was against Millwall on 9th March and since then there have been two draws and two defeats the latest of which was at Preston this weekend. This was the first game under the new manager and after playing well in the first half they were finally beaten 2-0 and also lost Svetoslav Todorov, sent off for reacting to the attentions of Sean Gregan.
Portsmouth lined up: Dave Beasant, Lewis Buxton, Scott Wilson, Mark Summerbell, Eddie Howe (Shaun Cooper 51), Kevin Harper, Nigel Quashie, Jamie Vincent, Gary O'Neil, Garry Brady (Rowan Vine 66), Svetoslav Todorov. Subs not used: Christopher Tardif, Neil Barrett, Courtney Pitt.

Full list of Portsmouth's results this season
All the transfer activity since our last meeting has been done in the last couple of weeks and started with the arrival of Svetoslav Todorov from West Ham for £750,000. This was the signing that broke the camel's back with Rix knowing nothing about it.
They followed that up with Eddie Howe from Bournemouth and two loan signings in Mark Summerbell from Middlesbrough and Scott Wilson from Rangers. It takes their loan signings up to three with Leonardo Biagini having arrived from Mallorca in February.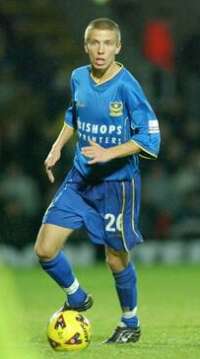 Gary O'Neil
They recently announced that sixteen players were being made available and three of them have already gone. Goalkeeper Andy Petterson has joined West Brom, Ceri Hughes has gone to Cardiff and Michael Panopoulos has had his contract cancelled. Peter Crouch can be added to that list after completing a £5 million move to Aston Villa just a couple of weeks after the Clarets tried to sign him for £2.5 million.
There haven't been too many players to have played for both clubs over the years but one will be returning to captain the Clarets against the club for whom he made his debut, Kevin Ball.
Bally made over 100 appearances for Pompey before moving north to Sunderland where I am told he became quite popular. He has now played over 80 games for the Clarets.
Ray Pointer, one of the greats from our Championship side of 1959/60, had a long spell at Portsmouth who were his last club. He scored 118 goals in 223 league appearances and after spells at Bury and Coventry went to Portsmouth where he 153 appearances scoring just four goals from midfield. He later returned to the Turf for a spell as youth team coach and earlier this season was afforded a wonderful reception from the Turf Moor crowd when he made the half time draw.
Goalkeeper Peter Mellor came out of non-league football with Witton Albion and went straight into the first team goal at Burnley. After a long spell at Fulham he went on to play for Portsmouth whilst Dave Thomas ended his career with them. Thomas started with the Clarets and moved on to QPR, Everton and England.
There have been some good days for us at Fratton Park. We brought the curtain down on the 1971/72 season with six successive wins and the last of those was a 2-1 win at Portsmouth with Martin Dobson scoring and a rare goal from Jim Thomson. Two away matches later at the beginning of September 1972 we won there again this time 2-0 with the goals coming from Dave Thomas and Paul Fletcher. This win took us to the top of the 2nd Division for the first time that season and we eventually went on to win it.
One visit to Fratton Park that was not looked forward to was in October 1981. We were third from bottom of Division Three with just four points from eight games. Only dreadful starts from Plymouth and Wimbledon were keeping us off the bottom. The four away games had already ended in defeat and nothing was expected from a trip to Portsmouth unbeaten at home. We came back with a 2-1 win courtesy of a first Burnley goal for Andy Wharton and a second from Kevin Young.
These were our last goals and last points at Fratton Park although there have been only two visits since.
League results in the last 20 years
| | | | | | |
| --- | --- | --- | --- | --- | --- |
| Season | Div | Ven | Result | Att | Scorers |
| 1994/95 | 1 | h | 1-2 | 10,666 | Eyres |
| | | a | 0-2 | 9,097 | |
| 2000/01 | 1 | h | 1-1 | 15,494 | Weller |
| | | a | 0-2 | 12,941 | |
| 2001/02 | 1 | h | 1-1 | 14,123 | Taylor |
Last Time in the League
Portsmouth 2 (Nightingale 56 Panopoulos 89pen) Burnley 0 - Nationwide League Division 1, Saturday 3rd March 2001
B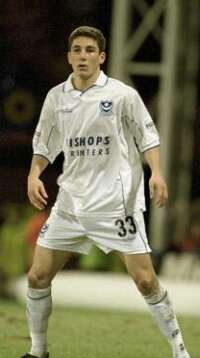 Lewis Buxton
It is difficult to say too much about this game other than the fact that it was pretty dire stuff from start to finish. The one thing we had going for us was the fact that Portsmouth were just awful and we dominated the first half without ever threatening Aaron Flahavan in the Portsmouth goal.
On a cold day at Fratton Park sat out in the open it needs some entertainment to keep you interested and this was anything but. Half time came and we were level at 0-0, surely we would find an opening from somewhere in the second half.
It was not to happen, in fact things got worse and it was the home side who took the lead early in the second half. You just knew that it was three more points lost, it was clear that there would be no comeback.
In the end it got even worse and a late second from a penalty that looked more than harsh at first glance. TV evidence later showed it to be a downright bad decision by Neale Barry. Another defeat it was then in a bad, bad run of form away from home. It was now just two points from nine games on the road since the win at QPR.
A look at the teams show that just five of those that started for the Clarets played against Wolves this weekend and only two Portsmouth players were in the side that lost at Preston.
Dave Beasant
The teams were,
Portsmouth: Aaron Flahavan, Jason Crowe, Darren Moore, Scott Hiley, Jamie Vincent, Luke Nightingale (Kevin Harper 87), Michael Panopoulos, Garry Brady, Lee Sharpe, Steve Lovell (Mladen Rudonja 90), Lee Mills. Subs not used: Christopher Tardif, David Thogersen, David Waterman.
Burnley: Nik Michopoulos, Paul Weller, Mitchell Thomas, Gordon Armstrong, Steve Davis, Graham Branch (Lee Briscoe 59), Glen Little, Kevin Ball (Ian Cox 72), Paul Cook (John Mullin 69), Ian Moore, Gareth Taylor. Subs not used: Paul Crichton, Brad Maylett.