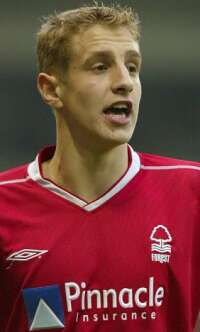 Michael Dawson
And we will make sure we give our visitors their correct name which is Nottingham Forest and not insult them by calling them Notts. Forest. It is an error that is known to infuriate the club and its fans.
They are having a good season and are currently in 3rd place and that is a lot higher than most people would have placed them back in August. They are in their fourth season out of the Premiership and have never threatened to return with an 11th place finish in 2000/01 season their best effort.
During those three years the club has gone from one crisis to another after what was their third relegation from the Premiership. Most of the crises were due to a lack of money, in fact just about all of them were, and there were doubts at times whether the club would be able to continue.
David Platt was manager but last summer he left to take over as coach of England Under 21s and the Forest board made an inspired move. They had built one of the most talked about academies and gambled by appointing the academy boss Paul Hart as manager.
Hart has introduced so many of those academy youngsters into the side that it has at times resembled a youth club. They did nothing better than alright last season and finished 14th although at no time were they in relegation danger.
They did a significant bit of business during last season too by selling one of the youngsters, Jermaine Jenus, to Newcastle for £5 million and that has taken the financial pressure off to the extent that Hart now says he is no longer in a position where he would have to accept an offer for one of his players.
Before the start of this season Hart made a couple of inspired decisions. He firstly persuaded former player Des Walker to come out of retirement after a year out of the game and then made the decision to play David Johnson on a regular basis.
Walker has repaid him by playing alongside and helping young central defender Michael Dawson whilst Johnson has shown him what we at Burnley knew, an ability to hit the net on a regular basis. He is the division's leading scorer by some distance.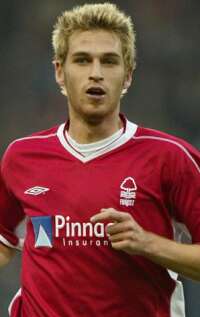 Gareth Williams
And so they have now climbed above Norwich and reached 3
rd
place, just Leicester and then Portsmouth above them although they are already 12 points behind Pompey.
They have been beaten just once at home this season and that was a 1-0 defeat against Watford whilst away from home they have won 3 and lost 3. There is certainly a major difference though between their home games and away games. In 11 home games a total of 39 goals have been scored, 28 by Forest and 11 against them whilst away from home their have been just 19 goals in 10 games with 10 scored and 9 conceded.
Johnno has 18 of their 38 league goals and his co-strikers Marlon Harewood and Jack Lester have chipped in with 6 each.
Last week they beat Ipswich at home 2-1 with Johnson scoring both goals against his former club. A late own goal reduced the deficit for Ipswich but in fact the scoreline flattered the Tractor Boys in a game that was dominated by Forest throughout.
They lined up: Darren Ward, Matthieu Louis-Jean, Michael Dawson, Des Walker, Jim Brennan, Riccardo Scimeca, David Prutton, Gareth Williams, Jack Lester, David Johnson, Marlon Harewood. Subs not used: Barry Roche, Eoin Jess, Craig Westcarr, Jon-Olav Hjelde, Andrew Reid.
That side included 21 year-old David Prutton, Gareth Williams (20) and new England recruit Michael Dawson (19) with them joined on the bench by Barry Roche and Andrew Reid (both 20) and 17 year-old Craig Westcarr who made his debut against the Clarets at the City Ground last season.
If the game follows the pattern of most Forest away games there won't be many goals but it is a game where the two teams will be playing the game by getting it down and passing it.
Click HERE to see Forest's results this season.
He played for both
There haven't been many to have played for both clubs but already this season we have featured three of them when playing against other clubs. Firstly there was Ian Wright for the Palace game, then Brian Laws and Huddersfield and finally David Wilson in the Walsall preview.
On this occasion we have chosen a player who played in a total of 321 games for the two clubs during the 1950s and 60s and that is Billy Gray.
Right winger Gray was one of many players from the north east of the country to grace Turf Moor during that period but he didn't follow the usual route. In fact after playing for both Wolves and Gateshead (then a league club) as an amateur he moved to London and played for Leyton Orient and then Chelsea.
It was from Chelsea that the Clarets signed him at the start of the 1953/54 season to replace Billy Elliott who had moved to Sunderland. It was a move that was decidedly unpopular with the Chelsea fans, Gray was the crowd favourite at Stamford Bridge.
The right winger went straight into the team and immediately gave manager Frank Hill a pleasant surprise. In over 150 league games in London he had scored just 13 goals. He failed to score in his first three Burnley games but then hit six in the next four games including two in a 4-1 home win against Sheffield Wednesday and a hat-trick as we beat Spurs 4-2 at home.
He was an ever present in his first season and scored a total of 19 goals in he league with a cup goal in the 5-3 win against Manchester United to add to that. He was a regular at Burnley for almost three seasons but then lost his place to Dougie Newlands. In his fourth season he played just seven times and in the summer of 1957 moved on to Forest.
There were to be six years at the City Ground and that included a winners medal in the 1959 FA Cup Final in which Forest beat Luton 2-1. He was just as popular with the Nottingham fans as he had been at Chelsea and Burnley and played for them well past his 36th birthday before moving back to London to become player/manager of Millwall where he won one promotion and looked set for another before moving on.
Over the next six years he also managed Brentford (where he replaced Tommy Cavanagh), Notts County and a coaching role at Fulham before he returned to Forest as groundsman where he remained for many years.
League results in the last 20 years
| | | | | | |
| --- | --- | --- | --- | --- | --- |
| Season | Div | Ven | Result | Att | Scorers |
| a | | | | | |
| 2000/01 | 1 | h | 1-0 | 17,876 | Payton(pen) |
| | | a | 0-5 | 17,195 | |
| 2001/02 | 1 | h | 1-1 | 15,085 | Gnohere |
| | | a | 0-1 | 24,016 | |
Click HERE to see all our league results against Forest that date back to two draws in 1892.
Last Time in the League
Burnley 1 (Gnohere 88) Nottingham Forest 1 (Harewood 68pen) – Nationwide League Division 1, Saturday 16th February 2002
It was a day of mixed emotions even before kick off. The special guest in the Centre Spot was Jack Hixon who left everyone unable to believe he was anywhere near his age of 81. He spoke passionately about Burnley Football Club and of those players who had arrived at the club because of him.
Before kick off though Turf Moor stood as one in silent tribute to a great servant George Bray who had died three days earlier. George had served the club as player, coach and kit manager for many years before retirement.
We started the game well enough and the first half was virtually one way traffic. Forest defended well but that's all they had come for and they were always eager to get men behind the ball. They showed no interest in getting forward at all until the last five minutes of the half and then could have scored three before half time.
Having said that we really should have been in the lead but had to settle for 0-0. Having started the game with a 4-5-1 formation we made a series of changes in the second half that saw the formation switch one way and the other as Robbie Blake came on and went off again and Stretch Armstrong and Ian Moore were introduced.
It was a poor second half performance and Forest eventually went in front in probably the only way they would have done – from a penalty.
The Clarets showed no sign of being able to come back but then with just two minutes left Arthur got up unchallenged from a free kick to head home.
Cue one of the wildest celebrations ever seen on the Turf. Arthur simply didn't know what to do and after what looked like a lengthy war dance he stormed over to the bench to kiss Stan. Nobody is sure what Stan had to say but suffice to say it has not happened since.
It was a game we should have won in the first half but in the end a game that we could so easily have lost. It wasn't a good result though as the top two both won again and this was now nine games without a win since the three points picked up against the Unprofessionals back in December.
The teams were,
Burnley: Marlon Beresford, Dean West, Ian Cox (Ian Moore 73), Arthur Gnohere, Lee Briscoe, Glen Little, Paul Weller, Kevin Ball, Tony Grant (Robbie Blake 45, Gordon Armstrong 65), Alan Moore, Gareth Taylor. Subs not used: Paul Cook, Brad Maylett.
Nottingham Forest: Darren Ward, John Thompson, Jim Brennan, Jon-Olav Hjelde, Matthieu Louis-Jean, Gareth Williams, David Prutton, Andrew Reid, Jack Lester, Marlon Harewood, Nicky Summerbee. Subs not used: Gary Jones, Barry Roche, Brian Cash, Eugen Bopp, Kevin Dawson.
Referee: Graham Frankland (Middlesbrough).