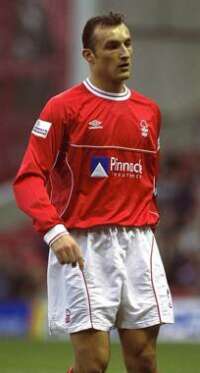 Riccardo Scimeca
League games between the two were off the fixture list for over twenty years until last season. As Burnley had plummeted to the basement of the Football League we were some distance behind Forest who had spent most of that time in the top division.
In the late seventies and early eighties they were as good as any side in the country as Leagues and European Cups were won and only seven seasons ago ended the season in 3rd place in the Premiership, a finish that would now be rewarded with a place in the Champions League.
For much of that time they were under the management of Brian Clough who was in charge from 1975 to 1993. Since then though there have been six other managers including current boss Paul Hart who took over in the summer as a replacement for David Platt.
The finances of football clubs have been very much in the news recently and particularly the situation at clubs who lose their place in the Premiership. Nottingham Forest are one of those clubs and are in a dreadful state. Players continually have to be sold and until this week they have not been allowed into the transfer market themselves because of money still owing to Ipswich Town from the signing of David Johnson last season.
They have been relegated from the Premiership three times, the last of which was in 1999/2000 and with the Clarets winning promotion we were finally back together in the same division. Last season they finished just below half way in 14th place but it was just a poor finish that cost them a place in the top ten where they had been all season.
The financial situation was causing them major problems and Paul Hart knew when he took over there wouldn't be money available to strengthen the squad and so promoted a number of the youth team players.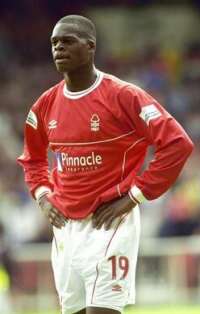 Marlon Harewood
When we left the City Ground back in October with a 1-0 defeat we were 2
nd
and Forest were 11
th
although they were just four points behind us with a game in hand. Now they are down in 14
th
position with 43 points.
Since that game they have on just five league games and have lost seven with the other ten being drawn. Their thirteen draws in total this season is the highest in the division equal with Barnsley and Sheffield United.
Of the five wins since beating us two have been at home and three away. The home wins have been against Norwich 2-0 and Coventry 2-1 whilst they have picked up maximum points in away games at Watford 2-1, Crewe 3-0 and Stockport 3-1.
Points have been won at home against Birmingham, Watford and Barnsley 0-0, Manchester City and Preston 1-1 and Gillingham 2-2 and they have also picked up draws at Millwall 3-3, Crystal Palace and Birmingham 1-1 and Sheffield United 0-0.
Three of the seven defeats have been at home against Sheffield Wednesday and Portsmouth 1-0 and Millwall 2-1 and the four away defeats have come against West Brom, amazingly with a 1-0 score line, Walsall 2-0, Portsmouth 3-2 and their most recent away defeat was in mid December at Wimbledon 1-0.
Their most recent game was last Saturday and the 2-1 home defeat against Millwall, a game many Clarets fans listened to on radio on the way to Barnsley. A Marlon Harewood penalty four minutes from the end was nothing more than a consolation after Millwall had taken a two goal lead in the first half.
The Forest team for that game was: Darren Ward, John Thompson, Jim Brennan, Jon-Olav Hjelde, Riccardo Scimeca, Gareth Williams, David Prutton, Nicky Summerbee (Brian Cash 66), Gary Jones (Jack Lester 66), Marlon Harewood, Andrew Reid. Subs not used: Barry Roche, Andy Gray, Kevin Dawson.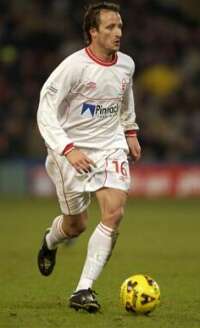 Nicky Summerbee
Goals are almost as scarce in Nottingham Forest games as they are in West Brom games. Only West Brom and Wolves have conceded less this season but only Grimsby, Stockport and Crewe have scored less. In 33 games they have scored 36 goals and conceded just 31.
Stern John leads the way with 13 goals and then Marlon Harewood and Jermaine Jenus have four each although two of those players will certainly not be taking part this weekend having now left the club.
There has been transfer activity since our meeting in mid October but most of it has been to help balance the books. There have been just two incoming transfers, Irish defender Damien Lynch from Leeds and Nicky Summerbee from Manchester City both on free transfer.
However there have been a number of departures. Chris Bart-Williams, who scored the only goal of the game at Forest, has joined Charlton Athletic on a free after an initial loan period. Bart-Williams was out of contract in the summer and would have been able to leave on a Bosman. Christian Edwards, earlier in the season linked with the Clarets, had a loan spell with Palace. He returned in January but has not featured in the first team.
Alan Rogers was sold to Leicester in November for £300,000 and if that wasn't enough then the Forest fans were rocked at the beginning of this month. Firstly Jermaine Jenus was sold to Newcastle for £5 million and four days later leading scorer Stern John was off to Birmingham for £2.3 million.
Not only that David Johnson, remember it was the money they needed to pay for him that brought about their ban in the transfer market, has joined struggling Sheffield Wednesday on loan. This means that the scorers of 23 of Forest's 36 league goals are now playing their football elsewhere.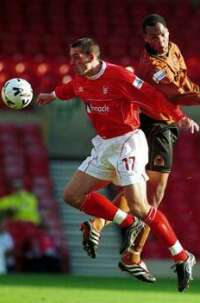 Gary Jones
The two £1 million players in the current Clarets squad could be lining up against a former club on Saturday. Ian Moore played scored one goal in fifteen league games for them although he only started in three of those appearances. He cost them £1 million from Tranmere in 1997. Robbie Blake had a loan spell there last season and played in their 5-0 win against us. He also scored just the one goal for them in nine starts and two sub appearances.
In the 1990s we twice took players from Forest on loan. In December 1994 we took left back Craig Armstrong on loan after both Chris Vinnicombe and Wayne Dowell picked up serious injuries but he failed to impress in four games. Armstrong is now with Huddersfield but looks set to join Sheffield Wednesday in a £100,000 deal.
On transfer deadline day in 1997 Adrian Heath brought in striker Steve Guinan. He never made a start in the first team but did make six appearances as a sub. Only Kevin Henderson with 14 and Tony Ellis with 11 have made more league appearances for the Clarets than Guinan without starting a game.
Looking back at past Turf Moor games against Nottingham Forest there is really only one place to start and it takes us back to 21st November 1959 and a magnificent 8-0 victory with Jimmy Robson scoring five of the goals. Ray Pointer got two and Brian Pilkington completed the scoring.
The following season we grabbed another four in a 4-1 win with Brian Miller, John Connelly, Jimmy McIlroy and Ray Pointer scoring the goals and then four seasons later it was 4-1 again with Willie Irvine getting a hat-trick alongside an Andy Lochhead goal.
It was Steve Kindon's day in 1969/70 as we beat them 5-0. Steve got a hat-trick with the other two coming from Arthur Bellamy and a Bob Chapman own goal. This was the end of Harry Potts' first spell as manager, Jimmy Adamson replaced him after this win, our fourth in five games.
League results in the last 20 years
| | | | | | |
| --- | --- | --- | --- | --- | --- |
| Season | Div | Ven | Result | Att | Scorers |
| 2000/01 | 1 | h | 1-0 | 17,876 | Payton(pen) |
| | | a | 0-5 | 17,195 | |
| 2001/02 | 1 | a | 0-1 | 24,016 | |
Last Time in the League
Burnley 1 (Payton pen 79) Nottingham Forest 0 – Nationwide League Division 1, Saturday 2nd December 2000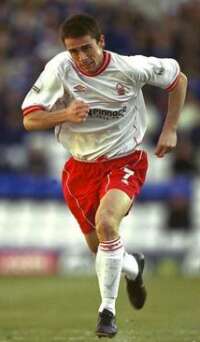 David Prutton
Ian Moore made his first Burnley start in this game but the news around Turf Moor before the game centred around another striker, Andy Cooke, who had been sold to Stoke just the day before for £300,000.
They came out to a standing ovation before the game, not the players but manager Stan Ternent and his assistant Sam Ellis. It had just been announced that both of them had signed new contracts which would keep them at Turf Moor until the end of the 2002/03 season and the crowd certainly let them know how delighted they were with that news.
The Forest fans were upset before the game because the man on the public address system kept referring to them as NOTTS FOREST and as I said in my report of this game last season,
"Anyone who has ever had more than a passing interest in English League Football are fully aware that our visitors today were Nottingham (or Nottm.) Forest and definitely not Notts. Forest."
Sadly with the board outside Turf Moor right now we have made exactly the same mistake and I can assure you the club have been made aware of it for over a week. Still if we don't mind upsetting the opposition.
We went into the game on the back of five consecutive home wins and so it is fair to say we were in a good run of form at home. Forest though played better than any of the previous five teams but so did Burnley. This was undoubtedly our best home performance of the season so far and with Forest playing well this was a cracking game.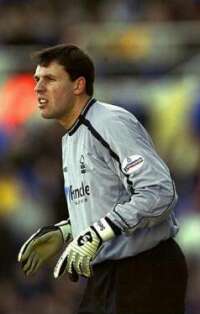 Darren Ward
The first half had just about everything apart from goals and was the best football seen at Turf Moor for many a year. As well as Forest were playing though the Clarets were very much the better side. The second half, not surprisingly, didn't quite match the quality of the first 45 minutes but it was still good stuff and the Clarets were still on top.
It took 79 minutes though for the winner to come and when it did it was from the penalty spot. It was a fair enough spot kick and was about the only thing referee Jones had given us all afternoon. Then when a penalty was awarded we knew exactly who was going to take it.
This season we have had four penalty takers but then it was the responsibility of Andy, Andy Payton and he made no mistake. The goal won us the three points and took us to 38 points from 20 games in our first season back and that saw us in fifth place in the league and the top team in Lancashire, and you can even throw Bolton in.
The teams were,
Burnley: Nik Michopolous, Mitchell Thomas, Steve Davis, Ian Cox, Paul Weller, Micky Mellon, Kevin Ball, Paul Cook (Lenny Johnrose 56), Graham Branch, Andy Payton (John Mullin 80), Ian Moore (Ronnie Jepson 90). Subs not used: Paul Crichton, Brad Maylett.
Nottingham Forest: Dave Beasant, Christian Edwards, Chris Bart-Williams, Tony Vaughan, Mathieu Louis-Jean (Richard Cooper 50), Riccardo Scimeca, David Prutton, Gareth Williams (Stern John 82), Keith Foy (Jim Brennan 83), Andrew Reid, Marlon Harewood. Subs not used: Barry Roche, Colin Calderwood.