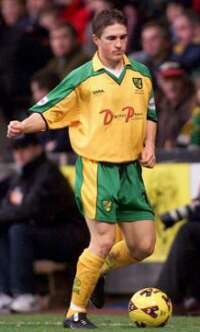 Paul McVeigh
We did play them during the 1930s but apart from that we were always in a higher league until the early seventies. When we were relegated in 1976 we left them behind and until last season we were always at least one division below them as they had their best ever period.
It is perhaps difficult to believe now that Norwich were not only original members of the Premiership but finished 3rd in its inaugural season with just Manchester United and Aston Villa higher placed. I think we can all remember though them playing in Europe with that hideous looking kit of yellow with green bits all over the shirt.
Those were the days of Mike Walker as manager but it has all changed now. They survived just two more seasons in the Premiership. The 1993/94 season saw them finish just below half way but the following season they went down in 20th place. By this time Mike Walker was gone to be replaced by John Deehan but there have been a succession of managers since. After Deehan came Martin O'Neill and since then Gary Megson, Walker for a second disastrous spell, Bruce Rioch, Bryan Hamilton and now Nigel Worthington.
They have never threatened a return to the Premiership, in fact never threatened to win a play off place before this season and their highest finish has been 9th in the 1998/99 season during Rioch's spell in charge. They certainly weren't expected to challenge anywhere near the top of the league this season but in fact hadn't been out of the top six until the last week in January and their current position of 9th is the lowest they have been all season.
Unlike the Clarets it is the home form that is keeping them at the top of the league and the away form that is letting them down. Only Manchester City have more home points this season (Burnley's position on home form would be 13th) but they would be in 18th place if the league was based on away form (Burnley would be 2nd behind Wolves).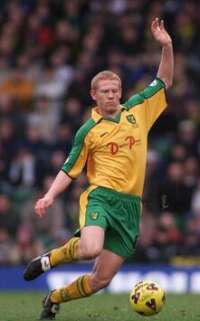 Gary Holt
Somehow it is not too surprising they struggle away from home, they are so far away from anyone else. The journey to Norwich seems so long I am still convinced that you leave the country and come back in again. I was talking to some Norwich fans before the game at Carrow Road and they told me that the nearest away game for them this season was Millwall some 120 miles each way. Thankfully we don't have to do that sort of travelling.
When we reached Carrow Road in September the 2-1 defeat was their fifth home win out of five and at the time they had played just three away with a win, a draw and a defeat. The pattern has just about been continued.
There have been twelve more home games played since our visit and they have won seven of them, drawn four and lost just the one. The wins have been against West Brom, Wolves and Coventry 2-0, Barnsley, Wimbledon and Sheffield United 2-1 and in their last home game a 3-0 win against Preston featuring a classic piece of goalkeeping from Preston's Tepi Moilanen. Portsmouth and Millwall 0-0, Walsall 1-1 and Crewe 2-2 have all picked up points in draws but Bradford City are the only side to go there and win and they did with a 4-1 victory back in November. Gordon Armstrong scored for the Clarets there but another Claret, Robbie Blake, was on the score sheet that day. He scored twice. All the top six have played there and only Millwall have picked up a point.
Away from home though they have not faired quite so well and there current record is won five, drawn one and lost twelve. That's four wins and eleven defeats since we last played them. The wins have been at Gillingham and Grimsby 2-0, Portsmouth 2-1 and Sheffield Wednesday 5-0, the biggest victory by anyone on the division this season.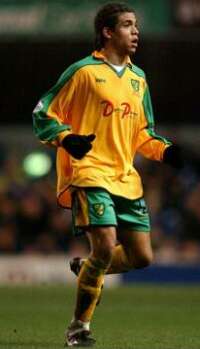 Darel Russell
There have been too many defeats though and some heavy ones by 4-0 at Preston and Birmingham. The other defeats have been at Sheffield United and Watford 2-1, Walsall and Nottingham Forest 2-0, Crystal Palace 3-2, Manchester City 3-1, Crewe and West Brom 1-0. To add to that Norwich are the only side to lose in the land of the Unprofessionals this season, they were beaten 2-1 at Edgeley Park.
The FA Cup paired them with Chelsea in the 3rd Round at Carrow Road and they were able to win a replay with a 0-0 draw. However Chelsea hit form at Stamford Bridge and they went out 4-0 in a game that was memorable for a wonder goal scored by Gianfranco Zola.
Tuesday night saw them go down 2-1 at Watford having trailed 2-0 at half time. Norwich were apparently less than impressive on the night and Watford fully deserved the points. They also lost keeper Robert Green with an injury just after half time with a familiar figure to Burnley fans coming on as sub and getting himself ready for a Turf Moor return.
The Norwich team was: Robert Green (Paul Crichton 49), Steen Nedergaard, Craig Fleming, Darren Kenton, Daryl Sutch, Alex Notman (Trevor Benjamin), Darel Russell, Gary Holt, Paul McVeigh (Clint Easton), Iwan Roberts, David Nielsen. Subs not used: Brian McGovern, Marc Libbra.
They have scored a total of 49 league goals this season and I'm sure it comes as no surprise that Iwan Roberts is the leading scorer with 13 goals. He has been out injured for almost two months and came back last week scoring in both games. David Nielsen and Paul McVeigh both have six. One of David Nielsen's goals came whilst he was on loan from Wimbledon and was scored against Wimbledon.
Nielsen's loan move was made permanent at the beginning of the year and he is the only new signing since our defeat at Norwich although currently they do have two other players on loan. They are Andy Roberts from Wimbledon and Leicester's Trevor Benjamin. During the same period a couple of players have left but none of Worthington's first team squad.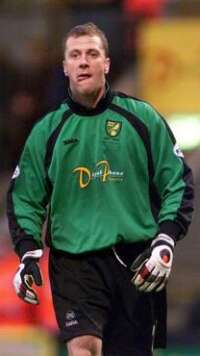 Paul Crichton
One player now expected to play for his former club is Paul Crichton who is set to deputise for the injured Robert Green. His last game for the Clarets was against a former club, he came on as a sub at West Brom to the chants of dodgy keeper. I think he will get a far better reception at the Turf on Saturday should he play. Norwich have been looking for a loan keeper and if successful that could keep him out.
The 1980s was a period that saw a number of players wear the colours of both clubs. Brian Miller signed Willie Donachie in 1982 and he had spent some time at Carrow Road before moving off to the States prior to becoming a Claret.
When former Norwich boss John Bond took over at Burnley he brought in Kevin Reeves, Roger Hansbury and Alan Taylor who had all had spells with Norwich prior to playing for Burnley.
After the Bond and Benson had gone two of our squad soon left and both signed for Norwich. The first of these was Micky Phelan for £75,000 and then Wayne Biggins for £30,000. They both had good spells at Carrow Road before being sold to Manchester United and Manchester City for £750,000 and £300,000 respectively.
There haven't been many Turf Moor games against them but needless to say one of them will always live in the memory for the 15,513 who watched it. It was the First Division game in the 1975/76 season that ended in a 4-4 draw with Peter Noble getting all Burnley's four goals.
The first post war Turf Moor meeting was in 1971/72 as Norwich were winning the Second Division and going into the First Division for the first time in their history under the management of Ron Saunders. A Frank Casper penalty was enough to secure a 1-0 victory against them in a game where they turned somewhat nasty.
League results in the last 20 years

| | | | | | |
| --- | --- | --- | --- | --- | --- |
| Season | Div | Ven | Result | Att | Scorers |
| 2000/01 | 1 | h | 2-0 | 15,017 | Payton Davis |
| | | a | 3-2 | 17,507 | Ball Taylor Moore |
| 2001/02 | 1 | a | 1-2 | 19,849 | Armstrong |
Last Time in the League
Burnley 2 (Payton 56 Davis 66) Norwich City 0 - Nationwide League Division 1, Tuesday 21
st
November 2000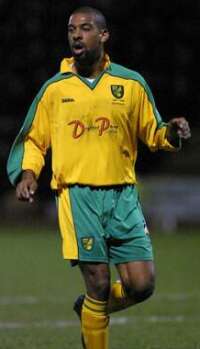 David Nielsen
The Clarets went into this game in the middle of a tremendous run at home but in the first half we did anything but impress. Despite dominating the game and Norwich producing very little we looked to have no real ideas going forward.
New £1 million signing Ian Moore was on the bench against the club that had almost signed him just a few days before but he was to get his call earlier than expected. Apart from failing to impress we were also dealt a couple of heavy blows with two players picking up injuries that were to keep them out for some time.
With a quarter of the game gone Glen Little picked up a hamstring injury and he was immediately replaced by Paul Weller. Not long after that Lee Briscoe was stretchered off with a gashed knee and he was to be out of the first team picture for even longer. Ian Moore got his debut at this point replacing the injured Briscoe.
We even managed to miss a penalty, the usually reliable Andy Payton seeing his spot kick saved by Andy Marshall.
Half time came with the score 0-0 and two subs already used and confidence over the half time pint was not high. We needn't have feared because the second half was totally different. We played ever so well and within a minute of the restart had hit the post through Andy Payton.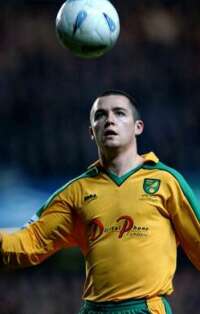 Alex Notman
He wasn't to be denied though and with 56 minutes gone scored with a header from a right wing Weller cross after a great Clarets build up. Ten minutes later and it was all over as Steve Davis headed a second and Norwich never threatened to get back into the game.
Everyone played well in the second half but the two outstanding players on the night were Kevin Ball and Graham Branch. The game had started with Branchy up front but when Brisser went off he went to left wing-back and was outstanding but that was alongside three central defenders.
Ian Moore impressed although he should have scored when one on one with the goalkeeper but he did enough to suggest we had spent wisely.
The teams were,
Burnley: Nik Michopoulos, Mitchell Thomas, Steve Davis, Ian Cox, Glen Little (Paul Weller 23), Micky Mellon, Kevin Ball, Paul Cook (John Mullin 79), Lee Briscoe (Ian Moore 35), Graham Branch, Andy Payton. Subs not used: Paul Crichton, Ronnie Jepson.
Norwich City: Andy Marshall, Daryl Sutch, Lee Marshall (Darel Russell 59), Craig Fleming, Iwan Roberts, Phil Mulryne, Chris Llewellyn (Raymond De Waard 74), Malkay Mackay, Scott Parker, Danny Granville, Adrian Forbes (Adrian Coote 87). Subs not used: Matt Jackson, Robert Green.