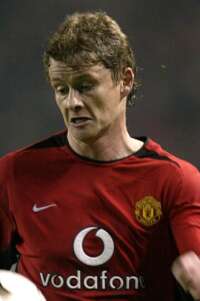 Ole Gunnar Solskjaer
As we play in the last sixteen of one of the two major cup competitions for the first time in 20 years it is a tie that has excited certainly the younger supporters of Burnley if not the older ones who have seen this particular fixture before.
It will be the fifth time the sides have met in this competition with the previous four all having seen Manchester United win through, even the one when we took to the field a division above them in the Football League.
The League Cup is a competition they haven't done too well in over recent seasons and its not long since York beat them at Old Trafford with Paul Barnes starring on the night. They don't enter now until the 3rd round and last season they went out at the first time of asking with a 4-0 defeat against Arsenal at Highbury. Neither team was recognisable with Phil Neville and Dwight Yorke the big names in their side.
They have won the competition just once in 1991/92 beating Nottingham Forest 1-0 in the final and have been losing finalists twice. Their solitary win puts them alongside clubs such as Luton, Oxford and Swindon.
One of the biggest question marks has surrounded the team they might put out and latest indications are that it will be a strong line up with a number of first team regulars in. They beat Leicester in the last round and lined up: Roy Carroll, Gary Neville, David May, Rio Ferdinand, John O'Shea, Diego Forlan, David Beckham, Phil Neville (Paul Scholes 59), Quinton Fortune (Juan Sebastian Veron 65), Daniel Nardiello (Kieran Richardson 74), Ole Gunnar Solskjaer. Subs not used: Fabien Barthez, Danny Pugh.
Alex Ferguson has pledged to field a strong side in home ties but there has been no such pledge for games when they are drawn away so it remains to be seen although those early indications could suggest a stronger line up than expected.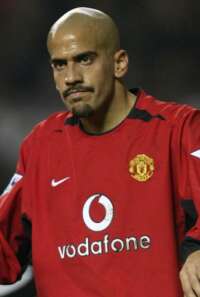 Juan Sebastian Veron
They arrive at Turf Moor sandwiched between fixtures that are probably as difficult as they will face all season. They have just won two difficult away games at Basel in the Champions League and Liverpool in the Premiership and have to prepare for home games against Arsenal and Deportivo within the next week.
When you see the fixtures they face it brings it home loud and clear just how big a club we have been drawn against and one that has certainly attracted interest around Turf Moor to the extent that the Sold Out signs have gone up.
It was Spurs in the last round, a fixture with so much cup tradition and history, but the interest was minimal compared with this one. So much so that the league game in the last two or three weeks have hardly got a mention from some.
But whoever plays for them tomorrow it is a chance for us to go out and play against one of the biggest clubs in the world, another chance to show what we can do in front of the live television cameras.
Hopefully though we will be able to produce a match winning performance and find ourselves in the hat again on Saturday afternoon for the fifth round.
ClickHERE to take a look at Manchester United's results this season.
He played for both
There is no doubt at all which player should be chosen for this section. It just has to be John Connelly the winger who won Football League Championship medals with both clubs.
'Nelly' was spotted by Burnley accidentally. We had gone to watch someone playing for St. Helens Town at Barnoldswick but took it no further, in fact the particular player went on to become and Unprofessional at Edgeley Park.
But playing inside-left in the same game for the St. Helens club was Connelly and he was invited for a trial, eventually becoming a full time pro at Turf Moor in 1956. By the 1958/59 season he had seen off both Doug Newlands and Billy Gray and was the regular right winger in the team and he was to keep that position for a number of years.
He wasn't just a winger though, he was also a goal scorer. He had a wonderful ability to cut inside his full back to get shots in with his left foot and during the Championship season of 1959/60 scored a total of 20 league goals.
England honours came his way and during his time at Burnley he won ten full caps for his country. Only Bob Kelly has won more England caps whilst at Burnley. Following his move to Old Trafford he added ten more.
He was one of the forgotten men of England's World Cup winning squad of 1966, a member of the squad of 22 but not in the eleven on the big day. He played in the opening game of the competition that season.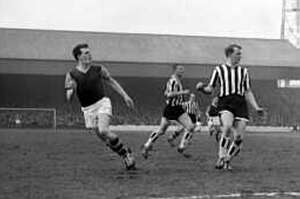 In action against Newcastle during the Championship season
By then he was already a Manchester United player having left Burnley a year earlier. He had scored 86 goals in 215 league games for the Clarets and continued to score goals for Manchester United with 22 in 80 games.
Manchester United made him available after two years and he received three offers, one from the First Division and two from the Second. Burnley tried to re-sign him and Blackpool and Blackburn both made him offers. He chose Blackburn and had four years at Ewood followed by three years with Bury before retiring in 1973. In total he played in 572 Football League games and scored 151 goals.
His greatest moment was spent in hospital. It was the night he won his first Championship medal. Having had a cartilage operation he listened as his understudy Trevor Meredith ensured that the medal came his way.
For years now he has run a fish and chip shop in Brierfield known as 'Connelly's Plaice' where besides fish and chips you can always have a chat about football and the Clarets in particular.
Last time in the Cup
Milk Cup 2nd round
Manchester United 4 (Robson Hughes 3) Burnley 0 – 26th September 1984
Burnley 0 Manchester United 3 (Brazil 2 Olsen) – 9th October 1984
There's not a lot can be said, we can hardly blame a couple of bad refereeing decisions for going out of the cup. This was John Benson's relegation bound team although we had beaten Crewe in the first round to win through.
The game hardly attracted massive attendances either with 28,383 watching the first leg at Old Trafford and just 12,684 at the Turf for the second leg.
In an effort to maximise revenue the Clarets' board decided to offer Manchester United extended accommodation and besides the usual seats in the Cricket Field Stand and the away fans area on the Longside they allocated the entire Bee Hole End to Manchester United fans. On the night the away fans sections were deserted with the result already decided.
It was probably decided before I even got into Old Trafford. A supporters' coach failed to turn up at Turf Moor when the driver suddenly had a panic attack at the thought of carrying 50 football fans. I hastily got my car, took four other stranded coach passengers and missed the first goal from Bryan Robson in the very first minute.
I did though get there in time to see us fall to a big defeat courtesy of a Mark Hughes hat trick. The support for the players was fantastic but this was a million miles from the semi-final two years earlier against Liverpool and the realisation that we couldn't compete against a First Division club was hit home.
It was perhaps no surprise that not so many bothered to turn up for the second leg, it was all over and although there was to be a fantastic 9-0 win against Penrith to come disaster was just around the corner for Burnley.
So whatever happens tomorrow, take a look back to what's happened to us since we last met 18 years ago and just be thankful for where we are today. Just being in the 4th round is something that we can enjoy, so long is it since we were last there.
The teams for this tie were,
First Leg
Manchester United: Gary Bailey, Mike Duxbury, Arthur Albiston, Remi Moses, Billy Garton, Graeme Hogg, Bryan Robson, Arnold Muhren, Mark Hughes, Norman Whiteside (Alan Brazil), Arthur Graham.
Burnley: Roger Hansbury, Derek Scott, Peter Hampton, Micky Phelan, Vince Overson, Kevin Hird, Neil Grewcock, Barry Powell, Alan Taylor (Brian Flynn), Wayne Biggins, Tommy Hutchison.
Referee: Mike Peck (Kendall).
Second Leg
Burnley: Roger Hansbury, David Miller, Peter Hampton, Micky Phelan, Vince Overson, Kevin Hird, Neil Grewcock, Brian Flynn, Neil Whatmore, Wayne Biggins, Tommy Hutchison.
Manchester United: Gary Bailey, Mike Duxbury, Arthur Albiston, Remi Moses, Kevin Moran, Graeme Hogg, Gordon Strachan, Clayton Blackmore, Frank Stapleton, Alan Brazil, Jesper Olsen.
Referee: Ken Walsmsley (Blackpool).