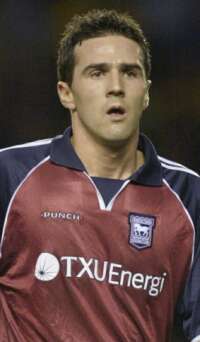 Tommy Miller
That was in the 1975/76 season and since then we have been at least one, and at times three, divisions below the Tractor Boys. Before our visit to Portman Road a few weeks ago the only other game between the two clubs was in the League Cup of 1977/78.
They went back up into the Premiership just as we arrived in the First Division in 2000 but they were back down within two years despite a good first season that saw them qualify for the UEFA Cup.
In fact they played in the UEFA Cup again this season but this was because of qualifying as one of the fair play candidates. The glut of fixtures this caused though probably contributed to their bad start to the season.
The start cost manager George Burley his job and when we went to Portman Road in October Tony Mowbray was in charge as caretaker manager. He wanted the job but on the night we were there the home fans seemed to be convinced that Peter Reid was on his way.
But Reidy didn't get the job and it went to former Oldham, Everton and Manchester City boss Joe Royle. It was a desperate appointment for most fans, not because of his direct long ball style but because he had played for Norwich.
They had been so impressive against us in the 2-2 draw but their next game, also at home, was lost to Gillingham, and it was then that Joe Royle arrived with them in 17th place. His first match was also at home and this was another defeat this time against Crystal Palace.
One thing for certain is that there is no way they could have played anything like as well against either Gillingham or Palace as they did against us.
Royle brought his trusted right hand man with him, former Claret Willie Donachie. He had been working as number two at Sheffield Wednesday but jumped at the chance to work with Royle again. They have been virtually inseparable since Donachie left Burnley for Oldham in the summer of 1984.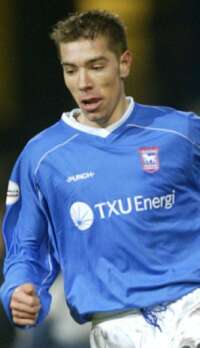 Darren Ambrose
Things have gradually improved too and they are now being tipped as strong candidates to make it into the play offs by the end of the season. They are now above the Clarets, by just one point and one place and this is due to an unbeaten run of six games, four of which have been won.
If they have a problem they do struggle to keep clean sheets but they have certainly had no difficulties in scoring goals.
Last week they beat Conference side Morecambe 4-0 in the FA Cup but their last league game was on New Year's Day and as Burnley failed to get a game in they beat Millwall 4-1 at Portman Road.
It was 0-0 at half time but Millwall had had to defend for long spells during the first half. It was a different story after half time though when Ipswich turned in a spell of superb attacking play and top drawer finishing. Former Hartlepool striker Tommy Miller scored twice with Jermaine Wright and Marcus Bent also finding the net.
It proved to be Jamie Clapham's 207th and last league appearance, by the time our game goes ahead he will have signed for Birmingham to give Ipswich some desperately needed cash.
The Ipswich team against Millwall was: Andy Marshall, Fabian Wilnis (Darren Ambrose 53), Matt Holland, Thomas Gaardsoe (Jermaine Wright 69), Chris Makin, Herman Hreidarsson, Tommy Miller, Jamie Clapham, Pablo Counago, Richard Naylor (Marcus Bent 53), Jim Magilton. Subs not used: James Pullen, Darren Bent.
They have scored 40 league goals this season although only 13 of them have come away from Portman Road. Leading scorer is Pablo Counago with 9 and Darren Ambrose who scored the superb second goal against us has 7.
Both clubs are still in with a chance of making the play offs and this is a game neither can really afford to lose.
Click HERE to see all Ipswich's results this season and HERE for a look at the preview for the away game.
He played for both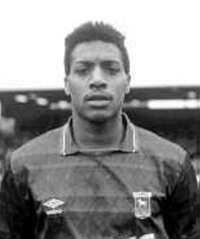 Louie Donowa during his time at Ipswich
There are not too many players who have worn the Claret & Blue of Burnley and the Blue & White of Ipswich but one such player will hardly be remembered with much affection by Burnley supporters.
Louie Donowa arrived at Turf Moor on loan from Birmingham in January 1993. His career looked over at St. Andrew's and there was a possibility of the move being made permanent. Neither proved to be the case though. He was quickly banished from Burnley after just four games and went back to Birmingham where he won his place back in the side.
Donowa is Ipswich born and bred but started his career with rivals Norwich City. He was an FA Youth Cup winner there and went on to win England Under 21 caps and a League Cup Winners medal.
There was a short loan spell at Stoke before three years abroad and then he returned to his home town and to Portman Road and Ipswich Town. After just a year though he was on the move again to Bristol City and a year after that is was Birmingham.
In and out of the side it was during one of his spells out that he was signed on loan by Jimmy Mullen but he hardly did himself justice and one performance in particular at Rotherham stands out so poor was he. We won 1-0 courtesy of an Adrian Heath penalty but Donowa missed three clear cut chances in a ten minute spell.
Almost immediately though he was back in the Birmingham side although they suffered relegation before winning back their First Division place a year later. They were to be his last club although he did have another short loan spell this time at Peterborough.
Donowa was one of three wingers brought in that season to cover for the constantly injured Steve Penney. He didn't do particularly well but was certainly no worse than either of the other two Brian Mooney and Steve Slawson.
League results in the last 20 years
| | | | | | |
| --- | --- | --- | --- | --- | --- |
| Season | Div | Ven | Result | Att | Scorers |
| a | | | | | |
| 2002/03 | 1 | a | 2-2 | 22,736 | Gnohere Papadopoulos |
Click HERE
to see all Burnley's league results against Ipswich since our first meeting in the 1961/62 season that saw Ipswich pip the Clarets to the First Division title.

Last time in the League

Burnley 0 Ipswich Town 1 (Beattie) – Football League Division 1, Saturday 7th February 1976
The previous home game against Derby had been nothing short of a disaster. It was Joe Brown's first home game in charge and we looked all set for a point until Charlie George it a winner for Derby and a 2-1 result.
But things had looked up and the next match saw us pick up both points at Goodison Park with a 3-2 win over Everton with goals from Peter Noble, Brian Flynn and Derek Scott. The goals from Flynn and Scott were their first ever league goals.
And to cap it all we had made a new signing, Joe Brown's first, with Preston's exciting young winger Tony Morley reputedly becoming our first £100,000 signing. And Morley was to make his debut.
That I'm afraid is as good as it got though. Striker Frank Casper announced his retirement through injury and was appointed youth team coach and then we turned in an abject performance against Ipswich and deserved nothing more than the 1-0 defeat we got. There was hardly an effort of note and it was a performance that had relegation written all over it.
We remained next to bottom, Sheffield United were so far behind it was almost impossible to hit bottom spot, and relegation was beginning to look odds on even with fourteen games left.
It was another disappointing afternoon in front of a crowd of 17,536.
There was an interesting section in the match programme entitled 'Remember me?' This featured a former Burnley player who most of us were expected not to remember. For this edition it was someone by the name of Jimmy McIlroy.
The teams were,
Burnley: Gerry Peyton, Derek Scott, Keith Newton, Billy Ingham, Colin Waldron, Jim Thomson, Tony Morley, Brian Flynn, Mike Summerbee, Paul Fletcher, Peter Noble. Sub: Colin Morris.
Ipswich: Paul Cooper, George Burley, Kevin Beattie, Mick Mills, Allan Hunter, John Wark, Clive Woods, Roger Osborne, David Johnson, Terry Austin, Mick Lambert. Sub: Brian Talbot.
Referee: Terry Bosi (Codsall, Staffs)