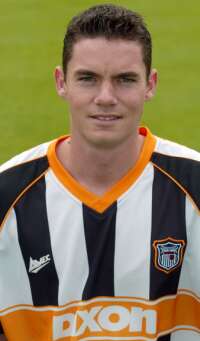 Stuart Campbell
Both of us have played just the one league game since our meeting a week last Saturday and both of us have drawn. Whilst we were picking up a point at home to impressive Ipswich our cup opponents were doing likewise in a high scoring 3-3 draw at Selhurst Park against Franchise.
Goals and games involving Grimsby have become common place this season and there have been a lot of high scoring games besides our 6-5 league defeat at Blundell Park. This was their second 3-3 draw since then, the other coming at home against struggling Craig Brown's Preston.
Saturday's draw was though a game they should have won having never been behind. In front of a packed Selhurst Park of 1,336 spectators including Charles Koppel's attendance increasing freebies they were in front on 35 minutes.
That first goal came from Michael Boulding the player who walked out on them last summer at the end of his contract. Having destroyed the Clarets in that crucial last away game of ours he went to Villa but has failed to impress and after a loan spell at Sheffield United has now returned to Grimsby.
It was 1-0 at half time but seven minutes into the second half it was 2-0 when Franchise's Trond Andersen put through his own goal.
Victory looked assured until a mad six minute spell that saw a further four goals scored. Franchise came back to equalise before Stuart Campbell (he scored his first ever goal at Burnley two seasons ago) restored the lead.
This time the lead lasted just a minute before the last goal of the game took the scores to 3-3.
Grimsby lined up: Danny Coyne, John McDermott, Paul Groves, Steve Chettle, Simon Ford, Tony Gallimore, Stacy Coldicott (Darren Barnard 45), Stuart Campbell, Michael Boulding (Darren Mansaram 45), Steve Livingstone, Terry Cooke. Subs not used: Shaun Allaway, Iain Ward, David Soames.
For more on Grimsby click HERE to see the preview from the first tie and click HERE to see their complete list of results for this season.
He played for both
Doug Collins and Ray Harrison have featured in this section and the third player to have played for both clubs is our former striker Terry Donovan.
Donovan signed for the Clarets in the spring of 1983 as we were fighting to avoid relegation from the old 2nd Division. Frank Casper had taken over as caretaker manager from Brian Miller and Donovan was to be his only signing.
He arrived from Aston Villa for £25,000 and scored 6 goals in 13 games but it was not enough to keep us up.
He stated his career with Leeds but had moved on to Grimsby before making his league debut. A number of top clubs were keeping a close eye on the new goalscoring striker and it was Aston Villa who paid out £75,000 for his services after he had scored 23 goals in 64 games for the Mariners.
That was in the days of Peter Withe, Gary Shaw and Brian Little and Donovan never did break into the Villa side on a regular basis as they went on to win the league followed by the European Cup.
Just before he joined the Clarets he had a short loan spell at Oxford and when he did leave Villa Park for Turf Moor he had made just 17 appearances, scoring 6 goals.
He found the net easily during that run in although we were eventually relegated in the last match. Perhaps though he will be best remembered for the home game against Wolves on Easter Saturday.
The game kicked off on a bright afternoon against a Wolves side including two future Clarets. Full back Geoff Palmer, he scored the only goal of the game, and a young John Pender. With the Clarets chasing the game the weather turned nasty and suddenly the pitch was white with snow as the temperatures dropped dramatically. Donovan ended the game with hypothermia.
He was quickly discarded at the beginning of the following season by John Bond and in fact made just one substitute appearance before being sold to Rotherham. At 26 though his career was virtually over with injury and he played just a handful of games for the Millers and a couple more in a loan spell at Blackpool.
His goals though almost kept us up and had they done so would probably have re-written history. I think there was every chance they would have prevented John Bond from ever becoming Burnley manager.
Last time in the cup
Burnley 6 (Lochhead 2 Casper 2 Thomas Murray) Grimsby Town 0 – Football League Cup 2nd Round Replay, Tuesday 10th September 1968
The last time Grimsby Town headed for Turf Moor in either of the two main cup competitions was for a League Cup replay in the 1968/69 season. As was the case with our last FA Cup meeting it was the first round at which Burnley entered and we went on to reach the semi-final.
The game at Grimsby had ended 1-1 (Lochhead's goal is featured on the front page of the programme) but despite the honest battling of Grimsby the winners of this replay was never in doubt.
These were the days when cup ties pulled in crowds, albeit not as many in the League Cup as in the FA Cup, and so Burnley officials were stunned at the poor attendance of just 5,928. A crowd double that would have been considered low.
However at tea-time Burnley was hit by the most torrential of storms and so the official reason was given that most people would have thought the game would be off. Having said that it took some doing to get a game off back in the 60s and teams would play on mud baths, beaches (yes I saw Chelsea at the weekend) and in dense fog. Only a frozen pitch would seemingly worry a referee.
Burnley boss Harry Potts was delighted with the performance and said in the next edition of 'Harry Potts Calling',
"The way our players performed in this replay was a tonic". said Harry. "Undoubtedly they faced the replay with Grimsby in determined mood to emphasise their own true capacity, and the result was a highly satisfactory display that fully warranted their six goal victory.
"They went about their task with spirit and the football was a pleasure to watch. I am sure if they play as they demonstrated they can in this game they will have much to reward it as time goes on."
The teams were,
Burnley: Harry Thomson, John Angus, Les Latcham, Brian O'Neil, Colin Waldron, Dave Merrington, Ralph Coates, Andy Lochhead, Frank Casper, Arthur Bellamy (John Murray), Dave Thomas.
Grimsby: Harry Wainman, Jimmy Bloomer, John Duncliffe, Dave Worthington, Graham Rathbone, Keith Jobling, Bobby Ross, Mike Hickman, Gerry Moore, Angus Davidson, Doug Collins.
Referee: Keith Styles (Barnsley).