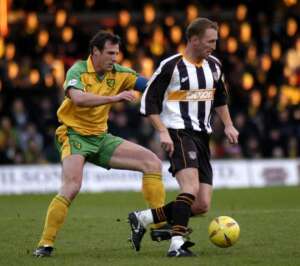 Action from their recent draw with Norwich
There are certain fixtures Burnley play that always have us expecting the worst and an away game against Grimsby is certainly one of them. Our last point there was in 1994 and the last league win as far back as November 1947 when Jack Billingham scored twice in a 4-1 win. But it is the cup and our record in knock out competitions during that time is good with a win and two draws.
Needless to say that this season's league game has been a major discussion point since the draw was made, and for any match that finishes with a 6-5 scoreline that is bound to be the case.
That night will never be forgotten by anyone who was there to witness it, just shows what you can do when you stick two bad defences onto a pitch. And we just about have the two worst defences in the division. With both of us out of the action on Wednesday Stoke caught up and they like Grimsby have now conceded 49 league goals with the Clarets just one behind.
Yes we have a cup tie between two sides who between them have conceded a total of 97 league goals this season and that would suggest there should be goals a plenty come Saturday.
Grimsby have been fairly average since our last meeting with three wins and four defeats and that has been good enough to get them out of the bottom three. In fact after the Boxing Day win they found themselves six points clear of the entire bottom three.
However Stoke and Sheffield Wednesday have crept a little nearer following the New Year's Day postponement at Blundell Park.
Grimsby, like Burnley, will be looking for a cup run to bring in much needed finance. Grimsby missed out in the Worthington Cup and went out at the first time of asking when they were beaten 1-0 by Chesterfield in extra time despite having home advantage.
They went out of the FA Cup in the 3
rd
round last season, losing 1-0 at York in a replay after a 0-0 draw at Grimsby. This means that their last cup win and last cup goal came in last season's Worthington Cup and a 2-1 extra time victory at Anfield against Liverpool courtesy of a Phil Jevons goal.
Grimsby's most recent game was last Saturday at home to Norwich, a game that brought them a point in a 1-1 draw at the same time as Burnley were throwing away points at Brighton.
They came back for a point with a goal thirteen minutes from time from old boy John Oster who was enjoying a loan spell back with his old club from Sunderland. Disappointingly for Grimsby though, who hoped to retain him, he has been called back and was used as a sub for Sunderland on New Year's Day during their game against Manchester United at Old Trafford.
Grimsby were much the better side against Norwich and deserved more than the point and with any luck at all could have reversed the result from the opening day of the season when Norwich beat them 4-0 at Carrow Road.
The Grimsby team was: Danny Coyne, John McDermott, Simon Ford, Georges Santos, Darren Barnard (Jason Gavin 45), Stuart Campbell, Paul Groves (Terry Cooke 89), Stacy Coldicott, John Oster, Steve Livingstone, Darren Mansaram (David Soames 80). Subs not used: Shaun Allaway, Chris Thompson.
Steve Kabba remains their leading scorer this season although he is long gone. He returned to Crystal Palace at the end of his loan spell and has since signed for Sheffield United on a permanent basis.
Kabba has 6 whilst John Oster (also gone) has 5. Of the players currently at Grimsby Alan Pouton has scored the most goals with 4.
Whatever happens in this cup tie it is hardly likely that it will be the same scoreline as our last visit there in October.
He played for both
It is fitting that with an FA Cup match to look forward to we are able to choose a player from both clubs who appeared in an FA Cup Final for the Clarets.
That player is Ray Harrison and he was our centre-forward in the 1947 Final against Charlton Athletic.
Burnley was the Lincolnshire born Harrison's first league club and in his first season helped the Clarets to an FA Cup Final and having scored a hat-trick in the 5th round he notched the semi-final winner against Liverpool to ensure our place at Wembley.
Before the war he had played in the Midlands League for Boston United but moved to Turf Moor immediately after the restart of league football after the war but he was never guaranteed a place in the Burnley side under Cliff Britton.
He scored a total of 19 league goals for the club and 6 in the FA Cup (all in the Wembley season) before moving on to Doncaster Rovers for £10,000 where he stayed for five years.
It was then he joined Grimsby for one final season in the Football League and was a regular in the Mariners' side that was struggling to avoid re-election to the Football League. They did have to apply, they were successful, but Ray then hung up his full time boots and ended his playing days with non-league Kings Lynn and Frickley Colliery.
He had settled in Doncaster and remained there until his death.
Last time in the FA Cup
Grimsby Town 0 Burnley 2 (Newton Hankin) – Saturday 5th January 1974, FA Cup 3rd Round.
Yes we can win at Grimsby but apparently only in cup competitions and that is exactly what we did 29 years ago in the 3
rd
round of the FA Cup.
It was the tricky tie for Burnley who were riding high in Division One in 3rd place against Grimsby 11th in Division Three. Many were predicting an upset and there is no doubt that the game proved to be a difficult one for the Clarets.
In his programme notes the Grimsby Town Chairman Mr. H. C. Hamilton said, "What more can one say to sum up this afternoon's game against Burnley than this is what the FA Cup is all about – the opportunity for teams outside of Division One to take on the current 'Giants' of the Football League. There is no doubt that Burnley is one of the most powerful teams in the land at this moment."
Fortunately we were settled by an early goal from the oldest player on the field Keith Newton and that made it difficult for Grimsby. But they fought back and gave us a torrid spell that saw us thankful on more than one occasion to the goalkeeping of Alan Stevenson.
But class told in the end and a goal from the youngest player on the field Ray Hankin doubled the lead and it was Burnley who went through to the 4th Round and a trip to Boundary Park to face another 3rd Division club Oldham Athletic.
The teams that day at Blundell Park were,
Grimsby: Harry Wainman, Don Beardsley, David Booth, Lew Chatterley, Clive Wiggington, Stuart Gray, Frank Barton, Mike Hickman, Jack Lewis, Dave Boylen, Frank Sharp.
Burnley: Alan Stevenson, Peter Noble, Keith Newton, Martin Dobson, Colin Waldron, Billy Ingham, Geoff Nulty, Ray Hankin, Paul Fletcher, Doug Collins, Leighton James. Sub: Jim Thomson.
Referee: Les Hayes (Doncaster).
Attendance: 14, 152