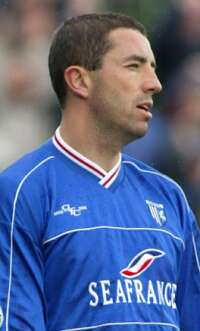 Barry Ashby
For both of these games we are being completely ripped off with extortionate prices and the first of these is Gillingham where we have to fork out £16 to stand on an open terrace in the corner of the ground. Whatever happened to the Taylor Report?
The Gills have had a good run over the last four seasons or so and it started back in 1998/99 when they made the 2nd Division play offs under Tony Pulis, now manager at Stoke. Pulis moved on to be replaced by the Legend in his own mind Peter Taylor who managed to win the play offs before walking out.
They beat Wigan in the play offs and prevented three north west clubs winning promotion as they went up with Preston and the Clarets. It was the first time in the top two divisions for Gillingham but they were immediately installed as relegation favourites.
With the legend walking out they handed the manager's job to midfielder Andy Hessenthaler, a player who always seemed to play well against the Clarets. Hessenthaler was given no money to spend but did manage to avoid the predicted drop.
Not as though it was ever in doubt and they completed their first season in Division One in 13th place with 55 points. Last season they bettered that by winning 64 points although they were only one place higher.
Nobody links the words Gillingham and relegation together now and at the half way stage this season they find themselves in 16th place although they have only one point less than the Clarets.
Things have been better and at one point they were in the play off positions but a run of six games without a win saw them sliding down the table. They have though got back to winning ways and have picked up maximum points from their last two games which were both away at Bradford and Sheffield Wednesday.
It's never a quiet life at the Priestfield Stadium though and they have had a player in prison for handling stolen cars and their Chairman Paul Scally has banned supporters for running a web site with an address he doesn't want them to have.
That's apart from the fact that he was telling the world recently that the 1st Division clubs were all about to resign from the league.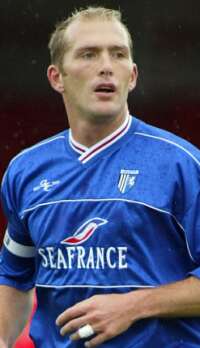 Paul Smith
Marlon King, the player imprisoned, is now back with the club and has been back in the first team since the end of October and scored his first league goals of the season in their 3-1 win at Bradford.
King's return has boosted Hessenthaler's attacking options. Last season he played up front with Iffy Onuora and Guy Ipoua but Onuora has since moved on to Sheffield United. Until his return Ipoua was sharing strike force duties with an ex-Celtic player in Tommy Johnson and an ex-Rangers player in Rod Wallace.
The win against Sheffield Wednesday was a game that showed typical bad luck for the bottom of the league Wednesday. They hit the woodwork three times in a game where they should have won at least a point but found themselves losing it 2-0 after what was described as some woeful defending.
It was not though an impressive performance from the Gills although they did collect all three points with goals from Rod Wallace and Paul Smith. The second from Smith was his first goal of the season.
The team was: Jason Brown, Nayron Nosworthy, Chris Hope, Barry Ashby, Leon Johnson, Mark Saunders, Andy Hessenthaler (Nicky Southall 89), Paul Smith, Paul Shaw (David Perpetuini 82), Marlon King, Rod Wallace (Guy Ipoua 64). Subs not used: Vince Bartram, Daniel Spiller.
They have scored just 26 goals in the league and former Burnley loan player Paul Shaw leads the way with 5 despite the fact that he plays in midfield. Guy Ipoua follows him with 4.
Gillingham will be looking to end a run of four home games without a win whilst it is now five games since the Clarets won away from Turf Moor.
Click HERE to see Gillingham's results this season.
He played for both
Terry Cochrane is one of only seven players to have worn the colours of both Burnley and Gillingham since the end of the second world way.
The Clarets signed the unknown Cochrane from Coleraine in October 1976 as we struggled with life outside Division One. The right-winger had already won an international cap for Northern Ireland but it certainly didn't prevent the Burnley fans from saying, "Terry Who?"
We were soon to find out though and his first two games were both at home against Orient and Charlton. He scored in both games which were drawn 3-3 and 4-4.
His goal against Charlton changed the game with us 4-1 down and the clock well past 80 minutes. Many supporters had long gone when he started the recovery that finally won us a point.
He could be exciting but also frustrating, probably the case with most wingers, but at his best was without doubt a joy to watch.
Cochrane produced his best spell of form during the latter part of his second season with us looking almost certain to go down to Division Three. We were looking dead and buried next to the bottom of the league when we hit a run that saw us win seven and draw one out of eight games.
Along with Steve Kindon he turned in some superb performances and even scored five goals in a five game spell. The fifth of those goals guaranteed him a place in Clarets folklore, it was at Ewood Park on Easter Monday as the old rivals were beaten 1-0 and he even scored it at the Blackburn end too.

One of those five goals - at home against Sheffield United
His time at Turf Moor was running out though and early the following season Middlesbrough made a £250,000 offer for him that the cash strapped Clarets could not afford to turn down.
It was at Middlesbrough that he had his best spell and where he won most of his Irish caps (although he did win 4 caps whilst with the Clarets) but after a fall out with Malcolm Allison he left Ayresome Park and signed for Gillingham in 1983.
He was popular with at Gillingham for the next three years and played over 100 league games for them before moving on to America. On his return there were short spells with both Millwall and Hartlepool before he hung up his boots.
League results in the last 20 years
| | | | | | |
| --- | --- | --- | --- | --- | --- |
| Season | Div | Ven | Result | Att | Scorers |
| a | | | | | |
| 1983/84 | 3 | h | 2-3 | 5,590 | Hamilton Dobson |
| | | a | 1-0 | 4,319 | Biggins |
| 1984/85 | 3 | h | 0-1 | 3,595 | |
| | | a | 1-1 | 5,935 | Biggins |
| 1989/90 | 4 | h | 1-2 | 7,274 | Walker(og) |
| | | a | 0-0 | 3,853 | |
| 1990/91 | 4 | h | 2-2 | 6,459 | Futcher(pen) Davis |
| | | a | 2-3 | 3,679 | Futcher(pen) Deary |
| 1991/92 | 4 | h | 4-1 | 8,908 | Conroy(3) Randall |
| | | a | 0-3 | 3,729 | |
| 1996/97 | 2 | h | 5-1 | 10,004 | Cooke(2) Smith Barnes(2 1pen) |
| | | a | 0-1 | 6,116 | |
| 1997/98 | 2 | h | 0-0 | 11,811 | |
| | | a | 0-2 | 5,886 | |
| 1998/99 | 2 | h | 0-5 | 8,981 | |
| | | a | 1-2 | 5,702 | Payton |
| 1999/2000 | 2 | h | 0-3 | 17,026 | |
| | | a | 2-2 | 7,347 | Payton Wright |
| 2000/01 | 1 | h | 1-1 | 15,611 | Ashby(og) |
| | | a | 0-0 | 9,331 | |
| 2001/02 | 1 | a | 2-0 | 16,236 | Ball Johnson |
| | | a | 2-2 | 8,067 | Taylor Little(pen) |
Click HERE to see all our results against Gillingham.
Last Time in the League
Gillingham 2 (Osborn 8 Ipoua 15) Burnley 2 (Taylor 32 Little 52pen) – Nationwide League Division 1, Tuesday 30th October 2001
This was without doubt a game that should not have been played and the result and the performance were a credit to all involved with Burnley Football Club.
In more affluent times the players had gone down to Kent straight after a Sunday roasting at Molineux but tragedy struck on the Monday when Sam Ellis' son Tim was killed in a car crash.
As the fans travelled down we were unaware that the club were trying to get it postponed, the players did not feel they could go ahead and play it, but the uncaring Football League insisted that it go ahead.
It could be said that it was therefore no surprise that we found ourselves two goals down after fifteen minutes but in fact it was incredible. To their credit the players went out and performed superbly, took the game to Gillingham, and it really was hard to believe that we weren't in front so well had we started.
The heads didn't drop though and just after the half hour we pulled one back with a Gareth Taylor header from a Fred West cross from the right. Taylor met it at the back post and gave the Gills' keeper no chance with a powerful effort.
By half time we were still behind but there was confidence on the totally inadequate terracing that we could get something out of the game.
When the equaliser came it was a major surprise. We won a penalty for a clear hand ball and up stepped Glen Little. He rolled the ball home for 2-2 but did give the impression that with this style of penalty taking a miss was just around the corner.
Glen was though man of the match as he played his first full ninety minutes since the hamstring injury he had picked up at Norwich.
It was to be the last goal of the game though despite our efforts but given all the circumstances this was an excellent performance and result. It was also the beginning of an unbeaten run that was to see us go into Christmas and New Year top of the league.
The teams were,
Gillingham: Vince Bartram, Mark Patterson (Marcus Browning 74), Paul Smith, Guy Butters, Nayron Nosworthy, Guy Ipoua, Chris Hope, Iffy Onuora (Marlon King 73), Simon Osborn, David Perpetuini, J Samuel. Subs not used: Paul Shaw, Mark Saunders, Robert Taylor.

Burnley: Nik Michopoulos, Dean West, Ian Cox, Steve Davis, Lee Briscoe, Glen Little, Paul Weller, Tony Grant (Lenny Johnrose), Paul Cook (Kevin Ball), Ian Moore (Andy Payton), Gareth Taylor. Subs not used: Luigi Cennamo, Brad Maylett.

Referee: Mr. C. Wilkes (Gloucester).