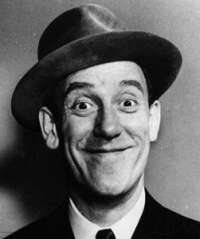 Former Chairman Tommy Trinder
On that occasion we had to go to London, to Crystal Palace in fact, and won after a replay with the first match a less than inspiring 0-0 draw. This time though it is Premiership Fulham and that is not the easiest thing to believe.
It is less than six years since they were playing their football in the 3rd Division with Micky Adams in charge and Micky Conroy scoring their goals. Adams won them promotion in 1997 but then lost his job as the money came in.
I've never quite got my head round the reason why Mohammed Al Fayed should want to invest so heavily in a club then struggling at the bottom end of the Football League and a club who, without being disrespectful, have hardly ever been a big club.
But he did invest and with the assistance of people such as Ray Wilkins, Kevin Keegan and then Jean Tigana found themselves in the Premiership for the start of last season. They even got into Europe this season but that was after seemingly playing all summer to qualify via the Intertoto Cup.
They eventually went out of the UEFA Cup in December with a 2-1 defeat against German side Hertha Berlin and they suffered a big shock in the Worthington Cup going out at home to Wigan having beaten Bury in the previous round.
Home of course is not home, Craven Cottage is now closed down with seemingly little hope of a return, and they are currently playing at QPR's Loftus Road whilst attempting to make a more permanent move to Stamford Bridge to share with Chelsea.
Craven Cottage will presumably be sold off for some ridiculous amount of money once the decision not to play there again is confirmed. Although not moving far it has to be said that this decision is similar to Burnley playing their home games at Ewood Park – that's right, totally unacceptable.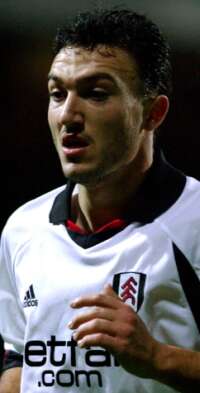 Steed Malbranque
But Fulham have never been a club to be taken too seriously. Back in the early 1960s they were chaired by London comedian Tommy Trinder and had Jimmy Hill playing for them.
Trinder was a comedian from the old music halls and his club have followed suit over the years and the only time they have been newsworthy was during times when players such as Bobby Moore, Rodney Marsh and George Best went there.
They left the top division in 1968 and never threatened to return. Even in their old First Division days they were always the small club in there although they did have the odd good player. There were Johnny Haynes and World Cup winner George Cohen worthy of mention.
Trinder was Chairman when we met them in the FA Cup Semi-Final and it is believed that he got on quite well with Burnley Chief Bob Lord. That's more than can be said of their Chairman some 20 years later a Mr. Ernie Clay.
After a disagreement in the Burnley board room he was ejected from the ground at half time by Lord and had to spend the second half sat on the Fulham team coach as Burnley won 2-1.
But it has all changed now and although they are currently 15th in the Premiership they are nine points clear of the relegation places and should have no problem in keeping their place in the top league.
It is their away form that has let them down this season and to date their only win away from Loftus Road in the Premiership came at the Stadium of Light against struggling Sunderland.
But league form is not irrelevant tomorrow and although Fulham will start as favourites the Clarets will be roared on by 3,000 mask wearing Clarets fans and anything can happen.
Click HERE to see Fulham's results this season.
He played for both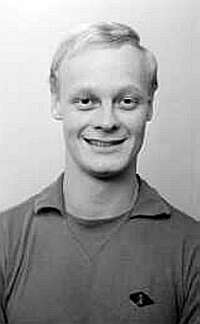 Peter Mellor at Burnley
When Witton Albion's 21 year-old goalkeeper arrived on trial towards the end of the 1968/69 season he could never have believed that he would be the first team goalkeeper by the start of the following season.
But that is what happened to Peter Mellor who signed after a trial and reserve team game. Before the 1969/70 season was underway he found himself the first choice keeper following the dismissal of Harry Thomson.
He made his debut at the Baseball Ground against newly promoted Derby on the opening day of the season and kept a clean sheet for almost all of the game before having to go off injured.
We drew the game 0-0, Mellor's injury was not serious, and he was an ever present all season and for much of the time was in inspirational form. He saved a penalty in an early Turf Moor appearance from Jimmy Greaves but had a number of outstanding games.
Sadly that was to be his best season for the Clarets. He missed the start of the next season with a shoulder injury and Burnley brought in the previously retired Tony Waiters to replace him. Once fit he won back his place but poor form say Waiters restored after just five games.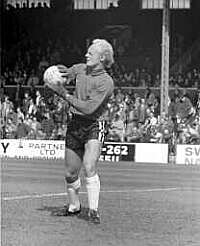 and in action for Fulham
He got back into the side the following season, now in Division Two after suffering relegation, but his form was no better. It did seem as though he was not the same keeper since his injury. He was dropped for a couple of games that saw Jeff Parton win a place but in January we signed Alan Stevenson and Mellor moved in the opposite direction to Chesterfield on loan before signing for Fulham a month later.
He played in an FA Cup Final whilst with Fulham but the former Burnley keeper was twice outdone by a future Burnley striker Alan Taylor who scored both goals in West Ham's 2-0 win with Mellor at fault with both goals.
He was to be first team keeper at Fulham for over five years and only lost his place when Gerry Peyton arrived at Craven Cottage from Burnley. Mellor then had a season with Hereford before signing for Portsmouth where he remained until he retired when released in January 1982.
He played 69 league games for the Clarets, 190 for Fulham and 424 in total. Now a successful businessman in Florida he is also a goalkeeping coach with the American team.
Last time in the Cup
Burnley 1 (Fletcher 86) Fulham 0 – FA Cup 3rd Round Saturday 7th January 1978
"Late winner was lucky but well deserved" – so said Peter Higgs from the Burnley Express as the Clarets won their 3
rd
round tie against Fulham at Turf Moor.
Something none of us could have known at the time was this would be the last time Harry Potts would walk off Turf Moor as the winning manager in an FA Cup tie. He had played for us and managed us in FA Cup Finals but the two remaining cup wins for the great man came at St. Andrews and Roker Park the following season against Birmingham and Sunderland respectively.
Harry had faced a difficult decision before the match. The Clarets were bottom of the 2nd Division and had been bottom all season. But five days earlier we had won superbly at league leaders Bolton with Ian Brennan (in midfield) scoring both goals.
Steve Kindon was fit to return though and Harry had the difficult choice of whether to bring him back or start with the team that had won so well at Burnden Park. He did elect to bring Steve in with Peter Robinson the unlucky player to miss out.
The Clarets were the better team from start to finish but found former Burnley keeper Gerry Peyton, on his first return to Turf Moor, in brilliant form.
Peter Higgs told us, "It took a goal blessed with a large slice of good fortune to put Burnley through to the Fourth Round of the FA Cup.
"But having said that, they still deserved their 1-0 win over Fulham at Turf Moor.
"Only a heroic display of goalkeeping from ex-Claret Gerry Peyton had prevented them taking the lead before Paul Fletcher's 86th minute winning goal.
"The goal was a bitter blow to Peyton, who was sold by Burnley to Fulham for £35,000 last season."
Fulham were only in the game in the early stages and then, after three good Stevenson saves, Burnley took over with both Terry Cochrane and Tony Morley creating havoc down the wings.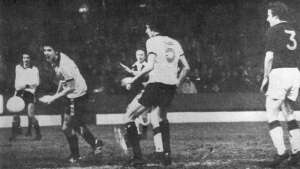 Paul Fletcher (hidden behind the Fulham No. 5) scores the winner
But despite the domination it all looked to be heading for a Craven Cottage replay until Fletcher's late winner that he himself admitted was somewhat fortunate.
"I was aiming for the top right hand corner of the net but the ball finished up in the bottom left hand corner," said the Burnley striker. "I got over the shot too much and kicked the ball into the ground so that it bobbled and spun into the other corner of the goal. I was just delighted to see it go in."
But the last word has to be with Harry Potts who was, as was his way, quick to pass the praise onto his players.
"The players deserve a lot of credit for the way they stuck at their task and kept battling away.
"It would have been easy if we'd go the goals we deserved in the first half. But Gerry Peyton was outstanding in preventing us scoring and we had to keep the pressure on in the hope of finding a way through.
"What was impressive was the way in which all the players were prepared to have a go at goal and I think Alan Stevenson was the only one not to have a shot."
The teams were,
Burnley (4-4-2): Alan Stevenson, Derek Scott, Jim Thomson, Billy Rodaway, Ian Brennan, Billy Ingham, Peter Noble, Terry Cochrane, Paul Fletcher (Malcolm Smith 88), Steve Kindon, Tony Morley.
Fulham (5-3-2): Gerry Peyton, Ray Evans, Tony Gale, John Lacy, Steve Hatter, Les Strong, Brian Greenaway (Tony Mahoney 65), Terry Bullivant, John Margerrison, John Mitchell, John Evanson.
Referee: George Nolan (Stockport).