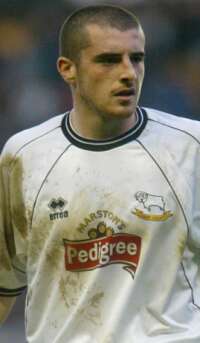 Adam Bolder
But this will be Derby's first visit to Turf Moor for almost eight years and will be a completely different Derby than the one we visited back in September. In the current crisis in football Derby County are one of the clubs worst hit as they have struggled to cope following relegation from the Premiership last season.
Only this week their Chairman Lionel Pickering said he hung on to his better players when offers came in hopeful that there would be an immediate return to the top league. Anything is possible in this division but Derby have hardly set the world on fire and during the January transfer window they had to sell players for transfer fees a lot lower than those offered during the summer.
They might not have all played against us in September but since that match Derby have lost the services of Deon Burton (Portsmouth), Brian O'Neil (Preston), Mart Poom (Sunderland), Francois Grenet (Rennes), Danny Higginbotham (Southampton) and Chris Riggott and Malcolm Christie (both Middlesbrough).
During this period there has not been one single incoming player, not even a loan deal, although they did this week try to sign Newcastle full-back Robbie Elliott who turned them down.
The financial crisis really came to prominence early this season and many Derby supporters are pointing the finger of blame at former Coventry Chairman Bryan Richardson. Even given Richardson's skills at getting Coventry into financial crisis it is hard to believe that he could have achieved the same at Derby in just a matter of months but the Pride Park club were very quick to get rid of him.
With Leicester City (or is it Fosse?) just about to come out of administration but certainly by no means out of the woods, and Sheep Dip having taken Ipswich into temporary administration it means all three clubs relegated from the Premiership at the end of last season have been in serious trouble.
The gap only gets wider and the league will get worse as more and more will have to be far more sensible on how they spend.
Last Sunday Burnley took on Fulham in the FA Cup and Mark McGregor was celebrating his 26th birthday. With the exception of Dimitri Papadopoulos, who was not used, Macca was the youngest member of our squad.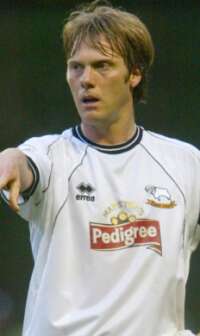 Warren Barton
Derby boss John Gregory has had to youth. On the previous day Derby drew 2-2 with Sheffield Wednesday at Pride Park. They had ten players in their squad who were younger than McGregor and it will be a similar sort of line up tomorrow.
The line up against Sheffield Wednesday last week was: Lee Grant, Richard Jackson, Warren Barton, Steven Elliott, Luciano Zavagno, Adam Bolder, Robert Lee, Georgi Kinkladze, Paul Boertien, Lee Morris (Marcus Tudgay89), Izale McLeod (Fabrizio Ravanelli (45). Subs not used: Andy Oakes, Adam Murray, Pablos Mills.
It was not the best of days for Warren Barton last week, He put through his own goal to give Wednesday the lead (not his first own goal of the season I seem to recall) and with the score still at 1-0 he was sent off with just 27 minutes gone.
But Derby battled back with two second half goals from Adam Bolder and looked all set to take all three points until Wednesday equalised with seven minutes to go through Tony Crane.
Malcolm Christie is their leading goalscorer with eight goals this season but he is now with Middlesbrough. Not far behind with seven is Lee Morris, son of former Claret Colin.
The Clarets don't have the best of records against Derby but have won the last three encounters with two of them at Pride Park. We need a win if we are to start to make any impact on the play off places.
Click HERE to see our preview from the away game and HERE for Derby's results this season.
He played for both
Sometimes you can make a signing that turns out to be a crucial signing, such as we did with Ian Wright three years ago.
That could certainly be said when we signed one Kevin Clifton McMinn from Birmingham City in the spring of 1994. Better known as Ted (or Tin Man) he made an immediate impact at Turf Moor after originally joining us on loan.
His debut was at Fulham and he scored in his home debut against the Unprofessionals of Stockport and how he was to enjoy playing against them again shortly afterwards.
There was no doubt that he was a crowd pleaser, and the Burnley fans took to him just as much as any other set of fans. He scored two more goals that season but this wasn't the first time he had played well on the Turf.
During our 4th Division Championship season he was in the Derby side that put us out of the FA Cup and in the first game at the Turf, drawn 2-2, he turned in a wonderful display of wing play.
Wingers have generally played to the gallery and McMinn was no exception and many thought he could be the match winner when we reached the play off final at Wembley against the aforementioned Stockport. He was to have an early impact, getting involved when the first of the two Stockport players was sent off, apparently for spitting at him. Goodness knows but surely Ted had done nothing to wind him up.
The biggest disappointment of all was that he never really won a regular place in the side again and in our First Division season of 1994/95 he started only seventeen league games.
Mind you he provided us with some wonderful play, some fun and not only that found himself sent off twice that season without ever being suspended.
The first of these was the farcical situation when he received a red card following a second yellow but had to be recalled to the pitch when the referee finally realised that he had never received a first yellow card.
Then on the night when Jimmy Mullen dared to put his house on Liam Robinson scoring Ted had words with the referee at the end of the game and was sent off for verbal abuse. Because it had happened after the final whistle he got away with a warning.
He left the club just after Adrian Heath returned as manager and went to Australia for a while. He has since returned and works as assistant to former Derby team mate Mark Wright. They are currently at Chester and have worked together at Southport and Oxford.
Before joining the Clarets he had played for Queen of the South, Rangers, Seville and Derby before moving on to Birmingham and in fact won a Scottish League title with Rangers.
He played in less than fifty league games for the Clarets but is still talked about, a great crowd pleaser and a good wind up merchant.
There is no doubt that his signing in 1994 was the catalyst to the run in to the play offs and in just over two years at Turf Moor was as popular player as we had as far as the fans were concerned.
League results in the last 20 years
| | | | | | |
| --- | --- | --- | --- | --- | --- |
| Season | Div | Ven | Result | Att | Scorers |
| a | | | | | |
| 1982/83 | 2 | h | 1-1 | 7,513 | McGee |
| | | a | 0-2 | 14,674 | |
| 1984/85 | 3 | h | 0-1 | 3,484 | |
| | | a | 2-2 | 11,755 | Biggins Hird |
| 1994/95 | 1 | h | 3-1 | 11,534 | Shaw Davis |
| | | a | 0-4 | 13,922 | |
Click HERE to see all our results against Derby County.
Last Time in the League
Burnley 3 (Eyres Shaw Davis) Derby County 1 (Trollope) – Endsleigh League Division 1, Saturday 15th April 1995
It had been a long wait, our first league win against Derby County since 1953 and our first at home since two years before that. Although we had not been regular opponents of the Rams it had just become accepted that we would lose to them.
But as we battled against the drop back to the 2nd Division only a win would be of much use and a win we got.
Earlier we recalled Ted McMinn's performance against us for Derby on the Turf three years earlier but this was the turn for Ted to even it up and he had possibly his best game for Burnley against his former club.
And it was a day of records as loan player Paul Shaw from Arsenal bagged his fourth goal in four home games although it did turn out to be his last goal for the club.
There was no doubt that we deserved to win this one and although we remained third from bottom it left us knowing that two wins from the last four games would see us safe. They didn't come and in fact this was our last win of the season, our last win at this level until we beat Wimbledon a couple of seasons ago.
Although we showed what we were capable of on this occasion the season as a whole had proved too much for us and eight defeats on the run in the early part of the year had ensured that we would have to suffer another five seasons in the lower divisions.
How times have changed.
The Derby team included current Rochdale manager Paul Simpson, Blackburn's Craig Short who was sent off in this game, West Brom keeper Russell Hoult and American international John Harkes.
The teams were,
Burnley: Marlon Beresford, Gary Parkinson, Chris Vinnicombe, Steve Davis, Mark Winstanley, Adrian Randall, Ted McMinn (Liam Robinson), Paul Shaw, Tony Philliskirk, Jamie Hoyland, David Eyres.
Derby: Russell Hoult, Jason Kavanagh (Darren Wrack), Darren Wassall, Paul Trollope, Craig Short, Paul Williams, John Harkes, Mark Pembridge, Lee Mills, Marco Gabbiadini, Paul Simpson (Chris Boden).