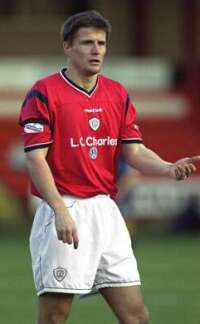 Shaun Smith
When we visited Crewe for a League Cup tie in the 1983/84 season both clubs were under new management. A certain John Bond had taken over from Frank Casper at Turf Moor and Crewe had replaced Peter Morris with former Wimbledon and Palace boss Dario Gradi.
We lost out over two legs but returned the following season to win through in the same competition by which time John Benson had taken over at Turf Moor and Dario Gradi was still in charge at Crewe.
One season later and on 19th October 1985 we visited Gresty Road for the first time in a league game with Tommy Cavanagh, Burnley's most offensive manager ever, in charge whilst believe it or not Dario Gradi was still in charge of Crewe. When we went for the last away game of the season the year later Brian Miller was fighting to keep the Clarets alive with Gradi still running Crewe.
And so it has gone on and on and today almost 19 years after getting the job Dario Gradi is still manager of Crewe. He commands great respect within the game but at times he does give me the impression that he has read too much of his own press and I do wish his sides wouldn't be so niggly and expert exponents of time wasting. Because of this they are not a side I enjoy watching.
Having said that I am full of respect for anyone who has taken Crewe from being nothing other than the next stop on the line, in fact the ground is virtually next to the railway station, to a club who are now in their fifth season in Division One. Indeed in their first season they ended in the top half of the table in 11th place and have since finished in 18th, 19th and 14th places although currently they are in the lowest of the safe positions, 21st.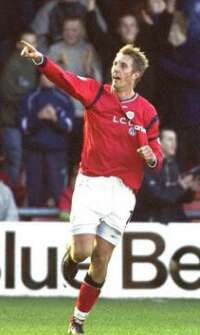 Rob Hulse
The likelihood is that they will escape the drop and before the season ends will unearth another couple of youngsters with great potential to replace a couple who are sold for big money. That's the way it is done at Crewe, sounds familiar to the older Burnley supporters.
They have struggled to score goals this season although you wouldn't have thought when they visited the Turf and led 2-0 and then 3-2 before we fought back for a 3-3 draw courtesy of goals from Gareth Taylor and an Andy Payton brace.
Since their visit to the Turf they have played 22 league games and won just six of them with seven more drawn and nine lost. That is 25 points and is somewhat close to relegation form. They are capable of beating the best teams in the division though on their day.
There has been a pattern to the wins as they have won back to back games three times. Firstly it was a 2-1 home win against Preston followed by a 1-0 victory at Wolves in October. In December there were consecutive away wins at Stockport 1-0 and Portsmouth 4-2 then in January they followed up a 2-0 home win against Grimsby with a 1-0 win at home against Norwich.
Five of the seven draws have been at home and three of those against Birmingham, Stockport and Gillingham were 0-0 whilst there was a 1-1 scoreline against West Brom and 2-2 against Bradford City. The away points have been picked up at Rotherham and Norwich, both 2-2.
Some of the defeats have been heavy and none more so than their last two league games, both at home, that have ended in 6-1 and 4-1 defeats against Coventry and Wolves respectively. There only other defeat at home since they played us last was against Nottingham Forest and that was 3-0.
The six away defeats have been against Coventry, Sheffield United and Sheffield Wednesday both 1-0, Crystal Palace 4-1, Walsall 2-1 and Millwall 2-0.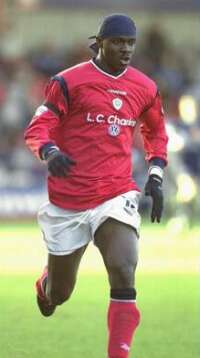 Efetobore Sodje
During this run though they find themselves still in the FA Cup having beaten Sheffield Wednesday 2-1 at home in the 3
rd
Round, beating Rotherham 4-2 at Millmoor in Round 4 and then holding Everton to a 0-0 draw at Goodison Park last Sunday. They now face a 5
th
Round home replay against Everton next Wednesday.
That last league game, the 4-1 defeat against Wolves, was played this week and after holding the new league leaders for some 53 minutes they collapsed and conceded three goals in a seven minute spell that cost them the game. It was only their 31st league game of the season, they have played less than any other club in the division.
The team for that game was: Clayton Ince, David Wright, Shaun Smith, Dave Walton, Efetobore Sodje, Kenny Lunt (Wayne Collins 80), Dave Brammer, Neil Sorvel, Ben Rix, Rob Hulse (Rodney Jack 72), Dean Ashton (Paul Tait 72). Subs not used: Ademola Bankole, Stephen Foster.
As we said goals have been at a premium and they have failed to score in twelve league games this season and scored just one in another ten games. They have currently scored exactly one goal per game with 31 in 31 games. Rob Hulse has the most with seven and then Dean Ashton, Kenny Lunt and Stephen Foster all have four. It was from three of these four that the goals came at Turf Moor with Lunt, Foster and Hulse on the score sheet.
Transfer activity since last September's game has been predictably negligible, in fact just about non existent. There have been no permanent signings or sales although there have been a couple of loan deals . Currently Gary Montgomery is with them on loan from Coventry whilst similar deals have seen Steve Macauley, Steve Jones and John Grant join Macclesfield, Rochdale and Northwich Victoria respectively.
One player is expected to play against a former club on Saturday and that is Marlon Beresford, he made three league appearances for them in early 1991 whilst on loan from Sheffield Wednesday, his first club.
The first Steve Davis was of course signed by Brian Miller from Crewe for just £15,000, an excellent piece of business by Brian, and he went on to play for the Clarets four seasons making 147 league appearances for the Clarets.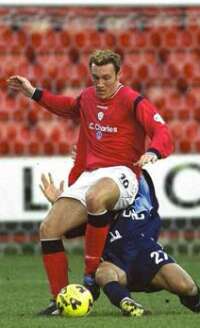 Dean Ashton
Another Clarets signing from Crewe was Roger Eli who despite suffering with injuries was a hero of the Turf Moor crowd in the late 80s and early 90s as we finally got out of the basement division. Eli was a good player and would have been a major asset to us in higher divisions had he not picked up those injuries.
Another player from the same era Rocket Ron Futcher joined Crewe having been released by Burnley in 1991 and made a quick return to the Turf only to be sent off in a 1-1 draw early in the 1991/92 season. Futcher ended his playing career at Gresty Road.
Past encounters have been nothing to write home about and there has been just one league win for us so far. That came in 1987/88 during a particularly good spell and we won it 1-0 courtesy of an own goal in stoppage time.
Probably the best remembered of all our league games at Crewe was the one played on May Day Bank Holiday 1987. Everyone else had played during the afternoon and we arrived needing points in our fight against relegation from the Football League.
We were crap that night make no mistake about it and lost 1-0 from an early David Platt goal. Having said that Brian Clough always used to say, "It only takes a second to score a goal young man", but you can't score a goal when the referee decides enough is enough long before the final whistle is due. To be honest I don't think we would have scored that night had we played until midnight but the longest, quietest, saddest and worst journey home from an away game started too early. Yes, it was awful at Ewood last season but as long as I live I will never forget that dreadful journey home from Crewe.
I can still hear the words of Gradi in my ears, gloating about how much better than us they were and how the League will suffer no loss if Burnley go out. Now I remember why I don't like Gradi. As we all know it all worked out but who knows one of those seconds that the referee refused us could have proved costly.
I bet no other referee will ever take centre stage like that again in a Crewe v Burnley game, just read on.
League results in the last 20 years

| | | | | | |
| --- | --- | --- | --- | --- | --- |
| Season | Div | Ven | Result | Att | Scorers |
| 1985/86 | 4 | h | 0-1 | 1,988 | |
| | | a | 1-3 | 1,998 | A Taylor |
| 1986/87 | 4 | h | 4-0 | 2,560 | Malley Murphy James Hoskin |
| | | a | 0-1 | 4,175 | |
| 1987/88 | 4 | h | 0-0 | 5,408 | |
| | | a | 1-0 | 3,720 | Gage(og) |
| 1988/89 | 4 | h | 1-0 | 5,677 | Hardy |
| | | a | 0-4 | 3,597 | |
| 1991/92 | 4 | h | 1-1 | 9,657 | Francis |
| | | a | 0-1 | 5,530 | |
| 1995/96 | 2 | h | 0-1 | 9,153 | |
| | | a | 1-3 | 3,393 | Winstanley |
| 1996/97 | 2 | h | 2-0 | 9,459 | Nogan Matthew |
| | | a | 1-1 | 4,734 | Barnes |
| 2000/01 | 1 | h | 1-0 | 13,189 | Cooke |
| | | a | 2-4 | 6,994 | Branch Cook(pen) |
| 2001/02 | 1 | h | 3-3 | 13,964 | Taylor Payton(2 1pen) |


Last Time in the League

Crewe Alexandra 4 (Street 5, S Smith 40pen, 44pen Ashton 85) Burnley 2 (Branch 12 Cook 60pen) – Nationwide League Division 1, Saturday 3rd February 2001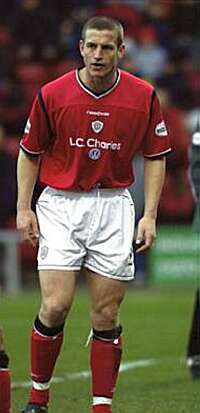 Dave Walton
I bet no referee will ever take centre stage like that again in a Crewe v Burnley game. That's what I said and for almost fourteen years that was the case. Then on 3
rd
February 2001 I witnessed one of the worst performances I have ever seen from a referee.
George Hartley v Wolves at home in 1969/70. Keith Hackett v Notts County away 1976/77. Kevin Lynch v Barnsley away 199/95. Keith Hill v Bristol Rovers away 1999/2000. These were the four at the top of my list, the worst four refereeing performances I had ever seen when up stepped Alan Kaye from Wakefield, the very same place that gave us George Hartley. He was about to turn the game into pure farce.
There were six goals in the game but it is almost pointless talking about the players because Kaye dominated proceedings. After the game last season I wrote, "After just two minutes I felt the need to comment on the referee, he just looked as though he wanted to be the star attraction. He and his assistants certainly didn't let us down on that score".
It took him all of five minutes thought to make his first horrendous mistake and allow a Crewe goal. As the ball was pushed through Street clearly controlled it with his hand, the referee was in the best position possible but chose to ignore it and we were a goal down.
We equalised and basically dominated the entire first half but then Kaye struck again with the assistance of Mr. Flag-Happy. A Crewe player went down in our box when Nik Michopoulos got nowhere near him. Kaye got something right and immediately indicated diving and looked to be yellow carding him. Then the badly positioned assistant waved for a penalty unaware that the better positioned referee had already said no. Idiot Kaye saw the flag, changed his decision and we went 2-1 down from the spot.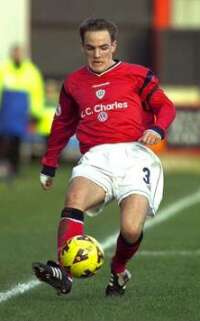 David Vaughan
Within another few minutes and it was 3-1 courtesy of another penalty although this time there could be no complaints. Apparently Dario Gradi warned his players that he would look to balance the books in the second half and he certainly did.
Just before the hour he awarded us a penalty that was clearly outside of the box but we didn't take advantage of the bad decision and John Mullin missed from the spot. Within a minute came a second, and this time fair, penalty that Paul Cook converted.
From then on we murdered Crewe but with just five minutes left were caught on the break and went 4-2 down. Many thought this was offside but this time the assistant had it right.
After the game both managers expressed their disgust at Kaye and Gradi said he would stop short of the word cheat as he tried to even it up in the second half. Six goals but the only memory of this game will be Alan Kaye of Wakefield because it was impossible to have a fair and proper game of football with him in charge that afternoon.
The teams were,
Crewe Alexandra: Ademola Bankole, Dave Walton, Shaun Smith, Steve Macauley, David Wright, Kenny Lunt, Kevin Street (Jim Gannon 67), Neil Sorvel, Mark Rivers, Rodney Jack, Rob Hulse (Dean Ashton 63). Subs not used: Clayton Ince, Colin Little, Stephen Foster.
Burnley: Nik Michopoulos, Paul Weller, Steve Davis, Mitchell Thomas, Graham Branch, John Mullin (Andy Payton 79), Kevin Ball, Glen Little, Paul Cook, Paul Smith (Brad Maylett 66), Ian Moore (Anthony Shandran 81). Subs not used: Paul Crichton, Gordon Armstrong.