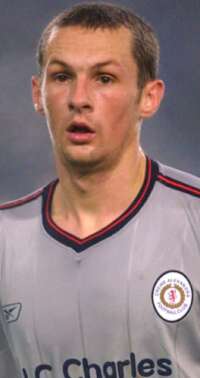 Kenny Lunt
At least for those Burnley fans it is not too far to travel as we make our way to the delights of the Alexandra Stadium at Crewe, formerly known as Gresty Road. If nothing else it is the club that is claimed to have the best fish and chip shop right outside the ground.
We probably thought we had seen the last of our trips there when they were relegated along with Barnsley and the Unprofessionals in 2002 but they came storming straight back with a second place finish in Division Two last season.
They achieved it without spending a penny in the transfer market but were able to strengthen the squad with a couple of free transfers and a few short term loan deals. However, despite Dario G's optimism, most experts seemed to think that they would not be strong enough on their return and would be in the bottom three all season.
How wrong they were and they are currently riding as high as 13th in the table with Dario having even talking about reaching the play offs.
Again it has been done without much spending although he did splash out £150,000 to bring in Anthony Tonkin in August to add to the free signings of Adie Moses, Justin Cochrane and Allan Smart.
The books were more than balanced though with the £750,000 sale of Rob Hulse to West Brom, yet another player to come all the way through and make money for the club.
Crewe have steadily progressed during the last twenty years that Gradi has been manager and his influence should never be underestimated. He recently took time out to have a heart operation and the form they had been showing instantly disappeared, they didn't even seem able to score a goal.
The minute he was back, even in a watching capacity, things got back to normal and if they haven't won all their games they have started scoring again.
Last Saturday's game against Wigan looked all set to be a real Burnley style goal bonanza and with just twenty minutes gone the score was 2-2 with Crewe having gone 1-0 and then 2-1 in front.
They did eventually lose the game 3-2 but once again the talking point was that of one of Gradi's youngsters, this time 16 year-old Billy Jones who scored his first ever first team goal in what was his eighth appearance.
But this was no ordinary goal and it is unlikely the youngster will ever score one better as he swivelled to volley in the sweetest of strikers from outside the box. If you haven't seen it then all I can say is that words don't do it justice. And this from a defender.
The lad is already being described as the best player to come out of the Crewe academy and Dario G said the youngster will remember the goal for the rest of his life. He went on to add that he expects the Premiership clubs to be banging on his door soon if he continues to show the sort of form he has already in the first team where he has played full-back, in the centre of defence and in midfield.
His inclusion has been because of injuries as was that of Michael Higdon, a 20 year-old forward, who made his full debut on Saturday.
Crewe's team in that home defeat against Wigan was: Clayton Ince, Anthony Tonkin, David Wright, Stephen Foster, Billy Jones, Kenny Lunt, Michael Higdon, Justin Cochrane, Luke Varney (James Robinson 81), Dean Ashton, Steve Jones. Subs not used: Mark Roberts, Paul Edwards, Ademola Bankole, Allan Smart.
Click HERE to see all Crewe's results this season.
Past Results in the last 20 years
| | | | | | |
| --- | --- | --- | --- | --- | --- |
| Season | Div | Ven | Result | Att | Scorers |
| a | | | | | |
| 1983/84 | LC | a | 0-1 | 3,043 | |
| | | h | 3-4 | 5,659 | Flynn(2) Wharton |
| 1984/85 | LC | h | 1-2 | 3,043 | Grewcock |
| | | a | 3-0 | 3,067 | Overson Hird Grewcock |
| 1985/86 | 4 | a | 1-3 | 1,998 | A Taylor |
| | | h | 0-1 | 1,988 | |
| 1986/87 | 4 | h | 4-0 | 2,560 | Murphy Hoskin James Malley |
| | | a | 0-1 | 4,175 | |
| 1987/88 | 4 | h | 0-0 | 5,408 | |
| | | a | 1-0 | 3,720 | Gage(og) |
| 1988/89 | 4 | h | 1-0 | 5,677 | Hardy |
| | | a | 0-4 | 3,597 | |
| 1991/92 | 4 | h | 1-1 | 9,657 | Francis |
| | | a | 0-1 | 5,530 | |
| 1995/96 | 2 | h | 0-1 | 9,153 | |
| | | a | 1-3 | 3,393 | Winstanley |
| 1996/97 | 2 | h | 2-0 | 9,459 | Nogan Matthew |
| | | a | 1-1 | 4,734 | Barnes |
| 2000/01 | 1 | h | 1-0 | 13,189 | Cooke |
| | | a | 2-4 | 6,994 | Branch Cook(pen) |
| 2001/02 | 1 | h | 3-3 | 13,964 | Taylor Payton(2 1pen) |
| | | a | 2-1 | 6,458 | Taylor A Moore |
| 2003/04 | 1 | h | 1-0 | 11,495 | Chaplow |