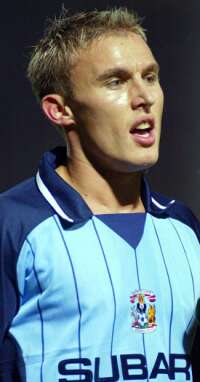 Craig Pead
For so many years Coventry were in the top division but they have found life since relegation somewhat difficult brought on by the inevitable financial crisis. They did threaten to go straight back up in 2001/02 and for much of the time looked as though they would make the play offs but it wasn't to be as the season petered out.
It was a season that also saw them change manager twice and maybe they now rue the decision to sack Gordon Strachan. Roland Nilsson took over from Strachan but they ended that season with caretaker managers before appointing Gary McAllister as player/manager in time for the 2002/03 season.
McAllister, who has sadly had to stand down as his wife fights a serious illness, has not had it easy and they ended last season perilously close to the relegation places and he was thankful for the new relaxed loan rules that allowed him to bring in no fewer than ten players on temporary transfers.
And who can forget one of them, Craig Hignett, who was sensationally sent off at the Turf last season by referee Jones, the same referee who took no action against Youssef Safri this week for that awful foul that broke Colin Healy's leg.
McAllister went transfer crazy during the summer brining in eight players although only one cost a nominal fee with the rest on free transfers. There was plenty of experience too with such as Dele Adebola (Palace), Claus Jorgensen (Bradford), keeper Gavin Ward (Walsall) and Steve Staunton (Villa) amongst them.
Others were Andy Morrell who had scored a hat full of goals for Wrexham, another keeper in Pegguy Arphexad from Liverpool, and another keeper in Scott Shearer from Albion Rovers, Micky Doyle (Celtic), Michael Briscoe (Harpole) and former Sheffield United player Patrick Suffo from Numancia.
Needless to say there have also been loan signings. Stephen Warnock from Liverpool and Le Havre midfielder Yazid Mansouri joined on long term loans and more recently Johnnie Johnson signed from Spurs.
They have been in the bottom half of the table all season but climbed as high as 15th after a 3-1 win at Derby on the last weekend in October. But they haven't won since and currently sit in 17th place, two points and three positions below the Clarets.
Their last game was against Sunderland at home last Monday and was a match dominated by one incident when Sunderland's Colin Healy had his leg broken by the most dreadful of challenges by Youssef Safri.
Prior to that Sunderland had taken the lead through a good goal by loan player Stewart Downing with McAllister equalising from the spot after a foul by keeper Mart Poom.
The Coventry team was: Gavin Ward, Craig Pead, Mo Konjic, Callum Davenport, Steve Staunton, Micky Doyle, Youssef Safri, Gary McAllister (Graham Barrett 85), Stephen Warnock (Johnnie Jackson 77), Patrick Suffo, Julian Joachim (Andy Morrell 61). Subs not used: Scott Shearer, Andrew Whing.
A win would take them above the Clarets but we will be looking to continue our recent run that has seen us go four games without defeat.
Click HERE to see all Coventry's results this season.
Past Results in the last 20 years
| | | | | | |
| --- | --- | --- | --- | --- | --- |
| Season | Div | Ven | Result | Att | Scorers |
| a | | | | | |
| 1999/2000 | FAC | a | 0-3 | 22,774 | |
| 2001/02 | 1 | a | 2-0 | 16,849 | Taylor Little |
| | | h | 1-0 | 18,751 | Taylor |
| 2002/03 | 1 | h | 3-1 | 13,470 | Blake(pen) Grant Davenport(og) |
| | | a | 1-0 | 13,659 | Cox |
Click HERE
to see more results against Coventry back to a big FA Cup tie in 1911.
One from the past
New man scores debut goal
Burnley 2 (Casper Irvine) Coventry 1 (Merrington,og)
Football League Division One – Saturday 19th August 1967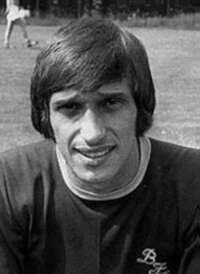 Frank Casper - debut goal
As the Clarets prepared for the new season there was a shock for season ticket holders with news of price increases in all areas of the ground. Tickets didn't go on sale until just a few days before the new season was due to start.
Most supporters back then stood on the terraces and so it is worth looking at the prices for the 1967/68 season.
Ground members (that meant adult men) faced an increase of one guinea to four guineas for their season ticket – that in today's terms meant the price went up to £4.20 whereas women ground members would have to pay £3.50 (yes women got their season ticket 70p cheaper).
Juveniles season tickets increased to £2.25 whilst pensioners remained the same at £2. Match admission on the ground was to be 25p for adults and 15p for juveniles.
"When our balance sheet is seen it will be quite apparent why prices are up," said Chairman Bob Lord. "Our running costs are tremendous and it should be remembered that Burnley is now the only place in Lancashire outside Liverpool and Manchester where First Division football can be seen."
Running costs may well have been high but just days later the club announced a major £500,000 redevelopment of Turf Moor that would see a new 4,500 seater Cricket Field Stand (the one that is there today) followed by an 8,000 seater Brunshaw Road Stand (this was never built).
War had broken out between a local school and Blackburn Rovers Football Club. Burnley's rivals had signed schoolboy Trevor Gorton who was at St. Theodore's school and deputy headmaster Gerry Martland was under the illusion that they should have been consulted
Burnley had warmed up for the new season with a series of friendlies but an experiment to use youngster Stan Ternent at centre-half was not deemed a success during the last warm up match at Crystal Palace.
We were without Brian Miller (knee) and Ralph Coates (appendix operation) as the new season arrived whilst Alex Elder had signed for Stoke for £50,000. Miller's knee injury, sustained at Villa, was worse than originally feared and he wasn't to play again.
Next door West Indian great Charlie Griffith was not retained by Burnley after his form had been badly hit by a bout of pneumonia on the eve of the 1967 cricket season. Griffith though, to this day, remains a record holder in the Lancashire Cricket League when he took 144 wickets in 1964.
Burnley's last ever game in the top flight was against Coventry City at the Turf, nine years earlier Coventry played their first ever game in the top flight at the Turf.
Harry Potts was able to include fit again Willie Irvine and Frank Casper, our first new signing for nine years, in the team on the opening day of the season. Casper though had to settle for a left wing position as deputy for the recovering Coates. Out though was Andy Lochhead who failed a late fitness test.
It was a performance described as satisfactory by Keith McNee of the Burnley Express, but no more than satisfactory. But Keith once again waxed lyrical over the performance of England's number one midfielder Brian O'Neil.
It was an even contest but it was Burnley who went in front on the half hour mark when CASPER who had moved onto the right wing collected a ball from O'Neil and hit in a powerful shot from twenty yards.
It was described as a stunningly simple goal and direct but also as a very untypical Burnley goal. The Turf Moor crowd were soon to appreciate the shooting ability of Casper.
Harry Thomson had to be in top form after the interval to keep our lead intact and after one particular good save on 62 minutes we went straight down and made it 2-0 and this one was a goal Burnley fans had been waiting months for.
O'Neil again started the build up and when Willie Morgan got the ball he hit in a shot that Coventry keeper Glazier stopped but couldn't hold. And there running in, on his first game back after that horrendous broken leg at Everton, was IRVINE who thundered it home.
It was all over now for the Sky Blues with Burnley very much on top but we gave them a lifeline with just eight minutes to go when MERRINGTON turned a cross into his own goal.
But that's how it ended, we got the season off to a good start and Coventry under the management of Jimmy Hill had found First Division life tough.
The teams were,
Burnley: Harry Thomson, John Angus, Les Latcham, Brian O'Neil, Dave Merrington, Sammy Todd, Willie Morgan, Arthur Bellamy, Willie Irvine, Gordon Harris and Frank Casper. Sub not used: Colin Blant.
Coventry: Glazier, Kearns, Bruck, Farmer, Curtis, Clements, Key, Machin, Tudor, Lewis, Rees. Sub not used: Gould.
Referee: Kevin Howley (Billingham-on-Tees).
Attendance: 21,279.