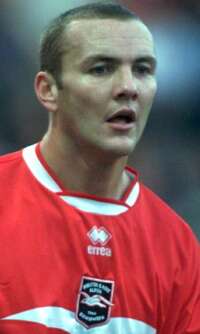 Dean Blackwell
It was Martin Hinshelwood's first game in charge, he had been promoted to manager from youth coach after legend Peter Taylor had done another runner. Nothing that happened at the Turf dimmed the confidence either and they went home with a 3-1 win in their first game at this level in fourteen years.
They followed that up with a point in a 0-0 home draw against Coventry and had made the sort of start they wanted. It wasn't to last though. The next ten league games were all lost and with the side rooted to the bottom of the league and looking almost certain relegation candidates Hinshelwood's short spell as manager was over.
He remained with the club in the Director of Football role whilst Steve Coppell came in as manager, leaving Swindon where he had been working with Andy King. It looked as though he had brought a magic wand with him when they went 2-0 up against Sheffield United in his first match in charge but they lost it 4-2 and were then hammered at Coppell's old club Crystal Palace, a twelfth successive league defeat.
Finally the run came to and end and they started to try and make up ground on the rest of the league by taking eight points from the next four games with a couple of wins and a couple of draws. They were still bottom though but by now only a point behind Sheffield Wednesday.
Steven Sidwell
They haven't been able to sustain the revival and until this week there had been no further victories and worryingly they had started another run of games without a win. It had reached seven games but at least they had climbed off bottom spot, going above Sheffield Wednesday on goal difference.
But they picked up their second away win of the season on Boxing Day as Norwich joined the Clarets in losing at home to them. The 1-0 win came courtesy of a goal from loanee Steven Sidwell from Arsenal.
They got off to a cracking start and took the game to Norwich and in the early stages peppered the Norwich goal with shots. The game eventually evened out but once Sidwell had scored the goal it became one way traffic as Brighton hung on.
Norwich had a goal disallowed, hit the woodwork and saw goalkeeper Kuipers make a string of saves but when the final whistle blew it was Brighton who had collected the points, much needed points too with news coming through that Wednesday had also won.
The Brighton team was,
Michel Kuipers, Paul Watson, Kerry Mayo, Danny Cullip, Robbie Pethick, Nathan Jones, Nathan Jones, Richard Carpenter, Simon Rodger (Charlie Oatway 45), Steven Sidwell, Bobby Zamora, Graham Barrett (Gary Hart 79). Subs not used: Will Packham, Adam Hinshelwood, Paul Brooker.
Brighton have scored just 22 goals in the league this season in 24 games with 11 in both home and away games. It is perhaps no surprise that Bobby Zamora leads the way with 6 of them with both Sidwell and Hart having scored 3 each.
Last time the Clarets won at Brighton was at the Goldstone Ground in the December of 30 years ago. It was a 1-0 win with a Martin Dobson goal in a season that saw us lift the 2nd Division Championship.
Click HERE to see our preview for the home game and click HERE to see all Brighton's results this season.
He played for both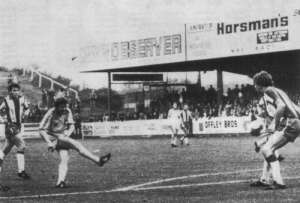 Gets in a shot at goal on his Burnley debut at Chester
For the home game we took a look at the less than popular striker Kurt Nogan and this time we feature another player who can also list Preston as a former club besides Brighton and Burnley and that is winger Eric Potts.
Potts was a Brian Miller signing for the Clarets early in the 1980/81 season, our first outside the top two divisions, and his stay was to be just under two years.
The Liverpool born winger was playing his football in non league for clubs such as New Brighton and Oswestry Town when he was signed by Sheffield Wednesday. His progress at Hillsborough was slow but he eventually won himself a regular place in the first team during a less than successful period for the south Yorkshire club.
He made over 150 league appearances before moving on to Brighton having lost his place to former Claret Paul Bradshaw and in his one season at the Goldstone Ground almost helped lift them into the 1st Division.
Preston came in for him and it was off to Deepdale for two years before Brian Miller decided to sign him as he was rebuilding the squad. He instantly won a place in the Burnley side but was often on the right hand side with the impressive Kevin Young on the left.
But Potts had a good first season although it was to be his only season as a regular. Early in 1981/82 a young talent Trevor Steven was given his chance in the first team and along with Young they claimed two of the three midfield places as the Clarets went with a sweeper system that took us all the way to the 3rd Division Championship.
Potts did play in 21 of the games that season and turned in some excellent performances, none more so than in the vital 1-1 draw at Lincoln. But by the time the medals were handed out before a pre-season game he was a guest of the club for the day having been released.
He joined Bury where he had two good seasons before retiring from league football at the age of 34. He played just 56 league games for the Clarets but his was a significant role in helping us back up to the 2nd Division.
League results in the last 20 years
| | | | | | |
| --- | --- | --- | --- | --- | --- |
| Season | Div | Ven | Result | Att | Scorers |
| a | | | | | |
| 1992/93 | 2 | h | 1-3 | 9,424 | Conroy |
| | | a | 0-3 | 8,741 | |
| 1993/94 | 2 | h | 3-0 | 8,837 | Russell(2) Davis |
| | | a | 1-1 | 8,021 | Davis |
| 1995/96 | 2 | h | 3-0 | 9,016 | Eyres Swan Nogan |
| | | a | 0-1 | 5,954 | |
| 2002/03 | 1 | h | 1-3 | 14,738 | Briscoe |
Click HERE to see all our previous league results against Brighton

Last Time in the League

Brighton and Hove Albion 1 (Rowe) Burnley 0 – Endsleigh Insurance League Division 2, Tuesday 9th April 1996
Time was beginning to run out for the Clarets and a successive relegation was now very much on the cards.
With 19 games of the season left and the Clarets in 11th place the board, under pressure from the fans, deflected the criticism by sacking manager Jimmy Mullen.
Adrian Heath made a quick return from Sheffield United to take over, his first management job, and already it was looking as though it was too much for him. The former player certainly talked a good game and was certainly the friend of the local media but by now he was struggling to keep us in the division.
We went to Brighton having picked up just two points from the last seven games and with fifteen goals conceded in the last four away games. Things were not looking too good.
In what was a scrappy affair we allowed one of only four clubs below us to climb that bit nearer with a 1-0 win that was never in doubt once the goal had been scored.
The goal from Zeke Rowe came in the first half and it wasn't until the late stages of the game that we even threatened the Brighton goal with most of our best play coming from the inexperienced Paul Smith on the left wing, in for the injured David Eyres.
It was another poor performance from the Clarets and the supporters were expecting the worst as the season drew to a close. Thankfully we managed to get the points required and stayed up, surprisingly as high as 17th in the table.
The teams were,
Brighton: Nicky Rust, Stuart Myall, Ian Chapman, George Parris, Derek Allan, Gary Hobson, Stuart Storer (Denny Mundee), Jeff Minton, Zeke Rowe, Craig Maskell, Dean Wilkins (J Byrne).
Burnley: Wayne Russell, Gerry Harrison, Charlie Bishop, Peter Swan, Mark Winstanley, Warren Joyce, Liam Robinson, Steve Thompson, Alan Harper (Paul Mahorn), Kurt Nogan, Paul Smith.
Referee: Paul Rejer (Tipton, Staffs).