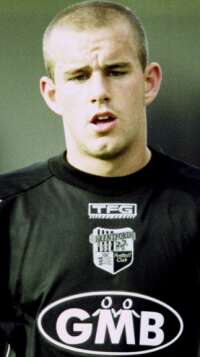 Rowan Vine
Brentford are currently in 10
th
place in the 2
nd
division although they are already nine points away from the play off places and will be hard pushed to equal last season's performance when they finished 3
rd
with 83 points, missing out on automatic promotion on the last day of the season.
It's less than three years since we last played there, it was the third last game in our promotion season and after trailing 1-0 at half time we ran out 3-2 winners with two goals from John Mullin and one from Ian Wright.
That was Brentford's first season back in the 2nd division. They were relegated to the 3rd division in 1998 but came straight back up. When we beat Plymouth in Waddle's last game in charge we still had to wait for Brentford's result at Bristol Rovers. They lost 3-1 and they went down instead of us.
Since that last meeting there have been a lot of changes at Griffin Park although the club have remained in the same division. At that time Chairman Ron Noades was managing the side himself and was under a lot of pressure at that time from the fans.
He finally handed over to coach Ray Lewington but in the summer of 2001 he moved on to coach at GVW and has taken over as manager there since they were restored as Watford. Steve Coppell replaced Lewington but after taking them within a whisker of promotion last season he left and coach Wally Downes has taken over.
They were so unlucky last season and would have gone up had they won the last match at home to Reading. It ended in a draw and Reading instead went up whilst Brentford were beaten by Stoke in the play off final at Cardiff.
Downes, a former coach with Stan at Bury, was not expected to get the job in the summer but they turned to him after a succession of potential managers were touted in the press and given their current financial circumstances they are doing well.
Apart from the league position they have won through three rounds of the FA Cup to get to this tie. In the 1st round they beat Wycombe away 4-2 and followed that up with another away win, this time by 2-1 at York.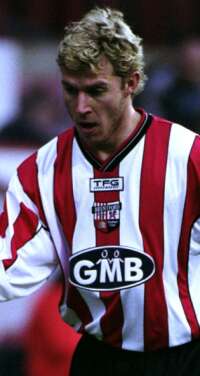 Martin Rowlands
The reward for reaching the 3
rd
round was a home tie against Derby and they won that one 1-0 with a first half goal from Stephen Hunt to secure the tie with the Clarets.
The Brentford team was: Paul Smith, Michael Dobson, Ibrahima Sonko, Scott Marshall, Andrew Frampton, Martin Rowlands, Kevin O'Connor, Steve Evans, Stephen Hunt, Mark McCammon (Stephen Hughes 90), Rowan Vine. Subs not used: Alan Julian, Jay Smith, Mark Williams, Jay Tabb.
In the league this season their biggest defeat came at Peterborough in September when they went down 5-1 against Barry Fry's Posh and the biggest win was a 5-0 success at home to Blackpool in November.
Goals haven't been too easy to come by and they have scored just 32 in the league with 16 each at home and away. Their leading league scorer is Rowan Vine with 9 and behind him Stephen Hunt and Mark McCammon both have 5.
The cup goals have been shared out with Hunt and Vine both having scored twice in this season's FA Cup.
Burnley are not regulars at this stage of the FA Cup and have reached the 4th round for only the third time in the last 20 years. For Brentford it is the first time they have reached the 4th round since the 1995/96 season when they went out to Charlton 2-1 at the Valley having previously beaten Farnborough, Bournemouth and Norwich.
In other competitions this season they went out of the Worthington Cup in the 2nd round 4-1 at home to Middlesbrough having beaten Bournemouth on penalties after a 3-3 draw and this week they went out of the LDV Vans Trophy to Cambridge in the Southern Area Semi Final.
Click HERE to see all Brentford's League and Cup results this season
He played for both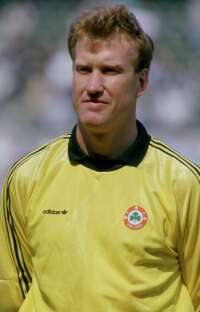 Playing for Republic of Ireland
Goalkeeper Gerry Peyton made a surprise debut for the Clarets in our last ever season in the top flight and, despite the fact that we were struggling at the time, kept a clean sheet in a 0-0 home draw against Liverpool.
It was a surprise, he displaced Alan Stevenson with Kevin Kennerley making his debut in the same game. He did well too and Stevo played only three more games that season as Peyton looked to make the position his own at the age of 19.
He had joined the Clarets initially on trial from Atherstone Town after being recommended by their manager, former Birmingham keeper Gil Merrick who was a friend of then Burnley Chairman Bob Lord.
Despite the performances of Peyton though the Clarets went down although when the new season started he was still in the line up ahead of Stevenson and survived an early season nightmare at Hereford as we went down 3-0 to a Dixie McNeill hat-trick.
In fact he was playing well and had conceded just nine goals in eight games when injury kept him out of a home game against Orient. That ended 3-3 with Stevenson in goal and Gerry came straight back in but straight into a disaster that was to end his Burnley career.
It was Charlton at home and although we picked up a point in a 4-4 draw after trailing 4-1 with seven minutes to go it had not been a good afternoon for the young keeper. It got worse the week after and we lost 5-2 at Forest. Little could he have known as he left the field at the City Ground after that heavy defeat that he had played his last game for the club, a total of just 30 league games.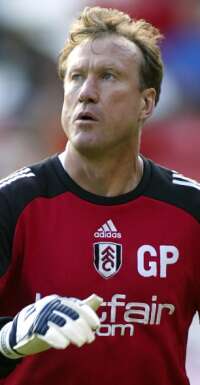 and today as goalkeeper coach at Fulham
Stevenson was restored (he didn't miss another game for over four years) and a couple of months later Peyton was sold to Fulham for £35,000 to replace another former Claret, Peter Mellor.
His career blossomed at Craven Cottage where he played a total of 345 league and winning a place in the Republic of Ireland side for whom he eventually won 33 full caps. Although Birmingham born he turned down England for Ireland, the birthplace of his parents.
Whilst at Fulham he had a loan spell with Southend before moving on to Bournemouth where he played over 200 more games. Then it was Everton and although he never made a first team place he found himself involved in a number of loan spells with Bolton, Norwich, Brentford and Chelsea before signing a permanent deal with Brentford when he was 37 years of age.
It was with Brentford that he played his 608th and final league game before moving on to coach in Japan. But Peyton finally returned to the club for whom he played the most games and is still goalkeeping coach at Fulham.
He didn't play that many games for either Burnley or Brentford but for over two decades proved himself one of the best keepers in the Football League.
Last time in the Cup
Burnley 1 (Irvine 57) Brentford 1 (Lazarus 62) – FA Cup 3rd Round, Saturday 9th January 1965
Brentford 0 Burnley 2(Irvine 12,83) – FA Cup 3rd Round Replay, Tuesday 12th January 1965
This was the last time the two sides met in the FA Cup, a 3
rd
round tie some 38 years ago with the first match drawn at Turf Moor before we won the replay at Griffin Park just three days later.
The FA Cup was big business in the 1960s, a competition that was eagerly awaited each year by players and supporters alike.
Brentford were then a 3rd Division club and at the time of the tie were riding high in fourth place whilst the Clarets were having a poor season and were 15th in Division One. Even so we were expected to win with some ease.
Cup ties meant special preparation and the press always referred to teams carrying out special cup tie training. For Burnley this usually meant a trip to Blackpool where, for the benefit of the press photographer, they would run along the promenade.
But for this tie the special training took on a new look and off our players went to Darwen Public Baths where they had just installed a sauna bath at the cost of £1,000. It seems none of the Burnley players had previously seen, never mind used, such a thing and suddenly they were facing temperatures of 250 degrees Fahrenheit.
It was a wonderful experience for the squad who were all treated to a session in the sauna bath followed by a cold shower and then a massage from Mr. Bill Astley. The players loved it and gave it the thumbs up saying it was "Just Great" whilst the Baths Superintendent Mr. John Garvey said it would relax an tone up the lads and put them in just the right mood for the cup match.
I'm not sure where Mr. Garvey is now but he should be eating his words because the Clarets turned in a dreadful performance on the day.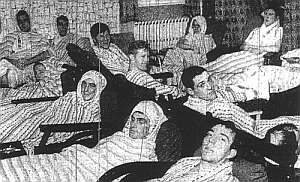 The Clarets enjoy their special Cup training at Darwen Public Baths
There was some speculation before the game that Brentford's star winger Lazarus, who was Jewish, might miss the game on religious grounds but in the end he was in the line up.
We were all relaxed and toned up but that only seemed to help the visitors who despite being two divisions lower were much the better side on the day. Somehow we managed to earn ourselves a replay but one Burnley fan told it how it was and that was Burnley Express reporter Keith McNee. In the next edition of the paper, which carried reports of both this game and the replay, Keith wrote,
"No matter what the result of the replay may be, Burnley can surely not again play as badly as they did in Saturday's FA Cup third round tie at Turf Moor. This was a terrible performance for a First Division side of Burnley's ability, and they were lucky to get another chance against Third Division opposition who had most of the luck that was going, and who were allowed to look a much better side than they really are.
"Burnley must have been fully aware that Brentford would operate a twin centre half plan (rare in the 1960s) against their double spearhead attack of Lochhead and Irvine."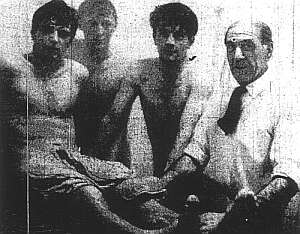 Willie Morgan gets his massage from Mr. Bill Astley with Sammy Todd and Willie Irvine looking on
And he went on, the passionate Keith was clearly not happy with this performance and even when we went in front said,
"Centre forward Irvine had another poor game and seemed to be lost in the maze of Brentford's 4-2-4 plan but true enough he put the Clarets ahead in the 57th minute after pulling down a Towers cross, but what a streaky effort it was."
But five minutes later Lazarus equalised for Brentford after a mistake from Adam Blacklaw and that's the way it stayed despite Irvine missing two sitters.
The Clarets played without star winger Willie Morgan who had been a naughty boy and had been fined and suspended by Harry Potts.
And the teams for the first match were:
Burnley: Adam Blacklaw, Fred Smith, Alex Elder, David Walker, Brian Miller, Brian O'Neil, Ian Towers, Andy Lochhead, Willie Irvine, Gordon Harris, John Price.
Brentford: Chick Brodie, Allan Jones, George Thomson, Mel Scott, Peter Gelson, Tommy Higginson, Mark Lazarus, Jimmy Bloomfield, Joe Bonson, Billy Cobb, John Fielding.
Referee: K Stokes (Newark)
Attendance: 15,100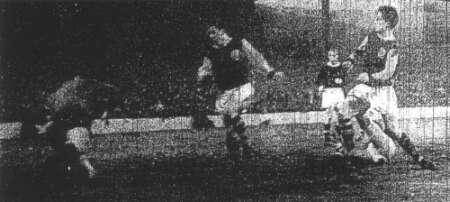 Willie Irvine (right) scores the first goal of the tie at Turf Moor
The day after the game Burnley Chairman Bob Lord was hitting out at fellow Division One club Sunderland in the Sunday national papers and proudly boasting that he had banned their directors from Turf Moor.
That wasn't like Bob Lord was it? Well yes it was and by the time the game was over he had fallen out with the Brentford officials. So much so he threatened to stand behind the goal at the replay at Griffin Park to avoid their directors.
In the end though the Burnley Chairman took his seat in the directors box whilst giving a hard glare to the Brentford fans who booed him.
The Clarets weren't to play as badly in the replay. Brentford were unchanged but Burnley made two changes. Fit again John Talbut replaced David Walker whilst John Price was left out and Arthur Bellamy was preferred on the left wing.
But this was Burnley's master stroke because despite wearing the number 11 shirt Arthur was given a roving commission which he carried out brilliantly, so much so he was awarded the man of the match.
He was the central and key figure in Burnley's match winning tactical plan and he even made the second goal.
Both goals were scored by Willie Irvine and both from headers in a much better performance from the Irish international.
And this time Keith was happier and wrote,
"Willie Irvine was the toast of Burnley fans at Griffin Park last night. The Irish international centre forward put the Clarets into round four of the FA Cup with two perfect headers in the 12
th
and 83
rd
minutes of a tension-packed third round replay.
"This was a tactical success for Burnley, and their 4-2-4 plan had Brentford baffled for most of the time.
"The Third Division side piled into attack in desperate efforts to get level after Irvine's first goal but Burnley gave no ground and hung on to win through, and deservedly so."
The win took us to Elm Park and a tie with Reading which was won after a replay before we went out in the 5th round to Manchester United at Old Trafford.
The first match at Turf Moor had been played on a miserable day and attracted an attendance of just 15,100 although this was higher than some of the home games, less than 10,000 saw the win against Birmingham in the league a week later.
The attendance at Brentford for the replay was a staggering 30,448 – but that was in the days when the FA Cup still had its magic.