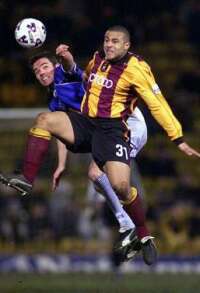 Danny Cadamarteri
This is the third attempt at playing this game after two previous much talked about postponements. Firstly there was the New Year's Day postponement coming a day after the club's pie order had been cancelled and this was followed just last month with a late performance when there were problems removing the covers without spilling. Hopefully everything will be all right on the night this time and the game should be played.
This is a shortened version of our usual match preview but just click on the link at the bottom to last month's preview and from there you can also link back to New Year's Day. It's all as simple as taking the covers off.
It's just four weeks since the last postponement and nothing has really happened at either club apart from the odd low key transfer. As we know the Clarets have brought in David Johnson on loan from Forest and he should make his second appearance whilst this midfielder called Gascoigne who has arrived from Everton is expected to play his first game.
There have been changes at Valley Parade (or whatever its latest name is) too with two out and two in. The two out are Carl Muggleton and Stephen Caldwell who have returned to Cheltenham and Newcastle respectively after loan spells. The new players are Danny Cadamarteri who came in from Everton on a free transfer just two days after the last postponement and this week Michael Standing signed from Aston Villa. The young midfielder hasn't tasted first team football yet and should he make his debut tomorrow as expected it will be on his 21st birthday.
In the last four weeks they have retained their 17th position in the league with seven points from seven games. The first two of those games were both won, they had a big 4-0 victory at Gillingham and then beat Nottingham Forest 2-1 at home. Then followed four successive defeats. Three of these were at home, they lost by 2-0 to Sheffield Wednesday and Manchester City whilst Birmingham recorded a 3-1 win.
Back in September they suffered the embarrassment of being the only club so far to lose a home game against the Unprofessionals of Stockport, just a fortnight ago they then followed Norwich in losing at Edgeley Park. They did pick up a point though at Rotherham on Saturday in a 1-1 draw.
It was a scrappy game by all accounts and Bradford finally took the lead through Wayne Jacobs with just under 20 minutes left but Rotherham's former Claret Alan Lee grabbed a late equaliser from the penalty spot. The Bradford team at Rotherham was: Alan Combe, Simon Grayson, Gunnar Halle, Mark Bower, Wayne Jacobs, Eoin Jess (Claus Jorgensen 68), Stuart McCall, Lee Sharpe, Ashley Ward, Danny Cadamarteri (Andy Tod 79), Jamie Lawrence. Subs not used: Jon Worsnop, David Wetherall, Juanjo.
Eoin Jess still leads the way in terms of goalscoring and he has scored 13 of their 62 league goals (the same total as the Clarets) and he is followed by Robbie Blake and Ashley Ward who both have ten.
As we say the game is expected to go ahead and Burnley can now expect to get a bigger crowd than would have been the case even on New Year's Day. I wonder if all the farce with the under soil heating and covers was done because they knew that Gazza would be here by now.
Preview from last month and from New Year's Day