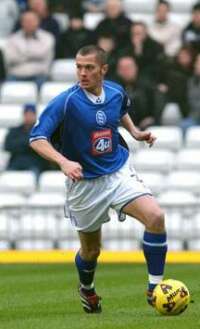 Martin Grainger
There have been big changes down at St. Andrews since we won there in September with manager Trevor Francis finally having left. Mr. Misery was finally shown the door after a less than exciting start to the season and with some of the natives getting somewhat restless. Having said that there were many Birmingham fans who thought he should have been allowed to stay to get them into the Premiership.
Francis was a very popular player at Birmingham and it is this that seems to have clouded the issue after what cannot under any circumstances be described as a successful period as manager. The Birmingham board and Chief Exec Mrs. Peschisolido made it immediately clear right from the start that they wanted Steve Bruce as manager and why not he was obviously ready for a change having been at Palace for at least two months.
It took some time because Palace firstly suspended him from duty and then refused to release him until they had at least got themselves a replacement, incredibly Mr. Miserable who duly accepted a standing ovation from the Birmingham crowd when they entertained Palace. The day after Bruce was released and football's Mr. Loyal was installed as the new boss.
The appointment was made on 12th December by which time Birmingham were in ninth place in the First Division with 36 points from 23 games. Just over two months later they remain in ninth position and now have 53 points from 33 games that leaves them seven points behind the Clarets with a game in hand. Probably the most surprising thing of all though is the fact that after over two months at Birmingham Steve Bruce has as yet not tendered his resignation and is still there.
They have played less games than every other side in the top half of the division and will now be looking to get into the top six and yet another crack at the play offs. They have now been out of the top division for sixteen years although they have never been a hugely successful side at the top level. They were though one of the pioneers of English football in Europe in the 50s although that was due to the fact that they are from the country's second largest city and had nothing to do with on field achievements.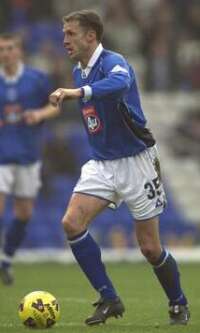 Steve Vickers
Our visit to Birmingham was early in the season and the 3-2 win signalled the end of our magnificent start to the season, our seventh win in eight games. Birmingham were also ninth at that time but already the vultures were out for Francis.
Since then with and without Francis, with and without Bruce the season seems to have been a consistent one of just out of the play offs. In the 26 games they have played since our win at St. Andrews they have won 11, drawn 8 and lost 7. Of the eleven wins eight of them have come at home and three away from home. The home wins have been against Bradford City and Norwich 4-0, Gillingham 2-1, Coventry 2-0, Crystal Palace, Walsall and Barnsley 1-0 and Watford 3-2. Away from home they have picked up maximum points at Barnsley 3-1, Sheffield Wednesday 1-0 and a 3-0 win at Stockport. This takes them to four away wins in total having won at Walsall earlier in the season.
Three of those seven defeats have been at St. Andrews to Preston and West Brom 1-0 and a 2-0 loss to Wimbledon whilst away they have lost games at Grimsby 3-1, Sheffield United 4-0, Wolves 2-1 and at West Brom 1-0.
There have been the eight draws to add to that. Only two of these have been at home, 2-2 against Rotherham and a 1-1 result against Nottingham Forest but only Forest and Stockport have drawn more away games than Birmingham's six. These have been against Watford 3-3, Crewe and Nottingham Forest 0-0, and 1-1 draws at Portsmouth, Gillingham and Millwall.
The FA Cup dealt them a difficult start and they went out 3-0 in the 3rd round to Liverpool at Anfield courtesy of two Michael Owen goals and a third from Nicolas Anelka.
Their last away league result was the 1-0 defeat at West Brom but they have since followed that up with home wins against Barnsley and Gianluca Vialli's Watford. The win against GVW should have been much more comfortable than 3-2 as they led 3-0 just after half time. A last minute own goal from Michael Johnson though made the result against Vialli's strugglers closer than it really was. The Birmingham team for this game was: Ian Bennett, Jeff Kenna, Darren Purse, Michael Johnson, Martin Grainger, Paul Devlin (Nicky Eaden 72), Bryan Hughes, Darren Carter, Stan Lazaridis (Graham Hyde 86), Tommy Mooney, Stern John. Subs not used: Nico Vaesen, John McCarthy, Andy Johnson.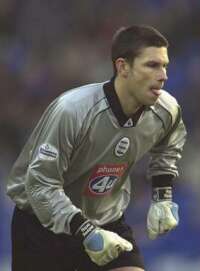 Ian Bennett
In the 33 games to date they have scored 49 league goals and the leading scorer with 12 is Marcelo although he is now at Walsall. Tommy Mooney is just one behind on 11 and although Stern John scored his first Birmingham goal last week he had previously netted 13 league goals this season for Nottingham Forest. Geoff Horsfield is next with eight goals.
Steve Bruce has made a few changes to the squad including some use of the loan market. Steve Vickers had been on loan with him at Palace and when he finally took the Birmingham job he was already there on a similar deal (I wonder who had recommended that?). He immediately made that a permanent signing handing over £400,000.
By the end of December there were two more loan signings, Arkadiusz Bak from Polonia Warsaw and Blackburn's Jeff Kenna. Bak has now returned to his club but Kenna has stayed on a free transfer.
There have been some departures but most of them have not gone too far. David Holdsworth has joined Walsall on loan and he has now been joined at the Bescot Stadium by Marcelo and Martyn O'Connor who have both signed on free transfers. Bruce then did a loan swap with Neil Warnock taking Paul Devlin with Paul Furlong going the other way for a month.
Finally they signed Nottingham Forest's Stern John just over two weeks ago for a bargain £100,000. John has been in good scoring form for Forest this season but Birmingham have jumped in because of the financial situation at the City Ground and got him on the cheap.
It is unlikely that anyone will be playing against his former club although Danny Sonner is still at Birmingham. He got a good reception last season but then blotted his copybook with a couple of bad fouls. Sonner has been out injured and hasn't featured in the first team since he was sent off in the home defeat against West Brom in early November.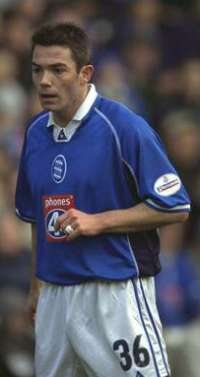 Jeff Kenna
On the coaching staff as Bruce's right hand man is former Burnley manager John Benson who at least will be coming to the Turf without his partner of many years John Bond. Benson left Wigan to join Bruce after he took over.
One current member of the Turf Moor staff did play for Birmingham, Vince Overson who works within the Community team. Vince left the Clarets in the summer of 1986 after playing for a year without contract and signed for Bond at St. Andrews. He played for them at Wembley before moving on to Stoke and then back to the Turf before finally bowing out with injury without making any sort of impact on his return.
One of our opponents in the cup defeat at Cheltenham, Mark Yates, was Frank Casper's last signing when he joined us from Birmingham and shortly afterwards we signed a couple of wingers from them on loan with different results. In the 1992/93 season Louie Donowa played for the Clarets on loan but was a disaster and will be remembered for a game at Rotherham when he proceeded to miss chance after chance after chance. Thankfully his blushes were spared as an Adrian Heath penalty won the game 1-0.
A season later and Ted McMinn came on loan but this time after a month we made the deal permanent. The Tin Man played a major role at the end of that season, none more so than his performance at Wembley that really seemed to wind up the Unprofessionals.
Looking back to find a Burnley win at home against Birmingham we have to go back to our last season in Division One and a 1-0 victory in a relegation battle courtesy of a goal from Ray Hankin. It is a significant result, although a Peter Noble goal ensured a 1-0 win at Newcastle in the next game, this was our last ever Turf Moor victory in the top division.
Since then there have only been two home meetings in the league and both have ended in 0-0 draws. There was a win though in our brilliant run to the Milk Cup semi-final in 1982/83. We were paired with them at the Turf in the 4th round and beat the then First Division club 3-2 with goals from Paul McGee, Steve Taylor and a Brazier own goal.
There can be no mention of past Turf Moor meetings without referring to the game played in February 1962 when the Clarets run out 7-1 winners with Ray Pointer getting two goals and the other five coming from Jimmy Robson, Gordon Harris, Jimmy McIlroy, John Connelly and Jimmy Adamson.
League results in the last 20 years

| | | | | | |
| --- | --- | --- | --- | --- | --- |
| Season | Div | Ven | Result | Att | Scorers |
| 2000/01 | 1 | h | 0-0 | 17,057 | |
| | | a | 2-3 | 19,641 | Cox Weller |
| 2001/02 | 1 | a | 3-2 | 18,426 | Little(2) I Moore |


Last Time in the League

Burnley 0 Birmingham City 0 – Nationwide League Division 1, Saturday 21st April 2001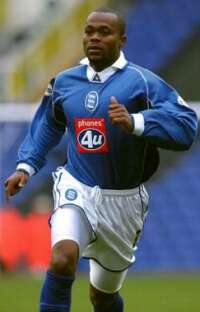 Stern John
The Clarets were suddenly back in the running for a play off place after a good run of results following a dreadful start to the month. A win against Birmingham, no easy task, and we were in with a real chance of making it. In fact with a win against Birmingham we would have made it but there could be no complaints on the day.
It was going to be a full house as Birmingham announced that all their 4,000 tickets looked as though they would be sold. What a surprise then to see something hardly over 1,000 in the Cricket Field Stand. Another club clearly thinking it is bigger than it really is. Mind you we should be thankful there were no more as their behaviour was nothing short of a disgrace as they decided to abuse a minute's silence for referee Mike North who had died taking charge of a game at Southend in the previous week. They should have kept right on to the end of the road and kept away from the Turf.
Mr. Misery had moaned all week about injuries, as if they are the only club that ever get such things, and said that he would be coming to defend and look to pick up a point in a 0-0 draw. That's what he said he would do, that's what he did and that's what they got.
I said there could be no complaints and there couldn't because the Clarets played really well. I don't think anyone on the pitch that day had anything resembling a bad game as we pushed Birmingham to the limit. Gareth Taylor missed the best chance and on one occasion we had what looked a good shout for a penalty but to their credit Birmingham defended well.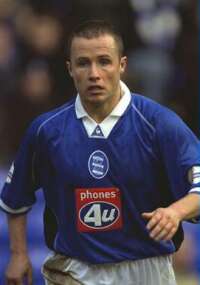 Paul Devlin
It was a close game and Birmingham, a good side, made no real attempts to get forward but were just content to defend deep and in numbers and make it difficult for us. It was made more difficult before the game when Paul Cook had to miss out with injury and Lee Briscoe came in to midfield.
Sometimes you just need that break and this time it didn't come despite all our efforts, the fact that the players left to a standing ovation says everything about the effort and commitment they had given us.
The teams were,
Burnley: Nik Michopoulos, Dean West (Andy Payton 78), Steve Davis, Gordon Armstrong (Ian Cox 78), Mitchell Thomas, Glen Little, Paul Weller, Kevin Ball, Lee Briscoe (Brad Maylett 67), Ian Moore, Gareth Taylor. Subs not used: Paul Crichton, John Mullin.
Birmingham City: Ian Bennett, Nicky Eaden, Michael Johnson, Darren Purse, David Holdsworth, John McCarthy, Bryan Hughes (Stan Lazaridis 66), Martyn O'Connor, Curtis Woodhouse, Danny Sonner (Jamie Pollock 85), Marcelo. Subs not used: David Burrows, Kevin Poole and Jeremy Gill.