Bruce Dyer
Hands up all who can remember our last win at Barnsley? It was a 1-0 win on 16
th
April 1932 in a Second Division game and for the record the scorer was John Hall, his fourth and last goal for the Clarets.
Yes it is now 70 years since we won there and I think an Oakwell victory is more than overdue. It's not nearly so long since we picked up a point there, in fact that came on 2nd October 1937 in a 2-2 draw and on that occasion the Burnley goal scorers were Thomas Storey and Thomas Miller. To be fair we haven't played them too often since, just five post war visits but it has not been the best of grounds for us.
It's not so long since Barnsley were in the Premiership and just two seasons ago as the Clarets were winning promotion to the First Division they were one game from a return to the top league but lost the play off final to Ipswich 4-2 after taking an early 1-0 lead.
That was under the management of Dave Bassett but he lost the job last season to be replaced by Nigel Spackman. That was always doomed to failure, Spackman is a footballing expert and spends his time between management jobs working on television. Once in the hot seat though he never delivers and has to return to the comfort of television.
Spackman was still in charge when Barnsley came to the Turf earlier in the season but he didn't last much longer and has since been replaced by former Mansfield Town and Rochdale boss Steve Parkin who has already started to turn things round.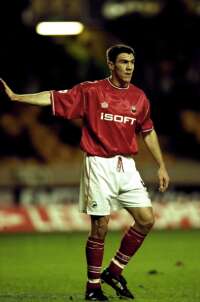 Chris Morgan
When they arrived at Burnley on 20
th
October their 3-1 defeat at Millwall earlier in the season had provided them with their only away goal of the season scored by Bruce Dyer. Everything went to plan and we were soon 2-0 up and to be honest they were looking as bad a side that had been to the Turf all season.
They doubled their away tally with a penalty just before half time and then incredibly equalised seven minutes into the second half. When Andy Payton put us back in front from the spot with just four minutes left it looked as though we had rescued it but incredibly we conceded another and had to settle for a point.
That point allowed Barnsley to climb a place from 23rd to 22nd but still in the relegation positions. They played another five league games before Parkin was eventually appointed, Glyn Hodges had acted as caretaker, and they won one and drew one of them.
The win came at home against West Brom 3-2 and the draw was at Preston 2-2. They lost the other three though at Sheffield Wednesday 3-1 and two 3-0 defeats at home to Manchester City and at Watford.
Steve Parkin's first game in charge was a 1-1 home draw against Wimbledon but that was followed by two defeats, both away, at Norwich 2-1 and at Wolves 4-1. The Wolves defeat was on 27th November but on the following Sunday, the day after the Clarets had gone top at Crystal Palace, they beat Sheffield Wednesday 3-0 at home to start an unbeaten run that has now gone eleven league games.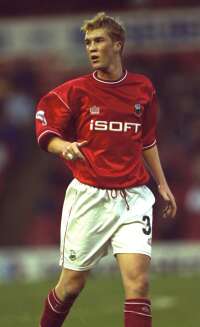 Chris Lumsdon
Yes their last league defeat was in November, although they are out of the FA Cup. Five of the eleven have been won and the other six drawn. Other than the Sheffield Wednesday win they have beaten both Walsall and Gillingham at home 4-1, Stockport away by a 3-1 scoreline and Wolves at home 1-0. They have had 0-0 draws against Nottingham Forest away and Grimsby at home, 1-1 draws away to Sheffield United and Rotherham, a 3-3 home draw against Bradford City and just last week drew 4-4 at Portsmouth in their last game.
They looked to have been beaten in that game at Fratton Park last week when they trailed 1-0, 2-1 and then finally 4-2 with just seven minutes left. The equaliser came in stoppage time from Mike Sheron.
The run has seen them pull clear of the relegation places and they are currently 18th in the league with 36 points from 32 games. They have scored 47 goals in those 32 league games and Mike Sheron is the leading scorer with eleven. Next comes Bruce Dyer with eight and Chris Lumsdon and Chris Morgan both have five.
The Barnsley team in last week's 4-4 draw at Portsmouth was: Kevin Miller, Dave Mulligan, Chris Barker, Steve Chettle, Chris Morgan, Kevin Donovan (Leo Bertos 71), Gary Jones, Chris Lumsdon, Darren Barnard, Bruce Dyer (Tony Bedeau 71), Mike Sheron. Subs not used: Andy Marriott, Alex Neill, Mitch Ward.
There haven't been many changes in personnel since Steve Parkin took over and the only new signing has been Gary Jones who came in from Parkin's old club Rochdale for £200,000. Chris Lumsdon's loan move was made permanent with Sunderland receiving £350,000. Gary McSwegan had a loan spell from Hearts but has now returned and Torquay's Tony Bedeau is currently on loan with them.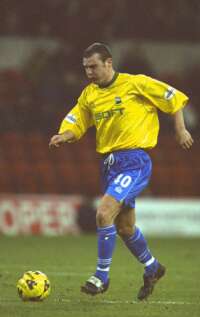 Gary Jones
Kevin Gallen was allowed to join QPR on a free transfer and Sean McClare to Port Vale, also free whilst three players are currently away from the club on loan deals. They are Matty Appleby (Oldham), Jon Parkin (York) and Rory Fallon (Shrewsbury).
Andy Marriott received a standing ovation from the Burnley fans when he played in the game at Turf Moor but on Saturday he is only expected to be on the bench as cover for first choice keeper Kevin Miller. Andy Payton is a former Barnsley player, he scored our last goal in the 3-3 draw but is currently out injured and will not be in the squad.
Transfers between the two clubs are not common place but in March 1996 Adrian Heath brought in central defender Charlie Bishop on loan. He played his part in us avoiding relegation before moving on to Northampton.
In the early 1990s we sold two players to Barnsley, firstly Brendan O'Connell and then Steve Davis (the first Steve Davis). Both did well for Barnsley as they progressed towards the Premiership although neither of them did play Premiership football for them.
The last player to score for Burnley in the top division was Derrick Parker in 1976. He had two spells with the Clarets, rejoining the club in 1985. In between he played 107 league games for Barnsley scoring 31 goals.
Past encounters at Oakwell are hardly going to take up much space, it is only defeats we can talk about. The first of those in modern times was in the 3rd Division in 1980/81. This was the last time we scored at Oakwell but went down to a 3-2 defeat after leading 2-1 at half time. The game was filmed for a documentary programme on one of the young Clarets Micky Phelan and he didn't let them down and scored the Clarets first goal to bring us level. Derek Scott gave us the lead but we still lost the game in the end 3-2
League results in the last 20 years
| | | | | | |
| --- | --- | --- | --- | --- | --- |
| Season | Div | Ven | Result | Att | Scorers |
| 1982/83 | 2 | h | 3-1 | 10,358 | Hamilton Steve Taylor(pen) |
| | | a | 0-3 | 11,938 | |
| 1994/95 | 1 | h | 0-1 | 11,968 | |
| | | a | 0-2 | 5,537 | |
| 2000/01 | 1 | h | 2-1 | 15,380 | Johnrose Payton |
| | | a | 0-1 | 18,725 | |
| 2001/02 | 1 | h | 3-3 | 14,690 | Morgan(og) Briscoe Payton(pen) |
Last Time in the League
Barnsley 1 (Morgan 90) Burnley 0 – Nationwide League Division 1, Tuesday 26th December 2001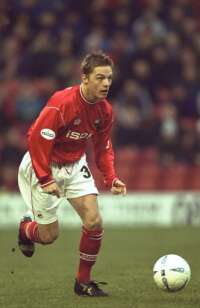 Dave Mulligan
One of the biggest days in the football calendar and a trip over to Yorkshire to see the Clarets take on Barnsley. The place was a sea of Claret and Blue as something approaching 6,000 Burnley fans made the trip.
We went into the game after three successive defeats but confidence was high before the game. What we couldn't have been aware of was that the players had all had too much turkey and plum duff.
That was what Stan said about his players after the game as we lost it to a ridiculous last minute goal that was all down to Lenny Johnrose giving away an unnecessary free kick and then making a mess of a header as that kick came into our box.
Stan wasn't happy with his players but he couldn't have been too happy with the fans either as they turned on him at the end of the game with 'Ternent Out' being heard all around the ground at the end. The reason Stan took the stick was because he brought Jepson on for Little who had only been on as a sub himself for just over 20 minutes. That was something else that upset Stan, Glen declaring himself fit when he clearly wasn't.
After all that abuse you would have thought we were awful but that was not the case. The only problem we had all afternoon was the inability to turn our possession into chances and goals, to be honest we rarely looked as though we would score although it is more than fair to say that Barnsley looked considerably less like scoring.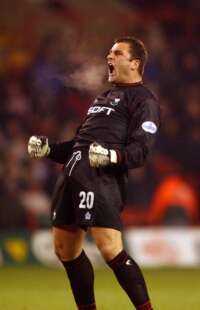 Kevin Miller
Stan really did turn on his players after the game in the strongest of terms and said,
"It's not often I have a go at them but I am now and I've told them in the dressing room. The gloves are off, let's get on with it. As for the goal, I'm not happy with it. Nik came, I heard the shout in the box and Lennie Johnrose headed it. He could have cleared it from the side.
"They're playing their own way now. They might feel a little bit Billy Big Time but we'll see. There were enough chances to win the game and we've thrown it away. Our holiday period ended at quarter-to-five yesterday. We're training tomorrow and we'll be training right through because I'm going to put this right for the Burnley fans because they deserve better than that.
"They may have lost a little bit of confidence but I say they've lost the desire. We've got 38 points from 24 games. We had 38 points from 20 games. I've never lost four on the trot in my managerial career and I damned if I'm going to start now, so here we go. A change of personnel would be very nice to strengthen the squad. I've said the players are doing all right but they didn't do all right yesterday.
"They are better than that. It's just so frustrating, then they come off feeling sorry for themselves. That's not good enough and we've got to do better than that." and on Glen Little, "Glen's still feeling that hamstring but I don't want him back until he's right because he's no good to us until he's right and I've told the physio that. That's not good enough for me so I'll sort it out good style now."
The teams were,
Barnsley: Kevin Miller, Matty Appleby, Janne Salli, Neil Shipperley, Mike Sheron (Lee Jones 71), Robin Van Der Laan, Chris Morgan, Alex Neil (Sean McClare 81), Chris Barker, Steve Chettle, Stuart Ripley (Mateo Corbo 57). Subs not used: Bruce Dyer, Martin Bullock.
Burnley: Nik Michopolous, Mitchell Thomas, Steve Davis, Ian Cox, Paul Smith Micky Mellon, Kevin Ball, Lenny Johnrose, Paul Weller, Ian Moore (Andy Payton 78), Graham Branch (Glen Little 65 Ronnie Jepson 86). Subs not used: Paul Crichton, John Mullin.