Blackpool got off to a decent enough start to the season following their promotion via the play offs last May, but they were drawing too many games and found themselves further down the table than they would have liked.
The 2-2 draw at the Turf back in September was one of seven draws in their first eleven games and when they hit a disappointing run in October and November, with five defeats in six games, it left them hovering just above the bottom three.
That was at the end of November, but December was a much better month for them and with a good Christmas winning them seven points out of nine they are now sat in seventeenth place and are only four points behind us.
Since our September meeting manager Simon Grayson has strengthened his squad. He made three loan signings during October and November. The first of them Matt Jackson from Watford made just three appearances before returning to Vicarage Road where he has since won his place back.
Middlesbrough's young defender Tony McMahon has played twice whilst Polish forward Bartosz Slusarski from West Brom came on as a late sub for Scott Vernon in their last outing at Colchester. That game was won 2-0 which means they go into the game as the team currently in form.
Click HERE to see Blackpool's results this season
It will probably be a relief for the Clarets to be playing away from the Turf. Four of our last five games have been at home and we've picked up just the one point from those four games with the 1-1 draw against Sheffield Wednesday. Our form has been much better away from home and we'll certainly be looking to continue that and to gain our first win at Blackpool since the 1998/99 season when Glen Little and Andy Payton scored our goals in a 2-0 win.
One to Watch
It's been a difficult season for Ian Evatt but he's fit and available and should be in the Blackpool side this afternoon after recovering from injury and completing a suspension.
He was out of the side for eleven weeks with a medial ligament injury sustained in a 2-2 home draw with Colchester in September and only returned to the side for their local derby in December against Preston at Deepdale.
He'd just established himself back in the side when he was sent off early in their Boxing Day draw at Sheffield United for preventing a goalscoring opportunity and had to sit out Saturday's game serving a one match ban.
He made a permanent move to Blackpool in the summer from QPR having spent all last season at Bloomfield Road on loan and playing a major part in securing promotion.
Evatt started his career with Derby County and his first team debut came in the Premiership for Derby in a 1-1 draw against Ipswich, coming on as a sub for Thordar Gudjonsson the elder brother of current Burnley midfielder Joey.
He had a loan spell at Northampton in 2001 and left Derby on a permanent basis in the summer of 2003 for Chesterfield. His home debut for the Saltergate club came against the Clarets in the League Cup game that went to penalties at the beginning of the 2003/04 season.
Two years as a regular at Chesterfield led to a £150,000 move to QPR in 2005 but after just one season came that loan to Blackpool and then the permanent move. He's expected to line up against the Clarets today.
Team News
Wes Hoolihan is the doubt for Blackpool but latest reports suggest that the midfielder, who has been suffering with a tight hamstring, should be ready to line up against the Clarets.
Manager Simon Grayson looks set to make a couple of changes to the side that won at Colchester. With Ian Evatt available again after suspension he's expected to come back in at the expense of Michael Jackson who replaced him on Saturday.
Up front Grayson is likely to play Keigan Parker and he could come to partner Scott Vernon in place of Andy Morrell.
Blackpool's likely team is: Paul Rachubka, Shaun Barker, Ian Evatt, Kaspars Gorkss, Stephen Crainey, Gary Taylor-Fletcher, Michael Flynn, Claus Bech Jorgensen, Wes Hoolihan, Scott Vernon, Keigan Parker. Subs from: Danny Coid, Matt Jackson, David Fox, Andy Welsh, Bartosz Slusarski, Andy Morrell, Ben Burgess.
Click HERE to see the full Blackpool squad
It is a case of two steps forward but one back for Clarets boss Owen Coyle. He welcomes both Graham Alexander and Chris McCann back into the squad following suspension but must go into the game without former Blackpool centre half Clarke Carlisle who suffered a reoccurrence of his hamstring problem in just his second game back.
With Andy Gray and Alan Mahon still rated doubtful, and Joey Gudjonsson and John Spicer both serving the last games of their suspensions, it means we are still short on numbers.
We should line up: Gabor Kiraly, Graham Alexander, Steven Caldwell, David Unsworth, Jon Harley, Wade Elliott, James O'Connor, Chris McCann, Kyle Lafferty, Ade Akinbiyi, Robbie Blake. Subs from: Brian Jensen, Stephen Jordan, Garreth O'Connor, Adam Kay, Steve Jones, Jay Rodriguez.
Last Time Round
Our last trip to Bloomfield Road was in March 2000. We were edging closer and closer to promotion as Blackpool faced departure from the same division via relegation.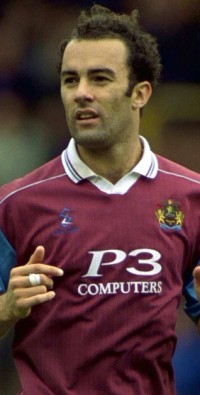 Graham Branch - scored the equaliser
We'd got over the hiccup of successive home defeats to Preston and Luton with two wins and a draw in three games and they'd brought with them the first two of four Ian Wright goals for Burnley.
It was with some confidence that we made the Tuesday night trip over to the ramshackled ground with most of us stuck under the rust of the shed down the side with virtually all of the kop no longer able to be used.
As it turned out it was a disappointing performance against a dreadfully poor Blackpool side and we were in the end thankful to come away with a point, although as it happened these were the last away points we were to drop that season.
The first half was a forgettable forty-five minutes and the only positive thing to say about it was that we were still level at 0-0 when referee Leach brought proceedings to a close. But soon after the restart we fell behind to a goal that had Blackburn written all over it.
Mike Newell won the ball in the air and when he knocked it down Wayne Gill, on loan from Ewood, turned it in for his fourth goal in four games. It brought us to life and finally started to play some decent football, and with eighteen minutes to go we grabbed a vital equaliser.
Glen Little got down the right and his ball in was missed by a Blackpool defender and it dropped nicely for Graham Branch who turned it home right footed. It was the cue for us to go all out for a win but Blackpool survived it and the point apiece was just about fair from a very disappointing game.
The teams were;
Blackpool:
Phil Barnes, David Bardsley, Clarke Carlisle, Ian Hughes, Tommy Jaszczun, Wayne Gill, Andy Couzens, Phil Clarkson, Kevin Richardson, Mike Newell, James Thomas. Subs not used: Tony Caig, Paul Beesley, Gary Ablett.
Burnley:
Paul Crichton, Glen Little, Ian Cox, Steve Davis, Mitchell Thomas, Graham Branch, Micky Mellon (John Mullin 56), Lenny Johnrose, Paul Cook (Ian Wright 63), Andy Cooke, Andy Payton. Subs not used: Gordon Armstrong, Ronnie Jepson, Alan Lee.
Previous results against Blackpool
Previous 20 Seasons

Season

Div

Ven

Result

Att

Scorers

1989/90

LC

a

2-2

4,540

White Mumby

.

.

h

0-1

6,085

.

.

FA

a

0-1

7,790

.

1990/91

4

a

2-1

4,737

Deary Mumby

.
.

h

2-0

18,395

Eli Futcher(pen)

1991/92

AM

a

3-1

2,802

Francis Eli(2)

.

4

a

2-5

8,007

Conroy Francis

.
.

h

1-1

18,183

Eli

1992/93

2

a

3-1

7,942

Harper Farrell Penney

.

AM

a

3-1

2,979

Conroy(2) Farrell

.

2

h

2-2

12,475

Heath Francis

1993/94

2

h

3-1

18,165

Farrell Russell Francis

.99
.

a

2-1

7,956

Eyres Francis

1995/96

2

h

0-1

10,082

.

.
.

a

1-3

8,941

Nogan

1996/97

2

h

2-0

13,599

Gleghorn Nogan

.

.

a

3-1

7,331

Barnes(3)

1997/98

2

a

1-2

7,429

Creaney

.
.

h

1-2

13,413

Payton

1998/99

2

h

1-0

11,925

Payton(pen)

.

.

a

2-0

5,658

Payton Little

1999/2000

2

h

1-0

12,898

Mellon

.
.

a

1-1

8,029

Branch

2002/03

LC

h

3-0

7,448

West Papadopoulos(2)

2007/08

C

h

2-2

16,843

Jones Akinbiyi
Click HERE to see all our results against Blackpool