Before looking ahead tonight, it is worth looking at who might and who might not be currently on trial with the Clarets.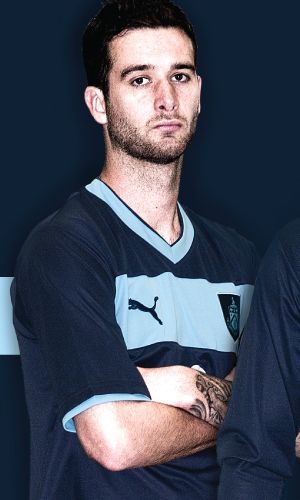 David Edgar should be back in the squad tonight
Almost two weeks ago we learned from sources over in Latvia that two defenders would be joining us from 23rd July on a one week trial. The players in question are Nauris Bulvitis, who once played for Inverness Caledonian Thistle, and Marcis Oss. The pair currently play for FK Spartaks Jūrmala and FK Jelgava respectively.
There has been nothing to confirm things as yet but Clarets Mad understands that both players have arrived and will be training with us this week.
With that news digested came further speculation yesterday of two more players - Bernado Lopes from Benfica and Atletico Madrid's David Viana.
Lopes aged 18, like the two Latvians, is a defender whilst Viana, who is described as Franco-Portuguese is a 20-year-old attacking midfield player who moved to the Spanish club last year from Racing Strasbourg.
It's unlikely that any of them will be involved tonight when we take on a Bury side who also got their pre-season off to a winning start at the weekend, not as though it started too well when they made the short trip to Radcliffe Borough.
They fell behind after just 16 minutes but then proceeded to score six themselves without further reply. By half time they led 3-1 with goals from Andy Bishop and a brace from Shaun Harrad. Like Burnley they changed team at half time but added three more without reply through Marcus Marshall, Lateef Elford-Alliyu and Lenell John-Lewis.
Bury are expected to select from the same players tonight which included all of their four summer signings - Trevor Carson, Adam Lockwood, Marshall and Elford-Alliyu.
On Saturday they lined up:
First Half: Trevor Carson, Mark Hughes, Adam Lockwood, Steven Schumacher, Mark Carrington, Max Harrop, Phil Picken, Luke McCarthy, David Worrall, Andy Bishop, Shaun Harrad.
Second Half: Cameron Belford, Andrai Jones, Efe Sodje, Jordan Melia, Joe Skarz, Marcus Marshall, Dalton McLaughlin, Peter Sweeney, Liam Boswell, Lenell John-Lewis and Lateef Elford-Alliyu.
Things won't be too different for Burnley with Eddie Howe again suggesting he'll give players half a game as he did on Saturday, and it will be a similar squad to the one on show at Altrincham on Saturday.
This time, however, we should see both goalkeeper Brian Jensen and central defender David Edgar. Jensen missed out on Saturday because of a shoulder injury and Edgar was given a few extra days before his first game having returned to training later than the other players.
Howe said: "There is still plenty to work on with all our players in pre-season and we're looking forward to tonight. I expect it will be a harder game than Saturday because Bury are a very good side, but we're looking for another step up in fitness levels and performance.
"The lads have done an awful lot of work since coming back for pre-season. We've crammed a lot in and if we apply ourselves the right way, the rest will take care of itself."
The manager has also, following his decision to change captain, paid further tribute to Chris McCann. He told the Burnley Express: "I think Chris is an absolute top player.
"I don't think we played him in his best position at times last year. He does like to get forward, he is an attacking threat as we saw on Saturday with a lovely goal, and we just want Chris to concentrate on playing.
"It was a big responsibility that I gave him last year at such a young age, and after being injured for two years. Perhaps, looking at my decision it wasn't the right one. I take responsibility for that, not Chris.
"We just want to see him back to his very best, and I'm sure this year he will be."
Back to tonight, and Burnley will select from:
Lee Grant, Brian Jensen, Jon Stewart, Kieran Trippier, Luke O'Neill, David Edgar, Michael Duff, Kevin Long, Jason Shackell, Ben Mee, Danny Lafferty, Joseph Mills, Dean Marney, Chris McCann, Steven Hewitt, Alex MacDonald, Junior Stanislas, George Porter, Ross Wallace, Keith Treacy, Martin Paterson, Danny Ings, Charlie Austin, Joe Jackson.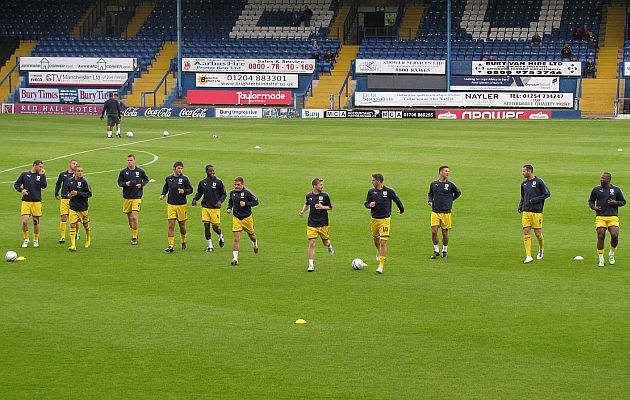 Burnley warming up at Gigg Lane a year ago
This game is now becoming something of an annual event, replacing what had become the pilgrimage to Accrington.
It's the third year running that we've played this particular fixture. Two years ago Ross Wallace, Steven Thompson and Chris Eagles were on the scoresheet in a 3-0 win played in front of a crowd of 2,986.
It was the same score last year, this time with the goals coming from Charlie Austin, his first in Burnley colours, Alex MacDonald and Chris Iwelumo.
That game was watched by 2,174, with over 1,300 of them from Burnley.
The teams were;
Bury: Cameron Belford (Richie Branagan 79), Phil Picken (Zach Rothwell 77), Ben Futcher (Mark Hughes 84), Efe Sodje (Andrai Jones 72), Joe Skarz (Liam Boswell 84), Andy Haworth, Steven Schumacher (Dalton McLoughlin 84), Damien Mozika (Max Harrop 54), David Worrall (Luke McCarthy 77), Ryan Lowe (Jordan Melia 84),Lenell John-Lewis (Danny Hudson 72).
Burnley (first half): Lee Grant, Kevin Long, Andre Bikey, David Edgar, Danny Fox, Marvin Bartley, Chris McCann, Alex MacDonald, Wade Elliott, Jay Rodriguez, Charlie Austin.
Burnley (second half): Lee Grant (Jon Stewart 78), David Edgar (Alex-Ray Harvey 71), Leon Cort, Michael Duff, Brian Easton, Dean Marney, Wade Elliott (Mehdi Lazaar 60, Dominic Knowles 78), Alex MacDonald (Wes Fletcher 60), Ross Wallace, Chris Eagles, Chris Iwelumo.