Burnley haven't changed manager mid-season since Jimmy Mullen left in February 1996, and on that occasion we played three games under the caretaker management of Clive Middlemass, but for our hosts it has become a regular thing during 2007 as the club have moved from Rob Kelly to Nigel Worthington to Martin Allen to Gary Megson and now await manager number five.
It's quite astonishing, until you realise the club is in the hands of Milan Mandaric. He loses managers quicker than most clubs pick up points and is now looking for yet another manager after Gary Megson decided six weeks was enough and scarpered to Bolton.
Mandaric spoke about lack of loyalty and that should have provided amusement for Kelly, Worthington and Allen who had all been shown the door by the former Portsmouth owner in a mad few months.
Allen was brought in during the summer after a third successive season of failing to win promotion in the lower divisions. He went on a spending spree, but there were always rumours of a poor relationship between the two. Refuted by both, but his time was soon over as Mandaric showed him the most oft used door at the Crisp Bowl and in came Gary Megson joking that he'd signed a long term contract of six weeks. That's exactly how long he stayed.
They are now under the caretaker management of Frank Burrows and Gerry Taggart who were both brought in by Megson. Mandaric had promised a new manager well ahead of today's game but that's not happened and so the more experienced caretakers take on the new look Burnley dug out team of Steve Davis, our caretaker manager, who will be ably assisted down on the touchline by goalkeeper coach Phil Hughes, suspended David Unsworth and injured captain Steven Caldwell.
Leicester have a big squad, and one that was heavily strengthened during the summer in Allen's short reign. Here is a list of his signings plus a couple of later loan signings.
Bruno N'Gotty from Birmingham
Jimmy Nielsen from Aalborg
Carl Cort from Wolves
Sergio Hellings from Apeldoom
Radostin Kishishev from Charlton
James Chambers from Watford
Jonathan Hayes from Reading
Hossein Kaebi from Perspolis
Shaun Newton from West Ham
Stephen Clemence from Birmingham
DJ Campbell from Birmingham
Clive Clarke from RK Sunderland (loan)
Marton Fulop from RK Sunderland (loan)
Marco Ferreira from Benfica (loan)
Collins John from Fulham (loan)
Leicester's league form this season has been somewhat inconsistent, but they've lost just once in the last eight games. That was a 1-0 home defeat against Sheffield United. They also went out of the Carling Cup last week at Chelsea but came so close to beating them. They led 3-2 with two minutes to go but then conceded two late goals.
Click HERE to see Leicester's results this season
Burnley will be looking to give Steve Davis a win in what is likely to be his only game in charge of the Clarets, and I suppose it couldn't be a better place for him to do it. He was in the Burnley side that became the first to beat Leicester in their new home and was on the touchline last season when we won our third game there in four visits.
Team News
Leicester have some injury problems and Alan Sheehan is also out suspended. The latest victims to injury are Gareth McAuley and DJ Campbell with groin strains, but both could play.
If so Leicester will line up: Marton Fulop, Bruno N'Gotty, Patrick Kisnorbo, Gareth McAuley, Richard Stearman, James Chambers, Darren Kenton, Alan Maybury, Matty Fryatt, Collins John, DJ Campbell.
Click HERE to see the full Leicester squad
For Steve Davis there will have to be at least one change from the side beaten by Hull. David Unsworth sits out a one match suspension although I'm sure if Chris Foy could see the incident again he'd realise that Unsworth had played the ball.
It is expected that Stephen Jordan will play in the centre with Jon Harley coming in at left back. Whether there will be any other changes remains to be seen, but the likelihood is that with Steve Cotterill having been involved in selecting the team it could be as it was on Tuesday.
We could line up: Gabor Kiraly, Graham Alexander, Clarke Carlisle, Stephen Jordan, Jon Harley, Wade Elliott, John Spicer, Chris McCann, Kyle Lafferty, Robbie Blake, Andy Gray. Subs from: Brian Jensen, James O'Connor, Joey Gudjonsson, Steve Jones, Alan Mahon, Ade Akinbiyi.
Last Time Round
Burnley's trip to Leicester last season was, for the second successive season, a midweek affair and it was our first away game of the 2006/07 season.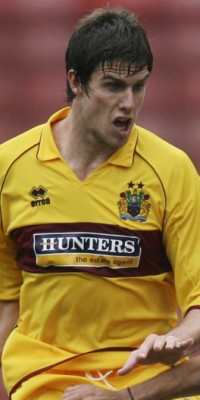 Andy Gray - scored the winning goal for the Clarets
Having beaten QPR on the opening day of the season we were looking to make it the perfect start with another victory and that's exactly what we did. One Leicester fan told me after the game that we had been superb, another said we'd outplayed them, and they had got it absolutely right.
Andy Gray got the only goal of the game right on half time from an Alan Mahon free kick, but we could have won by more in a game we dominated. It was probably only bettered once on our travels last season, and that was the 4-1 success at Norwich.
Wayne Thomas and Michael Duff were dominant at the back and hardly gave Leicester a look in but it was in the middle of the field where this game was won. Mahon was outstanding on the left hand side but in the centre we saw superb performances from the restored Micah Hyde alongside Chris McCann.
To add to the goal we hit the woodwork twice and Leicester and it is fair to say that with any luck at all we would have won this one more easily. If only we could turn in another performance like that today.
The teams were;
Leicester:
Paul Henderson, Richard Stearman, Patrick McCarthy, Patrick Kisnorbo, Darren Kenton, Alan Maybury (Josh Low 61), Andy Johnson, Gareth Williams (Stephen Hughes 45), Danny Tiatto (Elvis Hammond 73), Matt Fryatt, Iain Hume. Subs not used: Conrad Logan, Nils-Eric Johansson.
Burnley:
Brian Jensen, Frank Sinclair, Wayne Thomas, Michael Duff, Jon Harley, Wade Elliott (James O'Connor 81), Micah Hyde, Chris McCann, Alan Mahon (Kyle Lafferty 86), Andy Gray (Stephen Foster 89), Steve Jones. Subs not used: John McGreal, Garreth O'Connor.
Previous results against Leicester
Previous 20 Seasons

Season

Div

Ven

Result

Att

Scorers

1995/96

LC

a

0-2

11,142

.

.
.

a

0-2

4,553

.

2002/03

1

a

1-0

26,254

I Moore

.
.

h

1-2

14,554

Sinclair(og)

2004/05

C

a

0-0

22,495

.

.
.

h

0-0

10,933

.

2005/06

C

a

1-0

23,326

Akinbiyi

.
.

h

1-0

12,592

Spicer

2006/07

C

a

1-0

19,035

Gray

.
.

h

0-1

10,274

.
Click HERE to see all our results against Leicester