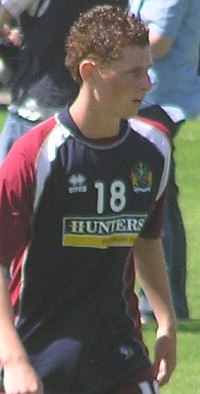 Chris McCann - expected to be in the squad again

This fixture has been almost an annual event over the years but in 2005 visits have become more regular with the reserve team having camped there for the second half of the home fixtures, something that will hopefully have changed for the new season.



Until two years ago it was always a reserve team that we sent for this fixture but that's changed now and for the third successive season it will be the first team who take to the field tonight against a Stanley side who were in action last night, losing 1-0 to Preston.



Stanley fell away towards the end of last season after looking as if they could make the play offs and manager John Coleman has again strengthened his squad for what will be their third season in the Conference.



Central defender Andrew Tretton has arrived from Hereford whilst David Brown has signed a two year deal after impressing at the end of last season after he too came in from Hereford.



As for Burnley, we know this time that Richard Keogh won't be in the squad, and there's no news as yet of any further potential signings, although this morning the national press have linked us with West Brom's Macedonian midfielder Artim Sakiri. I think those of us at the Hawthorns back in August 2003 will definitely remember him and that equalising goal, his only goal to date for the Baggies.



One or two more youngsters could be included, I suspect Marc Pugh could be, and I think Steve Cotterill will select from Danny Coyne, Michael Duff, Wayne Thomas, John McGreal, Frank Sinclair, Wade Elliott, Micah Hyde, James O'Connor, Garreth O'Connor, Ade Akinbiyi, Gifton Noel-Williams, Brian Jensen, Danny Karbassiyoon, Graham Branch, Chris McCann, Kyle Lafferty, Marc Pugh.



It will be a chance for many Burnley fans to get a first look at the new signings Thomas, Elliott, Garreth O'Connor, Noel-Williams and Karbassiyoon.