This seems to have become a regular feature of my match previews for home games, the fact that we don't win anywhere near as often as we should do at Turf Moor.
When Sean Dyche came in and got us two immediate home wins, against Wolves and Leeds who are two that rarely lose at Turf Moor, I thought, following on from the win against Blackpool, that we were about to turn things round at home.
It was the first time we'd won three consecutive home games since we'd beaten Forest, Leicester and Preston in the first three home games of the 2010/11 season. We were about to create a fortress again at Turf Moor?
Not on your life. In twelve games since we've won two, drawn five and lost five and with that sequence of results at home it's ended any hopes of a play off place and, worse still, left us still worrying about our Championship future having dropped to within four points of the drop zone.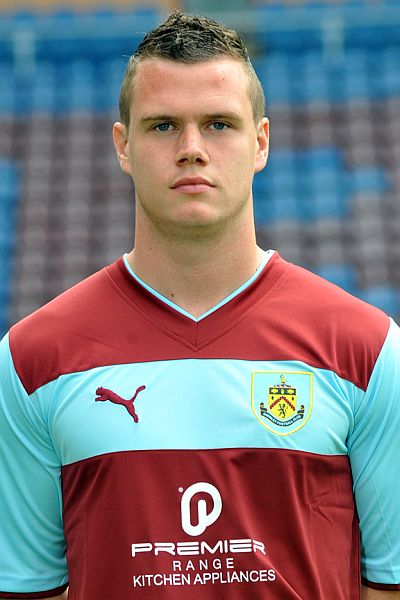 Kevin Long is delighted to get a run in the team
In fairness, in most seasons, our current total of 51 points would be enough to ensure we'd be safe from any relegation fears. Only twice since the introduction of three points for a win has a team been relegated with more than that total - Millwall in 1996 and Leicester in 2008 - and on both occasions it was with 52 points.
So, if we were to be relegated, and I don't think we will, then we'd almost certainly become record breakers. But one way or another, reaching the fifty points total this season has not been the be all and end all and we still need possibly another win to breath easily.
The way things have been going for us that's more likely to come away from home than at home, although, unlike last season, we have won more at home than away. However, if things don't go right later today then the manager and players will certainly come under even more pressure.
We have had some bad fortune at home and I'm not referring to last Monday. The sendings off of Kieran Trippier and Dean Marney in two of the defeats were nothing short of a joke, but there have been enough home performances of such a poor standard to give us some real concerns.
If we play well against Bristol City then I'm sure we'll win, but playing well at Turf Moor hasn't been a given for a long time. However, the last time we needed to beat Bristol City was in the last game of the 2008/09 season when we needed the points to ensure a play off place. Had we lost that day we'd have missed out.
We won it 4-0 and a repeat tomorrow would be just what the doctor ordered although I'm not sure I, or anyone else, could expect such a resounding scoreline. A win will do, any sort of win.
With Michael Duff one of the players ruled out with injury it will almost certainly mean a place again for Kevin Long in the centre of defence. He's played eight games now in the first team, including a late substitute appearance earlier in the season, but we haven't won any of those games.
Asked about being given his opportunity, Long said: I've been delighted to get a run in the team. It's just what I wanted ever since I joined the club. I'm delighted from a personal point of view, but the results haven't really gone our way so I'm kind of disappointed with that."
Looking forward to the game, he added: "Everyone is fighting for points so it's going to be a hard game, but we know we just have to focus on ourselves and hopefully pick up three points."
With Long playing instead of Duff, Sean Dyche has to make another defensive decision with Ben Mee ruled out again after suffering a knee injury in the draw against Nottingham Forest on Monday.
It was noticeable that the players returning from international duty have been less involved. Martin Paterson was on the bench for both Easter games and for the Forest game he was joined by Alex Kačaniklić while Danny Lafferty wasn't included at all.
That meant a place on the bench for Joseph Mills and it was he who replaced Mee. He impressed too and got an assist with our goal and it might just be that he will get his first start of 2013 today and his first home start since the win against Peterborough in September.
Dean Marney is fit again and I suspect will come straight back in. The big question is whether Sam Vokes, preferred to Danny Ings, and Junior Stanislas, who impressed against Forest, keep their places.
We could line up: Lee Grant, Kieran Trippier, Kevin Long, Jason Shackell, Joseph Mills, Ross Wallace, Dean Marney, Chris McCann, Junior Stanislas, Sam Vokes, Charlie Austin. Subs from: Brian Jensen, Luke O'Neill, David Edgar, Danny Lafferty, Brian Stock, Marvin Bartley, Alex Kačaniklić, Keith Treacy, Danny Ings, Martin Paterson.
It hasn't been an easy season for Bristol City. A 3-2 defeat at Bolton saw them drop into the bottom four. They've not been higher since and have been in the bottom three since the week before Christmas.
They arrive at the Turf in a very difficult position. They are bottom of the league and are now six points behind next club Peterborough and a further point behind the next four. They might get away with it if they win three of their last six games but they might just need even more than that.
The season cost manager Derek McInnes his job in mid-January. He's recently become the new Aberdeen manager but his replacement at Ashton Gate is Sean O'Driscoll who himself got a Boxing Day sacking at Forest.
He got off to a decent enough start with three wins in the first four games but only two wins since have seen them hit rock bottom. Even so, they've collected 18 points from 14 games under O'Driscoll and that, over a season would be more than enough to see them in a comfortable mid-table position.
Bristol City played an attacking game at Derby last week but paid for it with a 3-0 defeat. O'Driscoll has confirmed it will be a cautious approach at Turf Moor .
He's said they will play with just one striker and that looks likely to be Steven Davies with the news that Sam Baldock is one of two players rated very doubtful. The other is midfielder Cole Skuse and his place, should he not make it, is likely to go to Neil Kilkenny.
Should either or both of Baldock and Skuse be passed fit it is more likely that they will be on the bench.
Also ruled out for City are strikers Ryan Taylor and Jon Stead but they have some good news with defender Richard Foster back in training.
City are expected to select from: 1. Tom Heaton, 19. Brendan Moloney, 5. Lewin Nyatanga, 4. Liam Fontaine, 17. Greg Cunningham, 10. Liam Kelly, 25. Marvin Elliott, 15. Stephen Pearson, 16. Steven Davies, 22. Dean Gerken, 32. Louis Carey, 2. Richard Foster, 11. Brian Howard, 39. Matthew Bates, 8. Neil Kilkenny, 21. Paul Anderson, 27. Albert Adomah, 12. James Wilson.
Last Time They Were Here
The 2011/12 home game against Bristol City was, as it was in the 2008/09 season, the last league fixture of the season.
Bristol City arrived at Turf Moor having secured their Championship place a week earlier with a win against Barnsley and we were very much in the mid-table. It didn't suggest we were going to get a particularly good game and we certainly didn't.
I wrote of the game at the time: "End of season games can go one of two ways. The players can go out relaxed and put in a performance or the game can be completely flat. Unfortunately this one definitely fell into the latter category with precious little to rouse the crowd throughout the entire ninety minutes."
It was a game that Clarets' boss Eddie Howe described as disappointing. We had only two shots on target all afternoon, and this against a team that played four around half an hour with no recognised goalkeeper, and the only real positive was when our goal came in a 1-1 draw it was perfectly timed for me to win £90 in Clarets Mad's First Goal Sweep, my first ever win since its introduction in 2007.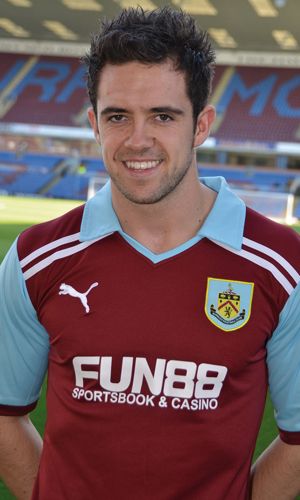 Danny Ings scored our last goal of 2011/12
The team news ahead of the game provided us with a couple of shocks. Brian Jensen was recalled for one game and Chris McCann, who had been an ever present was amazingly left out for the last game of the season, although he was on after just half an hour, replacing the injured Dean Marney. McCann himself had been replaced by Danny Ings.
The first half was dull. There was little to enthuse but at least the half time interval gave us a laugh as the youth team stepped up to receive their Alliance League runners up medals. The PA announcer it was who caused the hilarity. Not knowing who any of the players were he got a number of names wrong and ended it by announcing Andy Farrell as Andy Farsoo.
Nothing changed in the second half, that was until David James went down injured on the hour. With no goalkeeper on the bench it was Liam Fontaine who went in goal. We didn't trouble him too much.
Soon after Jay Rodriguez, who had played in only one of the previous ten games, came on in what we all knew was going to be his last appearance in a Burnley shirt. He couldn't get a goal but we did go in front through Danny Ings.
Even that didn't get us a win. Five minutes later, Danny Lafferty, who had played so well up to that point against their best player Yannick Bolasie, gave the ball away and Ryan Taylor scored via the post.
So home draw number nine for the season it was. "There have been far too many games that have been almost painful to watch," I wrote describing our home season. Not much has changed has it?
The teams were;
Burnley: Brian Jensen, Kieran Trippier, Michael Duff, David Edgar, Danny Lafferty, Ross Wallace (Jay Rodriguez 65), Marvin Bartley, Dean Marney (Chris McCann 30), Junior Stanislas (Cameron Howieson 88), Charlie Austin, Danny Ings. Subs not used: Jon Stewart, Ben Mee.
Bristol City: David James (Ryan McGivern 62), Joe Edwards, Louis Carey, Liam Fontaine, Jamie McAllister, Martyn Woolford, Cole Skuse, Stephen Pearson, Yannick Bolasie (Albert Adomah 82), Chris Wood (Ryan Taylor 77), Brett Pitman. Subs not used: Joe Bryan, Neil Kilkenny.
Previous Games against Bristol City
Last 20 Years
Season
Comp
Ven
Res
Att
Scorers

1994/95

Division 1

h

1-1

11,067

Robinson

a

1-1

6,717

Eyres

1995/96

Division 2

h

0-0

9,327

a

1-0

6,612

Nogan

1996/97

Division 2

h

2-3

9,538

Gleghorn, Weller

a

1-2

10,013

Smith

1997/98

Division 2

a

1-3

11,136

Barnes

h

1-0

10,600

Payton(pen)

1999/2000

Division 2

a

0-0

11,510

h

2-0

10,175

Cook, Cooke

2007/08

Championship

a

2-2

14,079

Gray, Carlisle

h

0-1

12,109

2008/09

Championship

a

2-1

16,108

Paterson, Thompson

h

4-0

18,005

Alexander(2 2pens), Elliott, Gudjonsson

2010/11

Championship

h

0-0

14,540

a

0-2

14,360

2011/12

Championship

a

1-3

12,187

Wallace

h

1-1

13,369

Ings

2012/13

Championship

a

4-3

11,836

Austin(2 1pen), Paterson, McCann
Click HERE to see all previous results against Bristol City