Burnley and Plymouth have travelled in very different directions since we last played them in March 2009 down at Home Park. We won 2-1 that day with goals from Steven Caldwell and Robbie Blake, giving us our last away win of the 2008/09 season as we marched into the play offs and the Premier League.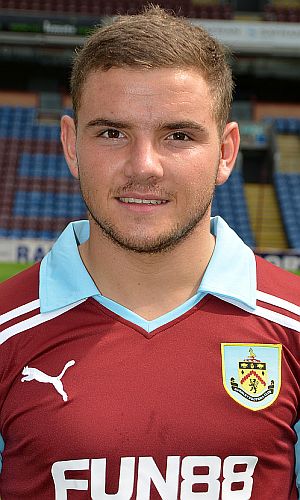 Alex MacDonald, on loan at Plymouth last season
Plymouth escaped the drop that season. They were five and six points clear of Norwich and Southampton who went down with Charlton.
A year later, as Burnley came back down, Plymouth had been relegated. It started a dramatic three years during which they came close to losing their league status.
They were next to bottom of the Championship at the end of the 2009/10 season. A year later then ended in the same position in League One, and last season only a late improvement saw them claw their way out of the bottom two in League Two to keep them in the Football League. It's all a far cry from when they, like Stockport, had this notion that we were their rivals.
Never mind the league position; the club looked set to fold at one time as they went into administration, but they are still with us, just, and I'm sure happy to be still in the league after last season's dramatic recovery.
It was aided by Alex MacDonald. He joined them on loan and scored four times. He got a late equaliser in a 2-2 draw at Southend, scored the first two as they won 4-0 at Accrington and then got the only goal of the game as they beat Aldershot.
They tried to sign him in the summer and, according to reports, manager Carl Fletcher would still like to take him back to Home Park on loan.
Having escaped last season they were hoping for a good start to the new season. Unfortunately, that's not happened. They beat Portsmouth's youth team 3-0 to qualify for tonight's game, but in the league they've won only one point from three games.
They lost 2-0 at home to Aldershot and in the two away games last week they drew 0-0 at Dagenham & Redbridge before losing 2-1 at Oxford. The goal on Saturday, their only league goal so far was scored by Robbie Williams.
In the COCUP win there was a former Burnley trialist on the scoresheet. Paris Cowan-Hall got their second with the other two goals coming from Johnny Gorman and Nick Chadwick.
Fletcher is expected to name a similar line up tonight to the one that played at Oxford although Darren Purse, who last played at Burnley for Cardiff when he was sent off and was chased up the tunnel by Andrew Cole.
The team at Oxford was: Jake Cole, Curtis Nelson (Durrell Berry), Darren Purse (Nick Chadwick), Maxime Blanchard, Onismor Bhasera, Paris Cowan-Hall, Conor Hourihane, Paul Wotton, Luke Young, Andres Gurrieri (Robbie Williams), Warren Feeney. Subs not used: Ollie Chenoweth, Joe Lennox, Matt Lecointe, Johnny Gorman.
Without showing any disrespect to Plymouth; this was just about the best draw we could get against a lowly League Two side at home. Their fans have my sympathy though because I certainly wouldn't have fancied a midweek trip to Plymouth had we been drawn the other way round.
We need a win to boost the confidence a bit after Saturday but it is difficult to determine just who will be in the Burnley team tonight. There will be changes, no doubt about that, and I expect to see Brian Stock, Marvin Bartley and Keith Treacy in the starting line up while there could also be a place for MacDonald against his old loan club.
I don't think Eddie Howe will go for wholesale changes but he'll certainly want to give some of these players some game time.
It really is a guessing game but potentially we could line up: Lee Grant, Kieran Trippier, David Edgar, Jason Shackell, Joseph Mills, Brian Stock, Marvin Bartley, Chris McCann, Keith Treacy, Alex MacDonald, Charlie Austin.
Last Time They Were Here
Plymouth's last visit to Burnley ended in a disappointing 0-0 draw for the Clarets in a game that saw Chris Eagles sent off and prompted manager Owen Coyle to bring in Steven Thompson, his last permanent signing prior to winning promotion.
However, the last time Plymouth were here for a League Cup tie they went home with a shock 2-1 win and a place in the fourth round of the competition.
Burnley had beaten Cardiff in the second round of the competition; Plymouth had come through with wins against Torquay and Portsmouth, the very same side they've beaten this time to get this tie.
We were third in the First Division and Plymouth sat in tenth place in the Third Division. The visitors arrived with former Burnley goalkeeper Jim Furnell in their side along with future Blackburn manager Bobby Saxton and Paul Mariner, who soon after signed for Ipswich and went on to play for England.
Things didn't go to plan for Burnley despite taking an early lead through Ray Hankin. Plymouth drew level just past the half hour through a Colin Waldron own goal and, with three minutes remaining, stunned the 11,000 crowd with a winner from Neil Hague.
Then went on to beat QPR and Birmingham, two more First Division sides, before losing their two legged semi-final 3-1 on aggregate against Manchester City.
The teams were;
Burnley: Alan Stevenson, Peter Noble, Keith Newton, Martin Dobson, Colin Waldron, Jim Thomson, Geoff Nulty, Ray Hankin, Paul Fletcher, Doug Collins, Leighton James.
Plymouth: Jim Furnell, Colin Randall, Colin Sullivan, John Hore, Bobby Saxton, Neil Hague, Alan Welsh, Steve Davey, Paul Mariner, Ernie Machin, Alan Rogers.
Previous Games against Plymouth
Last 20 Years
Season
Comp
Ven
Res
Att
Scorers

1992/93

Division 2

h

0-0

8,676

a

2-1

5,905

Pender(2)

1993/94

Division 2

h

4-2

10,488

Eyres, Monington, Peel(2)

a

2-3

10,595

Heath, Philliskirk

Play Offs

h

0-0

18,794

a

3-1

17,515

Francis(2), Joyce

1996/97

Division 2

h

2-1

9,602

Nogan, Eyres(pen)

a

0-0

6,289

1997/98

Division 2

a

2-2

3,006

Eyres(pen), Creaney

h

2-1

18,811

Cooke(2)

2004/05

Championship

a

0-1

13,308

h

2-0

12,893

Valois(pen), J O'Connor

2005/06

Championship

a

0-1

11,829

h

1-0

11,292

Ricketts

2006/07

Championship

a

0-0

12,817

h

4-0

9,793

Duff, McVeigh, Jones, Elliott

2007/08

Championship

h

1-0

14,162

Blake

a

1-3

13,557

J O'Connor

2008/09

Championship

h

0-0

10,032

a

2-1

11,246

Caldwell, Blake
Click HERE to see all previous results against Plymouth