If we were looking for a draw that would give us the best possible chance of a place in the next round then this most definitely not it. We have not just been drawn against a Premier League team but currently the best of them, although Manchester United fans might disagree.
Arsenal are top of the league but more than that they are a side that is an absolute delight to watch. They are the one team, if on television live when I'm out, will guarantee that I press my red Sky+ button.
Arsène Wenger has probably created his best side yet, and that's incredible given that their three most influential players of two or three years ago are now gone. There was Patrick Vieira, Thierry Henry and the brilliant Dennis Bergkamp. If anyone wanted to know how Arsenal would cope without them they have not been given their answer.
Wenger arrived at Highbury early in the 1996/97 season as replacement for Bruce Rioch. He's won three Premiership titles amongst others and they have even taken that fantastic record of ours away of thirty league games in one season without defeat. They managed 38, the full season.
This season they are currently two points clear of United at the top of the league and most judges would believe it to now be a two horse race. They are still in the Carling Cup, have qualified for the knock out stages of the Champions League. Only Seville and Middlesbrough have beaten them this season so it shows just what a task we have if we are to go through.
For me personally, I would have liked a couple of easier rounds first and then Arsenal, but if it had to be one of the really top clubs then Arsenal were most definitely my first choice. So keen am I to see them play live that had this tie not been drawn I was seriously considering going to watch them in the Carling Cup at Ewood.
Had I had a choice then I would have played it away from home, the Emirates is the one stadium in this country that I am still to visit that I would really like to see a game at. So I wouldn't mind a replay.
Although I have this great desire to see this Arsenal side I'll now say I hope they play badly and we beat them, but I suppose I'm a winner either way although I don't enjoy getting knocked out of the FA Cup.
Still I'm going to enjoy it.
Click HERE to see Arsenal's results this season
One to Watch
He's unlikely to be playing, but I couldn't miss out on this opportunity to have Spaniard Cesc Fabregas in the One to Watch feature in the match preview.
If asked to name an Arsenal player today most people would opt for midfielder Fabregas. He appears to have been a regular in the side for ever but he's still only twenty years of age.
He joined Arsenal as a 16-year-old from Barcelona in the summer of 2003 and although he didn't play a league game in that first season he still broke two club records. When he made his debut in the League Cup against Rotherham he became the youngest player ever to play for Arsenal, and in the same season a goal in the same competition against Wolves meant he was the youngest player to score a goal for the club.
He did break into the league team in the 2004/05 season and became the youngest player to score a league goal for Arsenal, this coming against Blackburn. He made numerous appearances that season but with the departure of Vieira in the summer of 2005 he established himself in the first team.
His international career is also flourishing. He made his debut for Spain at the age of nineteen and has now won twenty full caps his country.
With the departure of Henry last summer to Barcelona he has taken on more responsibility in the side and has also added goals to his repertoire. He's already scored six which is double his previous season best.
Arsenal will be turning out a very strong side against us, but there's no doubt it will be weaker for Fabregas' absence.
Team News
Usually if a side is without a number of first team regulars it proves to be a boost for the opposition, but in this case we cannot get too excited at the prospect of certain players not being in the Arsenal side.
Arsène Wenger has revealed that Cesc Fabregas. Manuel Almunia and Gael Clichy will all be rested while Alexandr Hleb (ankle) and Emmanuel Adebayor (hamstring) will not feature although they are only slight injuries.
Theo Walcott could play but he will face a late fitness test on a shoulder injury although they are certain to be without Mathieu Flamini, who is serving a suspension, and Robin van Persie who is still a full week away from full fitness.
Wenger has suggestes that Lassana Diarra, Denilson and Abou Diaby will contest the midfield roles and that German goalkeeper Jens Lehmann will play in what could be his last outing for Arsenal.
Nicklas Bendtner, who scored for Birmingham on the Turf last season, is available after a one match suspension that really should have been three. Also available is Johan Djourou who has just returned from loan at Birmingham.
Two players certain to play are Kolo Toure and Emmanuel Eboue and these will be their last games before heading off to the African Cup of Nations.
Click HERE to see the full Arsenal squad
Owen Coyle will have more players to select from than in recent games. Both Graham Alexander and Chris McCann were back from suspension at Blackpool last Tuesday, and although David Unsworth is now out with a one match ban we can welcome back both Joey Gudjonsson and John Spicer from their bans.
Also added to the squad is new loan signing Stanislav Varga and he's expected to start alongside Steven Caldwell in the absence of Unsworth. With no news on Alan Mahon, so presuming he remains injured, we could line up:
Gabor Kiraly, Graham Alexander, Stanislav Varga, Steven Caldwell, Jon Harley, Wade Elliott, James O'Connor, Chris McCann, Kyle Lafferty, Robbie Blake, Andy Gray. Subs from: Brian Jensen, Stephen Jordan, John Spicer, Joey Gudjonsson, Steve Jones, Ade Akinbiyi.
Last Time Round
It is over half a century since Burnley and Arsenal last met in the FA Cup. On that occasion, as today, the game was played on the Turf, and Arsenal were victorious beating us 2-0 with two second half goals in the fifth round after we'd previously beaten Portsmouth and Sunderland.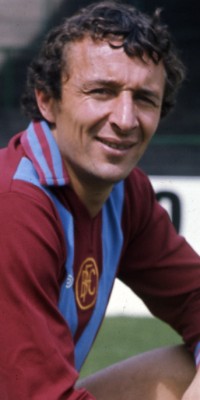 Mike Summerbee - played as a striker the last time we met Arsenal
The Burnley team that day was: Des Thompson, Jock Aird, Harold Mather, Jimmy Adamson, Tommy Cummings, Reg Attwell, Jack Chew, Jimmy McIlroy, Bill Holden, Les Shannon, Billy Elliott.
Our only cup meeting since was in the 1967/68 League Cup. We were 2-0 up after just eight minutes through Andy Lochhead and Brian O'Neil but then conceded three goals in eight minutes just past the half hour.
A late Willie Irvine goal earned us a replay which we lost 2-1 with Irvine scoring again. Between those two games we met in the league at home and won 1-0 with Gordon Harris scoring. In those two home games Arsenal had both full backs Peter Story and Bob McNabb sent off along with Frank McLintock.
Our last ever Turf Moor meeting came on the opening day of the 1975/76, a season that proved to be our last in the top flight. We went into the game with new signings Willie Morgan and Mike Summerbee but with both Frank Casper and Paul Fletcher still injured we fielded Summerbee as a striker alongside Ray Hankin.
In front of an attendance of 18,831 the game ended goalless and Burnley lined up: Alan Stevenson, Mick Docherty, Colin Waldron, Jim Thomson, Keith Newton, Willie Morgan, Peter Noble (Brian Flynn), Doug Collins, Leighton James, Mike Summerbee, Ray Hankin.
We lost the return at Highbury 1-0 and so the last Burnley goals against Arsenal came in March 1975 in a 3-3 draw, a game ruined by referee Reynolds who later apologised to Burnley for his performance and in particular for failing to award us a penalty for a foul on Keith Newton. Our scorers that day were Noble, Hankin and James - and Noble had scored the only goal of the game earlier in the season when we beat Arsenal 1-0 at Highbury, our last ever win against them.
Previous results against Arsenal
Click HERE to see all our results against Arsenal