It's another early start for this one. We've had a few of them recently but with Crystal Palace gone, and now Ipswich, it will be a couple of the worst ones out of the way.
It's not been a happy hunting ground for us and they remain one of just two Championship clubs where I've never seen the Clarets go and take all three points. The last time we did at Portman Road, the only time we have done, was back in the 1969/70 season when Frank Casper gave us a 1-0 win.
In recent years, since we found ourselves in the same division again, we've played there nine times. Six of those have been drawn and three have been lost. In those games there have been some late goals.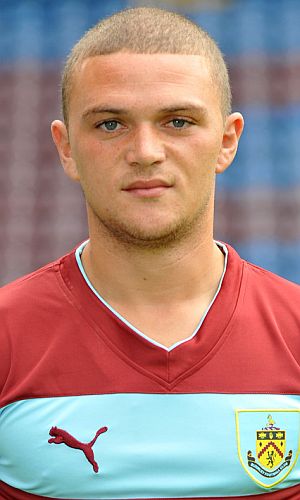 Banter on the training ground says Kieran Trippier
Dimitrios Papadopoulos scored a stoppage time equaliser for us in 2002/03 season and Matt Richards did likewise for Ipswich two seasons later and then scored a late penalty to win the game for them a year on from that.
In 2006/07 it was Alan Lee who scored a stoppage time penalty and two seasons ago Clarke Carlisle headed our equaliser in time added on. So, whatever the score towards the end tomorrow, history suggests things could change.
It's the first away game under the new manager and we set off with a 'so far, so good' story having won those two home games. I feared for him at first when I saw the first three fixtures. None of them are ones where we ever seem to do very well so to have six points from the home games against Wolves and Leeds is, without doubt, a good start.
Now it is that away game and he's said it is a game we are going looking to win. Even so, a clean sheet will be high on the list of priorities as right back Kieran Trippier pointed out.
Speaking yesterday, he said: "If we keep a clean sheet we can win games and it's important because that's what we struggled to do last season and at the start of this season.
"A lot of people might have been criticising us for our defending but the new manager has done a lot of work with us. From a defensive point of view I don't think we have been at our best this season but the new manager has come in, he has spotted it and he has sorted it.
"The work we have done defensively has helped us a lot and personally I think I have improved my defending. In the past two games we have done our jobs well and stuck to the tasks the gaffer has given us. The work we have done on the training ground we take onto the pitch."
Trippier has been happy with the training ground work and the atmosphere at Gawthorpe. He added: "He's a great manager to work with and he puts a smile on everyone's faces.
"There's loads of banter on the training ground, he's more one of the lads, and his training sessions are good, that's what's putting a smile on the players' faces. He has put some great ideas in our minds. Everything he has told us has been spot on, and we've done it."
Trippier will line up in what Sean Dyche will hope is an unchanged defence, but for that to be the case Ben Mee will have to come through after being forced off in the Leeds win. Both full backs were victims of very poor challenges in that game, both clearly missed by the otherwise observant Neil Warnock.
Should Mee make it then I expect us to name the same side that started on Tuesday with potentially the same substitutes. We could line up: Lee Grant, Kieran Trippier, Michael Duff, Jason Shackell, Ben Mee, Brian Stock, Dean Marney, Chris McCann, Ross Wallace, Charlie Austin, Martin Paterson. Subs: Brian Jensen, David Edgar, Danny Lafferty, Marvin Bartley, Junior Stanislas, Danny Ings, Sam Vokes.
It's been all change at Ipswich. Paul Jewell was relieved of his duties and has been replaced by Mick McCarthy who was, this time last year, manager of Wolves. Like Dyche, McCarthy got off to a win, a 1-0 success at Birmingham, but then witnessed a heavy 5-0 defeat at Crystal Palace.
Tomorrow he's in charge at Portman Road for the first time as Ipswich look to end a long run without a home win that stretches to last March.
We don't know what formation McCarthy will employ. He went with a 4-4-2 at Birmingham but three days later used a 4-1-4-1 formation at Crystal Palace. When asked if he would go back to two strikers, he said: "Two o'clock tomorrow afternoon you'll have my team sheet. Why would I even begin to tell anybody so that they can prepare?
One question will be whether Guirane N'Daw plays. He did at Birmingham but not at Palace. He was out of the reckoning with Jewell but McCarthy admitted that he had to leave him out at Palace because he'd suffered cramp in both legs at Birmingham, a suggestion that he's not fit enough.
Another player who didn't play for Jewell, Elliott Hewitt, has been drafted in tomorrow. He's suffered injuries since signing from Macclesfield in the summer but impressed in their Under-21 league game against Swansea.
Also in that team were Michael Chopra, Nathan Ellington, Luke Hyam and Josh Carson, showing the strength of the overall squad.
One player out is Massimo Luongo. He was on a season long loan from Spurs but he's been left out recently because of the limit on loan players. Stephen Henderson (West Ham), Danny Higginbotham (Stoke), Richie Wellens (Leicester), Bilel Mohsni (Southend) and DJ Campbell (QPR) are all current loan players ahead of him so Luongo's loan has been cancelled this week.
There's been a lot said recently about the state of play. Wellens had his say last week, saying the permanent players there are too cosy, and this week Nigel Reo-Coker, who is on a short term deal, made similar accusations.
The suggestion is that the air has been cleared and we could see a very different Ipswich tomorrow.
Their team at Palace was: 13. Stephen Henderson, 7. Carlos Edwards, 6. Danny Higginbotham, 4. Luke Chambers, 3. Aaron Cresswell, 11. Lee Martin, 23. Nigel Reo-Coker, 17. Andy Drury (9. Jay Emmanuel-Thomas), 16. Richie Wellens (8. Guirane N'Daw), 5. DJ Campbell, 27. Daryl Murphy (20. Tommy Smith). Subs not used: 1. Scott Loach, 10. Michael Chopra, 14. Jason Scotland, 21. Bilel Mohsni.
Last Time We Were There
Burnley's visit to Portman Road last season came on a Wednesday night in March. We were in a poor run of form and the 0-0 draw at Cardiff on the previous Sunday had seen us extend our run without a win to six games.
We made three changes for this game. Jay Rodriguez, who had missed the Cardiff game, returned for what was his last start in Burnley colours. Marvin Bartley and Charlie Austin were also included with Martin Paterson, Ross Wallace and Danny Ings the three players left out.
We lined up in a 4-5-1 formation with Jay Rodriguez hardly ever coming off the left touchline in a defensive role and it was a night when we did not have one solitary effort on target.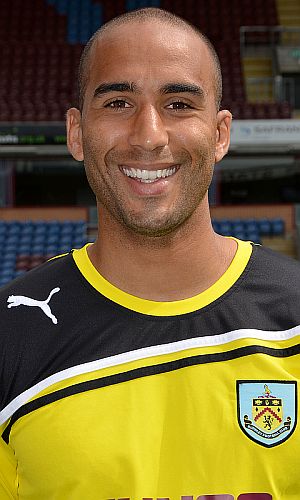 Lee Grant prevented a heavy defeat
We were every bit as good as Ipswich in the first quarter of the game, probably because Ipswich didn't look too bright in this period. It brought us two off target efforts from the full backs Kieran Trippier and Danny Lafferty and incredibly we didn't even have another off target effort all night.
After about 20 minutes, Ipswich stepped things up and we simply didn't cope with them. Jay Emmanuel-Thomas gave Danny Lafferty a torrid time and only some last ditch defending from Michael Duff and David Edgar kept us level.
We were thankful to get to half time with the score at 0-0, hopeful that things might improve in the second half. Unfortunately they didn't, and we took an absolute battering with only goalkeeper Lee Grant preventing a heavy defeat.
They finally took the lead. Bartley lost possession of the ball in midfield and Ipswich broke. Grant again came to the rescue, saving superbly from Lee Martin, but with no defender moving, former Newcastle striker Michael Chopra scored.
How it remained at 1-0 we'll never know, and it wouldn't have done but for Grant and the only cheer for us in the second half was the late dismissal of Grant Leadbitter who received two yellow cards.
It was a game that thankfully only 211 Burnley fans witnessed. It was awful.
The teams were;
Ipswich: Alex McCarthy, Carlos Edwards, Aaron Cresswell, Damien Delaney, Tommy Smith, Jay Emmanuel-Thomas, Lee Bowyer, Grant Leadbitter, Lee Martin, Michael Chopra (Ibrahima Sonko 90+4), Daryl Murphy. Subs not used: Arran Lee-Barrett, Ryan Stevenson, Josh Carson, Andy Drury.
Yellow Cards: Lee Bowyer, Grant Leadbitter.
Burnley: Lee Grant, Kieran Trippier, Michael Duff, David Edgar, Danny Lafferty (Ben Mee 53), Junior Stanislas, Marvin Bartley, Dean Marney (Ross Wallace 58), Chris McCann, Jay Rodriguez, Charlie Austin (Martin Paterson 59). Subs not used: Brian Jensen, Josh McQuoid.
Previous Games against Ipswich
Last 20 Years
Season
Comp
Ven
Res
Att
Scorers

2002/03

Division 1

a

2-2

22,736

Gnohere, Papadopoulos

h

1-1

15,501

Blake(pen)

2003/04

Division 1

a

1-6

22,048

Facey

h

4-2

11,343

Little, May, Chaplow, Blake

2004/05

Championship

a

1-1

23,183

Blake(pen)

h

0-2

11,969

2005/06

Championship

h

3-0

10,496

J O'Connor, G O'Connor, McCann

a

1-2

24,482

Ricketts

2006/07

Championship

h

1-0

11,709

McCann

a

1-1

20,254

Lafferty

2007/08

Championship

h

2-2

9,852

Lafferty, Gray

a

0-0

20,077

2008/09

Championship

h

0-3

11,312

a

1-1

18,745

Elliott

2010/11

Championship

a

1-1

19,317

Carlisle

h

1-2

14,483

Rodriguez

2011/12

Championship

h

4-0

12,499

Vokes, McCann(2), Rodriguez

a

0-1

16,564
Click HERE to see all previous results against Ipswich