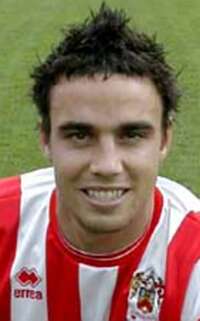 Michael Duff - during his time at Cheltenham

We've know about this particular fixture for a year now, it is part of the deal that saw Michael Duff leave Cheltenham for Burnley last summer and we are now ready to make our second visit to Whaddon Road.



That was a less than pleasant afternoon when we turned in a woeful display against the then Division Three side managed by a certain Steve Cotterill. It was the day that poor Luigi Cennamo was caught like a rabbit in headlights on his debut but to be fair he got little protection from the players in front of him.



Duff played against us that day, as did reserve team coach Mark Yates, but both of them along with Steve Cotterill and physio Andy Mitchell will be with the visitors this time round. For Duff it will be an opportunity to play against his brother Shane who is a regular in the Cheltenham side.



There'll be some familiar faces to the Burnley fans on the other side too – there's manager John Ward along with two players who both joined the Clarets on loan from Nottingham Forest.



Striker Steve Guinan joined Burnley on transfer deadline day 1997 but he never started a game. After scoring 26 goals for Hereford in 2003/04 season he moved to Whaddon Road last summer.



Ward has made just one signing so far this summer and that was this week when he captured left sided defender Craig Armstrong. It's as far back as December 1994 when he was at Burnley coming in after both left backs Chris Vinnicombe and Wayne Dowell suffered serious injuries.



Those who saw our first pre-season game a year ago at Accrington will remember trialist Michael Taylor. He moved to Cheltenham eventually and he will also be in their squad.



It's a big day for their supporters too with the launch of their Supporters Trust. The big launch will be at 2:30 p.m. on the pitch when players from Cheltenham's past along with John Ward and Steve Cotterill (both honorary members) will sign the document that launches their Trust.



Good luck to them with their Trust.



There's no early team news but Cheltenham have already played three games, the last of which was a 4-0 win against Bishop's Cleeve. In that match they fielded two full teams.



In the first half they lined up: Shane Higgs, Andy Gallinagh, Mike Townsend, Shane Duff, Jamie Victory, JJ Melligan, Adam Connolly, David Bird, Craig Armstrong, Michael Whittington, Damian Spencer.



And in the second half it was: Scott Brown, Jeremy Gill, Gavin Caines, Michael Taylor, John Lewis, Sosthene Yao, John Finnigan, Grant McCann, Ashley Vincent, Kayode Odejayi, Steve Guinan.



Steve Cotterill is certain to take all of his new look squad and we'll select from: Danny Coyne, Wayne Thomas, Danny Karbassiyoon, John McGreal, Frank Sinclair, Michael Duff, James O'Connor, Micah Hyde, Graham Branch, Ade Akinbiyi, Wade Elliott, Brian Jensen, Garreth O'Connor, Gifton Noel-Williams, Richard Keogh.