The first difference is that we'll have a different view. No longer are we in the top tier of the stand on stilts at the Bramall Lane end of the ground. There have been changes made there since our last visit and we now find ourselves in the lower tier.
One even bigger change will be seen to our left just before kick off when the managers take their positions in the technical areas. No longer will we see Neil 'Colin' Warnock. After seven and a half years, and after suffering relegation last May, he decided to move on.
In his place came someone who couldn't have been more different, former Middlesbrough, BRBC and West Brom boss Bryan Robson. He's so unlike Warnock, and such is his personality that the press conference convened to announce his appointment came to an end after just one question.
He took over a side that in fairness should never have been relegated. If there was any justice in football we'd be heading for West Ham and not to South Yorkshire. But West Ham got away with it, Sheffield United's chairman made himself look pretty foolish, and the Blades came down.
They were relegated on the last day of the season when they fell to defeat against Wigan at home, and incredibly it was one of their former players David Unsworth who scored the decisive winning goal from the penalty spot.
Robson has changed things round a bit and changed the personnel. Those leaving the club include Phil Jagielka who moved to Everton for £4 million, Claude Davis who joined his former boss Little Billy at Derby in a £3 million move and Mikele Leigertwood who became the first player to move to QPR after the new money came in.
Keeping up with the Warnock tradition, it just wouldn't have been right had there been no strikers in amongst the new signings, and there were two very high profile strikers who moved in. Billy Sharp returned to his first club. Having let him go to Scunthorpe for next to nothing they bought him back for a small fortune but they are too embarrassed to tell us how much.
The second striker to sign is former Blackburn player James Beattie who was the most expensive introduction into the Championship this summer at £4 million. The full list of Robson's signings, including two former Burnley loan players, is below:
Billy Sharp from Scunthorpe
Gary Naysmith from Everton
Lee Hendrie from Aston Villa
James Beattie from Everton
David Carney from Sydney
Gary Cahill from Aston Villa (loan)
Phil Bardsley from Manchester United (loan)
Robson has been coming under some pressure from the home fans after not starting the season as well as they hoped to. They were expected, along with the other relegated clubs Charlton and Watford, to storm up to the top of the table. It hasn't quite happened and they currently sit three points and seven places below the Clarets.
Their form has improved and they haven't been beaten in any of their last three league outings, although a weakened side went down to a very impressive young Arsenal side in the Carling Cup in midweek.
Click HERE to see Sheffield United's results this season
It's getting boring that every time we go to Bramall Lane we refer to the fact that last time we won at the ground it still doubled up as a cricket ground. That was on the opening day of the 1973/74 season. Since our most recent promotion I'm afraid it is played six, lost six.
This time could just be different in a game where six players could play against their former clubs. The Blades have both Cahill and Bardsley, mentioned above, whilst David Unsworth, Jon Harley, Andy Gray and Ade Akinbiyi are all expected to be in the our squad.
One to Watch
Three years ago next Thursday the Clarets were facing a major injury crisis ahead of a cup tie against Spurs, particularly in the centre of defence. Steve Cotterill filled one of the gaps with the signing of an 18-year-old central defender from Aston Villa by the name of Gary Cahill.
Quite simply no one had heard of the Sheffield born defender, no surprise given that he'd never played any first team football. Having said that, we'd probably all seen him play in a recent England Under-20 game at Huddersfield, the one when Richard Chaplow came on and scored.
Cahill did well enough on his debut but we were still dubious about him playing in the next league game. He did, he played well, and we soon extended the month's loan by a further month. In the end we kept him for the rest of the season and he bagged award after award from the supporters' clubs at the end of that season.
Back at Villa he eventually won his place in the first team and no matter what else he ever does he'll be remembered for a superb striker in the second city derby, the second in a 3-1 win against Birmingham.
Since he's suffered injury and is currently out of favour and down the pecking order for a place in the Villa side. West Brom tried to sign him before the window closed. He didn't move then but in September he joined Sheffield United on loan, a big move for a Wednesdayite.
He'll return to Villa at the end of his loan, and hopefully win his place back in their side, but for now he's with the Blades and is ready to come face to face with the club who gave him his league debut.
I recall his worst performance for Burnley was at Bramall Lane. As much as I want Gary Cahill to succeed in his career I wouldn't mind another performance from him just like that against us.
Team News
Bryan Robson was hoping to be able to add Gary Speed to his squad for the game. The relationship between Speed and Sammy Lee had soured but new Bolton boss Gary Megson has blocked the move.
Robson has insisted that they must win their next two games but believes his side is very much on course for promotion despite their current position. Happy with his defence he's not expected to make any changes there from the team that drew last week at Hull.
Paddy Kenny is still not expected to be fit, and Ian Bennett will continue in goal. Up front there have been suggestions that Billy Sharp could start, but he's more likely to be on the bench and the most likely line up for Sheffield United will be:
Ian Bennett, Phil Bardsley, Gary Cahill, Matthew Kilgallon, Gary Naysmith, Alan Quinn, Michael Tonge, Chris Armstrong, Danny Webber, James Beattie, Jonathan Stead. Subs from Paul Gerrard, Chris Morgan, Chris Lucketti, Stephen Quinn, Nick Montgomery, Billy Sharp, David Carney.
Click HERE to see the full Sheffield United squad
Burnley will have to make one change from the side that started against Southampton last week in the televised game. Captain Steven Caldwell, who was substituted after just ten minutes, is now ruled out for six weeks with a torn thigh tendon.
There are options here. Stephen Jordan could play in the centre with either David Unsworth or Jon Harley coming in at left back, but the most likely is that Unsworth will continue in the centre of defence where he did very well having come on for Caldwell.
Further up the pitch probably the player pushing hardest for a starting place is Alan Mahon, but I suspect he'll again have to make do with a place on the bench. I am expecting us to continue with the same midfield four as last week.
Burnley's expected team is: Gabor Kiraly, Graham Alexander, Clarke Carlisle, David Unsworth, Stephen Jordan, Wade Elliott, John Spicer, Chris McCann, Kyle Lafferty, Robbie Blake, Andy Gray. Subs from: Brian Jensen, Jon Harley, James O'Connor, Alan Mahon, Steve Jones, Ade Akinbiyi.
Last Time Round
History suggests that when we play at Bramall Lane we more often than not lose the game no matter how well or badly we play. There have been times when a defeat has been undeserved, the 2004/05 season was certainly one, but not the last time when we were very soundly beaten.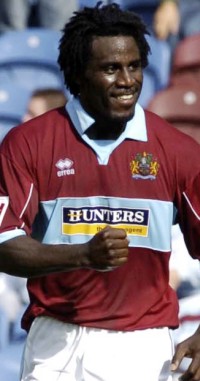 Ade Akinbiyi - came close to giving us the lead
Sheffield United and Reading were running away with the promotion places and despite going there on the back of five wins and a draw from the previous seven games, the only defeat a cruel one at Leeds, it was still thought to be a difficult game.
And so it proved, as Sheffield United tore us apart with a performance we just couldn't compete against. We were looking to the young loan player Nathan Dyer for inspiration but Sheffield United's left back soon dealt with him. One strong tackle from the defender David Unsworth, and it was the last we saw of the young Southampton player.
Despite everything we came very close to taking the lead. Garreth O'Connor found Ade Akinbiyi but his shot, from a tight angle, was turned round the post by Paddy Kenny. It did nothing other than inspire the home team and within minutes they were in front from a powerful striker from Neil Shipperley.
Back we came and again Kenny saved well, this time from a John McGreal header following a Garreth O'Connor corner. Again they went down and scored, this time Danny Webber heading in from close range.
Two down at half time there was going to be no way back for Burnley, and it was something we never threatened. The only goal of the second half was a second for Shipperley after a superb cross from Stretch Armstrong Junior.
Another difficult Bramall Lane afternoon for the Clarets, but we did go on and beat Watford 4-1 the following week.
The teams were;
Sheffield United:
Paddy Kenny, Leigh Bromby, Craig Short, Rob Kozluk, David Unsworth, Phil Jagielka, Alan Quinn (Chris Morgan 85), Nick Montgomery, Chris Armstrong (Michael Tonge 89), Neil Shipperley, Danny Webber (Paul Ifill 88). Subs not used: Phil Barnes, Vincent Pericard.
Burnley:
Brian Jensen, Michael Duff (Wade Elliott 79), Keith Lowe, John McGreal, Frank Sinclair, Nathan Dyer, John Spicer (Gifton Noel-Williams 59), Micah Hyde, James O'Connor, Garreth O'Connor (Graham Branch 59), Ade Akinbiyi. Subs not used: Lee Grant, Danny Karbassiyoon.
Previous results against Sheffield United
Previous 20 Seasons

Season

Div

Ven

Result

Att

Scorers

1992/93

FAC

a

2-2

23,041

Heath(2)

.
.

h

2-4

19,061

Heath Monington

1994/95

1

h

4-2

11,475

Robinson Hoyland Davis Gayle

.
.

a

0-2

13,349

.

2000/01

1

h

2-0

16,635

Payton(2 1pen)

.
.

a

0-2

20,013

.

2001/02

1

h

2-0

13,166

Taylor Cook

.
.

a

0-3

19,003

.

2002/03

1

h

0-1

12,868

.

.
.

a

2-4

17,359

Taylor Blake

2003/04

1

a

0-1

20,967

.

.

.

h

3-2

11,452

Blake(2 1pen) I Moore

2004/05

C

h

1-1

16,956

Hyde

.
.

a

1-2

19,374

Akinbiyi

2005/06

C

h

1-2

11,802

Akinbiyi

.
.

a

0-3

23,118

.
Click HERE to see all our results against Sheffield United