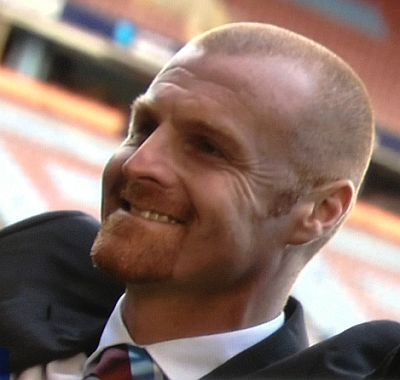 Warnock couldn't quite understand how his side hadn't won a game he felt they'd dominated and he also couldn't understand why Brian Stock hadn't been sent off.
"I think the last time I felt like this I was in Vietnam getting my pockets picked by a 75-year-old woman," he said. "I don't think I've been as disappointed as this all season, I don't know how we haven't won that. I feel like I've been mugged.
"I'm really disappointed. You cannot miss chances like we have. We had a few words at half-time and we were better in the second half, we dominated.
"You have to die to get your goal. We had chances to win the game but we go back home, tail between the legs and we have lost another game.
"I don't know how Aidy (White) missed that. I think the goalie must have been surprised when he hit it straight at him.
"I can't blame the effort. We had a bit of a sickness bug this afternoon so that must have been one of the Burnley directors in the hotel we were at with the chicken.
"I thought the referee had a good game but the challenge by Stock was a terrible one and should have been a red."
Dyche saw Charlie Austin head the winner seven minutes from time to become the quickest player ever to score 20 goals from the start of a season for the club. "What a marvellous feat that is," said the new boss. "But he knows there was such fine play in that goal and if you give someone like Charlie that service, you know you have a good chance of it ending in the net."
He continued: "There are no boundaries for people. I don't give the team boundaries and targets are open ended. I'm a big believer in 'what we can do?' Charlie is absolutely flying and he can go as far as he wants to go as far as I am concerned and so can many others in this club."
Looking at the overall performance, he said: "I thought we created enough chances to take the game but that's not always the way. You have to earn the right and I thought we did that again tonight. Leeds are a good side and Neil always has his teams organised.
"In the second half they got the upper hand for 20 minutes and pressed us back, but it's very difficult in the Championship to dominate a whole match and play free-flowing football every game, so I'm delighted how we dealt with that pressure.
"You need that winning mentality and resilience to win when things are not quite going your way. That was shown in abundance and I said to the lads at half time that if we did the basics well we would win that with our quality, and the goal was absolutely top drawer.
"It was a great game for the fans and everyone connected with the club, but I must say, and it's not to be down on it because it is another great result, but there is more work to be done and more development with this team.
"I don't get too high with the wins or too low with defeats, but there are things tonight that I'm looking at as not quite being how I want it. But the general character and belief in the team to win a game like this was really, really fantastic."
The one down side was the injury to Ben Mee and Dyche said: "It's too early to say how he is. We are hoping it's a knock rather than a twist, but we'll have to wait 24 to 36 hours."