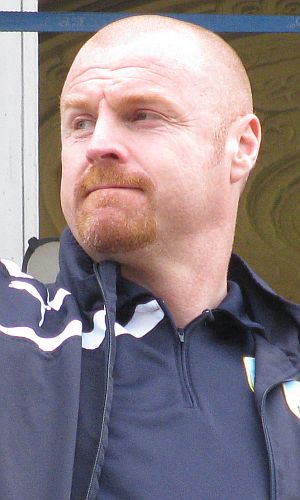 And he was pleased with how his team played as Burnley tried to fight their way back into the game. "I'm absolutely delighted," he said. "Some of our performances earlier in the season deserved a bit more.
"We knew that we came here with a chance to win this game which would give us a good feeling because we want to start adding points to the performances. I can't say it was the best we have played this season, but we showed a good mixture of quality, grit and determination and came away with the three points from a very difficult place to come.
"We started very quickly, and on the front foot, it was two moments of quality. It was a great finish from Nick Blackman, and Chris Gunter made a good spot in the box to pull back for Lucas (Piazon), who finished as we know he can.
"At that stage we were well in the ascendancy, but we have to give credit to Burnley. They have their way of playing and they just kept pounding away at us. The second half was difficult.
"At Bristol City we had a similar scenario but we were much more comfortable in the game, whereas this afternoon was against a team that were in the Premier League last year who were asking a lot of questions of us. We had to show a lot of character and different qualities to get the result, but we did, which is very pleasing for me."
Sean Dyche had to reflect on a first home defeat of the season. "It was a strange kind of game," he said. "It was a fast start from them, getting a goal from a mistake by ourselves and then a good second goal, to give them credit.
"After that we have dominated a large part of the game and I wasn't overly disappointed with the performance. There were some signs and we created enough chances to get something out of the game. We had good passages of play in the end. We've played worse than that and got results."
He added: "You don't want to over question things sometimes because in the second half the substitutes affected the game and Scott Arfield puts over a cross and you have your right-back scoring on the back post.
"You want your team to be progressive in scoring goals and they certainly are when your right-back is marauding downfield to score, but basic errors early in the game affected the outcome. You give yourself a mountain to climb when you are two goals down that early in a game and that's very unusual for us.
"After that, you want a response. You want a team that does everything to try and get a result and that's certainly what you saw, I'm 100% sure of that.
"I don't go away overly disappointed. I am with the outcome, of course, but performance wise there were more strong signs about what we are trying to be as a group and what we want to achieve.
"Let's not forget Reading are on a good run as well. They have pace and energy and played on the counter after going two goals up. It's another challenge and that's the Championship.
"There are no guarantees, and you have to be ready every week. I thought we were, but this is probably the one that got away."