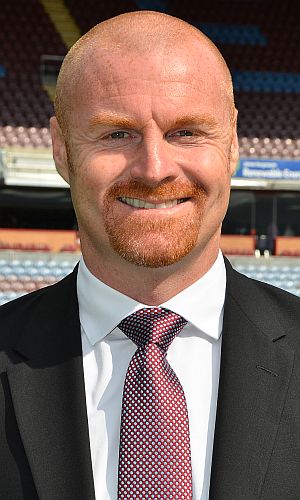 Karl Robinson has been in charge there since replacing Paul Ince five summers ago. He's the longest serving manager in this league and the second longest serving, after Paul Tisdale of Exeter, in the Football League.
Ahead of the visit, he said: "Burnley are a very good side. Sean, with the success he's had over recent years, has done well and in some ways going into the Premier League for them is a bit like us going into the Championship.
"You know you're always an underdog, like Bournemouth in the Premier League now. We are that same type of team in this league so I think they'll see it as an opportunity to go and get another win but we feel we can go there, and we'll have a game plan as we always do in every single game.
"Sometimes it varies depending on the opposition but we're excited about the challenge as you should be.
"We were separated by two leagues last season but now we're in the same league; they've been relegated and we've been promoted so it's a really exciting time for us to go to Turf Moor and hopefully put another good performance on.
"It's relentless, but that's what we ask for. We've been begging for this so you've got to accept the challenge of what this league is going to through at you. We are 100% committed and excited about the forthcoming games."
Sean Dyche, as ever, has his feet firmly on the ground after our third successive victory came against Wednesday three days ago. "It's a marathon not a sprint in the Championship season," he said. "We're really pleased with the results obviously and the wins recently but it's equally fair to say we weren't broken when we lost at Ipswich.
"There has to be a reality to it. The team is still forming and again there is no spin to that. Whatever I say, people might try and say you're just playing that down; I'm not at all.
"We've got a group that has changed and we're having to flex it, work with it and we think there is a good demand to it. There are just these nuances and things that need changing to make it work as smoothly as possible but with three wins on the spin there are good signs.
"Over time Burnley fans have come to know who I work, how my staff work and how the team work. They know that we remain grounded about what we've got to do to continue winning. It's not about not enjoying it because we do, but it's about balancing that feeling against the fact there is another game just around the corner."
Looking at Saturday's win, he added: "The thing I was really pleased about was the mentality as it's hard to dominate total games. When they had a better spell, we were very resolute and strong. As the game went on, we grew stronger and stronger and took all three points.
"The confidence grows and Turf Moor becomes a harder place again because the next team think 'they've just won three on the trot', but we have to be reality bound and know the next team aren't going to worry about that. They're going to come here and try to take a scalp so we've got to be ready.
"They will want to lay down a marker. They've had a tough couple of games in their last two games but they started off the season nice and bright. They will want to come and produce but we've still got that mentality, that clear minded focus that we have to perform. It's our job to not only stop them but to deliver our performance in order to win."