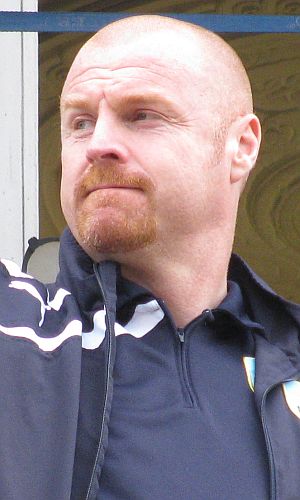 Cotterill saw his team the better of the two, certainly prior to Burnley taking the lead, but his side ended the game with nothing and he said: "How we haven't won that game today I don't know.
"I thought we were the better team up to the goals, but I don't want to keep saying it. We don't want to have nearly 200 passes more than them and have 60% possession to their 40%; we don't want to have more attempts on goal and more on target and not win.
"The lads played well today and I fell quite down for them that they haven't got anything out of the game."
Looking at the two Burnley goals, he added: "We made a wrong decision before the first corner to throw the ball out when we should've kept hold it because Luke Ayling was going to get pressed. Then they got a corner and we got out jumped at the corner.
"For the second goal it's not very often Aden (Flint) will get beaten on a corner, but unfortunately today he did. We've still got to do better after that. I still think there are saves that could've been made as well.
"The first goal didn't actually affect our play. It didn't disrupt us too much and we kept going. But the second one flattened us a little bit just before half time and you can understand that, because they're only a young group of boys who are getting burned for every little mistake that they make."
It was all about going back to basics for Dyche as he oversaw our first Championship away win since a Michael Kightly goal won that Good Friday game amongst the tennis balls at Bloomfield Road in 2014.
He said: "The Championship is a tough league and it's difficult to be fluid every well and win, so you have to find ways of doing your business and different ways to win. We know our strikers will score and it's a great thing if they are not quite there and yet we're winning games home and away.
"It's a funny one today because I was disappointed in the players in a way. Yet, our resilience, heart, endeavour and basic structure was good. We didn't play as well as we can, but sometimes you have to grind a result out and it's a great think that we did that today.
"It still looks a little disjointed, but it's well renowned the players will give us everything and we have got good points on the table, back to back wins, and three of the next four at home."
He added: "I must give Bristol City tremendous credit because for the first thirty minutes they were excellent. We didn't start well, but they have a bit of gusto from the promotion and the big result last weekend and they started like that.
"They kept the ball well and shifted positions well for a 3-5-2 and arguably should have been in front. But the basics that we believe in kept us a clean sheet in the first half and got us two goals.
"They were two very good set pieces and in the second half we changed it tactically and it slowed them down a bit and became more of an even game.
"But we'll take the points gladly. The team is progressing and getting used to each other, with all the new faces."
We now have a two week break before the next game and Dyche concluded: "In the early phase of the season we knew it would be tricky because we have a lot of new players.
"We knew the market might take time for us to get in the players we wanted. They are now virtually in and now it's about moulding it and finding partnerships because the structure and energy is good. It's just finding the detail in keeping the ball better and using it better."