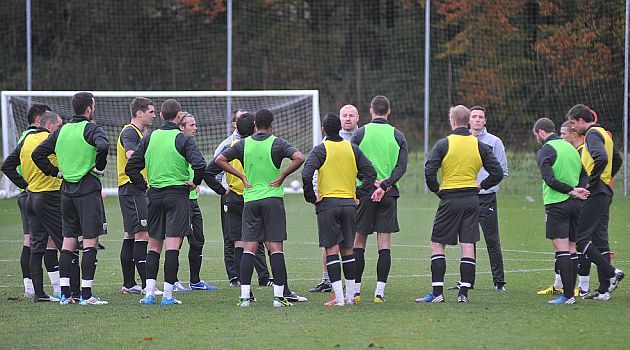 Sean Dyche addresses the Burnley players for the first time last Tuesday
Norwegian Solbakken, who played just six times in England for Wimbledon during the 1997/98 season, brings his side to Burnley looking to start adding some more goals while maintaining their good defensive record.
"It's nice that we've got a good defensive record away from home and we need to keep that going, but we also need to score some goals as well," he said.
"It's Burnley's first game under a new manager so it will be difficult for us and they score a lot of goals which we will have to be aware of. Charlie Austin has scored a lot of their goals so we know he is a danger and we will try to deny him space in and around the box.
"We wouldn't concentrate on one player so much that we ignore the others but at the same time it would be silly not to look at him when he has already scored 18 goals."
New Burnley boss Sean Dyche arrived on Tuesday and took training before his appointment was completed. Yesterday the club unveiled him to the media but he'd previously spoke of becoming our manager.
"It feels fantastic to be invited to be the manager of a great club," he said. "It didn't take me any time at all to accept the role, despite popular misconceptions. I wasn't at home having the weekend to think about it; I decided instantly and we got on with things as quickly as we could, but things still needed to be put in place contractually.
"I was at Cardiff on Saturday to have a look at that and it was finally great to get out with the players on Tuesday."
He added: "This is a club in some kind of transition after a spell in the Premier League, but it is clearly a club that wants to build and move forward and I desperately want to be a part of that and make sure that we do that."
Dyche, who has brought in Ian Woan as assistant manager and Tony Loughlan as first team coach, continued: "We want to stamp our own authority on things and give the players food for thought, but not change radically.
"We love the way the team attacks and we will definitely be using that to our advantage, but it's fair to say I think it needs shoring up a bit and the framework the team uses needs tightening slightly, so we will be looking to effect that and hopefully continue to score a lot of goals, That's the aim."
Finally, he said: "I have always enjoyed coming here. I played here many moons ago when the club was building from the bottom divisions. I always knew they had a real fan base that cared about the club and I think that's important.
"I always got the feeling that the people of Burnley don't jump on a bus and go and watch Manchester City or Manchester United. I always felt the local people supported their club and that's a fantastic thing to have because that union and what we are trying to achieve here is very important."
Picture courtesy of Burnley Football Club