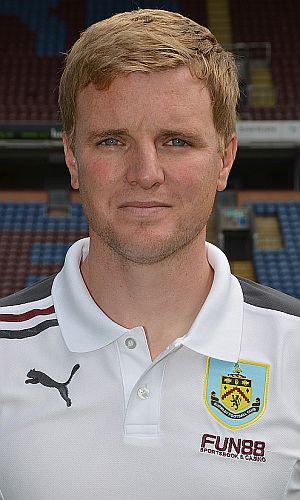 Appleton, who replaced former Burnley boss Steve Cotterill earlier in the season, has already seen his side take three points from the Clarets, our only reverse in a run of seven games at the end of 2011.
Since then they've had a points deduction which has plummeted them into the bottom three but Tuesday's win against Hull has given them some real hope.
Appleton said today: "Ideally, it would be the target to win all of our remaining home games, but it depends what you do away from home and it depends what the other teams do as well.
"We've got four games at home and we know they are going to be crucial. The fans were fantastic the other night and we need them again. The boys gave the fans the opportunity to do that for us and that's the most important thing and the message I have been trying to pass on to the players.
"I told them 'the fans will always get behind you but if you start games like we did the other night, they will get right behind you from minute one'. The place was lifted right from the start. They went about it in the right way and it's very easy to continue that throughout the game if you start like that.
"There is no target in terms of points. If we start thinking ahead too quickly, we'll lose against Burnley. If we take our eye off the ball for one second, we will be in trouble. We have got to take every 90 minutes as it comes."
Howe watched the Clarets go 2-0 up last week against West Ham before conceding two second half goals. It came after two desperately poor away performances at Cardiff City and Ipswich Town in the previous week.
"I want to see a spirit and a determination we showed against West Ham. I think that was evident for everyone to see," Howe said ahead of tomorrow's game.
"The effort and determination from the players to try and get three points was excellent. We have to make sure that the season doesn't peter out and I think we have too much in this dressing room for that to happen.
"Although we may have nothing to play for in terms of the end product, every game is very important. A lot of fans will be travelling down to Portsmouth and we have to make sure we have the determination to try and win every game.
"Every time you step on the pitch you want to give your best and you want to win. That should be instilled in you from an early age so we are certainly not on our holidays.
"We have a lot of work to do in these final games and we want to end the season on a high and hopefully carry that into next year."
Looking at our opponents, one of his former clubs, he added: "They have obviously had their problems and what they are trying to do now is try and stay up, despite their ten-point penalty. I think what that's done is rejuvenated them and given them a backs-to-the-wall siege mentality.
"It will be a tough test because knowing the crowd down there as well as I do, they will be right behind their players. They will make it a special atmosphere and we have to make sure stand up to that and we are in the right frame of mind, because it will be battle."