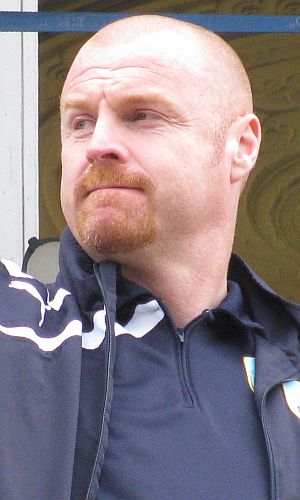 It continued Everton's recent good form and Martinez said: "I was very pleased with the overall performance. The scoreline shows a very good clean sheet and a good goal but we had over twenty attempts to score more. I think we should have, we had enough opportunities even without th penalty.
"There is the respect we have towards Burnley, and the way they can create chances out of very little. They have real presence up front. Danny Ings is a very clever footballer and they work the ball really well, but we restricted them to one shot on target.
"Being against ten men can sometimes be very dangerous and I thought we coped with that very well. We never left ourselves exposed and it was a matter of keeping our concentration, defending well, keeping the clean sheet and trying to score that second goal.
"We don't take anything for granted and it was very important to win a game like this."
Needless to say Sean Dyche was asked about some of the decisions from referee Mike Jones, most of which went Everton's way on a frustrating afternoon.
He said: "I think big decisions went against us and inevitably cost us today although I must make it clear that one of those decisions wasn't Ashley Barnes sending off. They're not malicious, but just silly challenges from a player who gives everything for the shirt and his team mates.
"He made bad decisions really and the rules now are that if you make such challenges, you get booked and you have to go.
"But, beyond that, the penalty wasn't a penalty in my opinion. It was outside the box and Tom made a great save. At the other end, Scott Arfield was dancing along the edge of the box and their player made a rash challenge.
"Scott didn't go down, which was spoken about and maybe people will tell me that he should have done, but he got nothing for it. If he had gone down, I think the referee would have been under pressure.
"Then Ashley Barnes go in behind, crossed it and their player came across him with his arm in an unnatural position. That was handball in my opinion, but we don't surround the referees. We let them get on with their job and hope they make good decisions.
"I think the biggest one and most obvious one was Mirallas' challenge on George Boyd. It's a red card and then it would have been ten against ten and the momentum of the game would have changed.
"We were right in it at that stage and the crowd were getting nervous. We nearly created good chances and controlled the game tactically as best we could.
"They had a couple of chances on the break, but we had the momentum against eleven men and had they gone down to ten men, I would have certainly fancied us."
We've certainly lost the knack of scoring goals with only George Boyd's winner against Man City finding the net in the last seven games, but Dyche said: "We created some good chances. Probably the shining one was Ingsy's second half header from a great ball from Tripps.
"I must say I thought Ingsy was excellent today, he looked way back on top of himself again and sharp with his endeavour and moments of quality.
"Jonah has a great chance just after they'd scored, probably the chance of the game, It was good to see him in there getting a goalscoring opportunity but he catches it too well actually. They are the ones you almost want to hit on top of the ball a bit and it bounces and bobbles in.
"It's really frustrating, and like I've said, there's plenty of belief in the group. You can see that in the way we are playing but we have to score goals, we've got to create even better chances, If that's what it needs then that's what we've got to do to win games."
We aren't conceding too many goals and again one was enough although Tom Heaton made a good penalty save from Ross Barkley.
"I thought he (Heaton) was good all day again today," Dyche added." I thought the defenders played excellent really, particularly ten v eleven. It's always difficult that and they kept them down. They had one golden chance and they missed. Other than that they were longer efforts around the edge of the box.
"The general framework of the team was good. We left two strikers on up front. We want to be progressive. We want to be attack minded and kept the two strikers on throughout the game.
"The general feel I was happy with. Dealing with eleven men is not easy when you are 1-0 down but I thought we dealt with it pretty well on the whole and still looked productive."