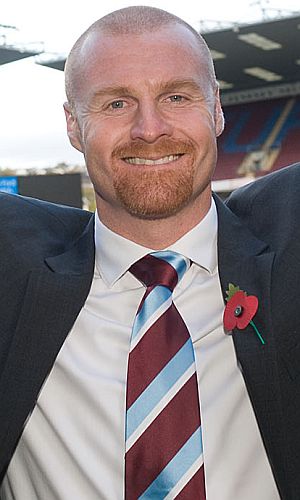 Powell has just seen his side win back to back games against Cardiff at home and at Bristol City, the first time they've won back to back games at this level since 2007, and he's looking for them to continue that run at Turf Moor.
But he appreciates it could be a difficult game and said today: "We are under no illusions. Burnley are a tough nut to crack especially at home. So it's a tough game for us, but obviously we have improved somewhat recently although we haven't done anything yet and it's up to us to keep that momentum going."
Like most games now, the name Charlie Austin is thrown at the opposition manager and Powell was quick to say: "You do your own game. You look at your defenders and ask them to concentrate and keep your eye on him.
"He's one of those players that may not be in the game and all of a sudden he sniffs a chance from a cross or just a through ball. Of course we work on our stuff, we look at them and talk about one or two things they might do.
"He's in a good frame of mind, he's in a good place and obviously you have to do your best to cut down the supply. Players like that will always look to get in the box. You've got to mark them tightly and you've got to do it fairly because players like that only need half a chance, let alone one.
"So fair play to Charlie, he's been exceptional for them so far but it's up to us to do what we've done recently and really be on our guard and mark him tightly and not give him any room because he's doing so well he won't need much.
"Equally I've got good defenders who I trust and know they can do the job. They've done it previously over the course of this season so it's up to us to be on our guard and be solid defensively, not only the back four but everyone.
"It's going to be a tough game. It's always a long journey and a place where it's really tough to play your game but we're in a decent place and it is up to us to keep that going."
Dyche has won both his home games in charge, against Wolves and Leeds, and added to the win against Blackpool under Terry Pashley, it has seen us win three successive home games and keep three clean sheets.
This week, with no midweek game, he's been able to work with the players. "There have been a lot of good things going on here behind the scenes," he said. "The supporters don't always see that. They see games and can judge everything by that.
"Of course we can't invite everyone down here to watch what we do, but there is some good stuff going on and the players have been very receptive to what we have offered them. The lads have trained very well with open minds, which I suggested was very important when I came in, so there are some really positive signs.
"You would have to ask them, but I am pretty sure they have enjoyed things. We want the place full of enthusiasm and we want smiles on people's faces. We want them to enjoy their football because when you are enjoying things you tend to make sure that they go well."
Looking forward to the game and recalling the three home wins, he joked: "I said to Pash I am going to nick his win as well. We have had three wins and three clean sheets and the mentality has been excellent.
"I think that has been visible to the fans, which is important so they know what we are about and what we are trying to achieve.
"We are going into the game quietly confident. I always say there are eleven others out there trying to stop you doing what you want to do but three wins and three clean sheets is certainly a good platform to go and get another one."