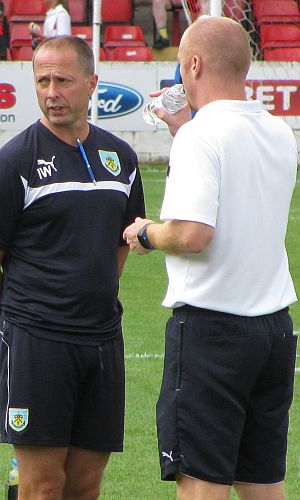 Stanley boss James Beattie said after the game: "It's been a great week for the club having Blackburn and Burnley down here. I want to thank both managers for bringing strong sides to play against us.
"Against Burnley, it was hot and a bit of game management had to come in. We had to hold onto the ball better as we were working so hard to win the ball back and then giving it away cheaply.
"Sean brought two decent sides down and I think we showed them too much respect initially and I told the lads they have got nothing to fear. We shouldn't feat anyone as when we do things well and do things simply we are a very good team.
"We are not the finished article by any stretch of the imagination and there is a lot of hard work to do, but we have the core of a very good side."
Sean Dyche included several of his young professionals during the game and he said: "I know about our group, but there is a learning curve for the younger players.
"We are looking to build a squad, of course, and we are actively in the market for a couple of fresh faces, but this is an invaluable experience for them.
"They need to know where they are in the hierarchy of our own club and today we had two halves, with two mixed groups and, for the young players, playing alongside the experienced players, it's really good for them.
"They have a lot to learn, but days like this will help with the journey. There is still a big gap, but they have to fill that void and understand the demands they have to place on themselves to get up to first team level.

"The bar has been raised and you are no longer looking to jump into a team that is looking to do well in the Championship; you are looking at a team trying to do well in the Premier League.

"There's a big difference and it exaggerates the gap somewhat. But it's their task to keep learning and improving and working hard enough to be certainly recognised by the first team squad."

Dyche added: "All credit to Accrington because they worked very hard and made life very hard and that's what we need. We want that competitive edge to games. There were a few missing today and, like the others, Ben (Mee) was purely precautionary (when he was withdrawn).

"We have made it clear to the players that we are light on numbers and at this early stage, anything at all, they get off the pitch, so we're not too worried about him or any of the others at this stage."