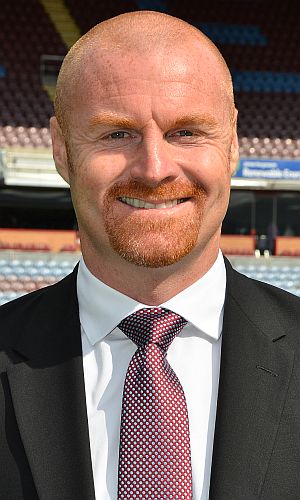 And, of course, both have been asked about Danny Ings and Charlie Austin who will come face to face on the pitch, the two strikers who are both impressing on the pitch in their debut Premier League seasons.
Redknapp said: "Danny and Charlie have both been terrific. I've seen a lot of Danny over the years, following him since his time at Bournemouth. Him and Vokes both came from Bournemouth and have developed well.
"They're a similar story to Charlie, and all of them have proved just what they're about so far this season. It's great to see young lads like them doing so well."
In the other camp, Dyche said of them: "They are both completely different people and players. I have a lot of respect for both of them and they are both smashing people. I really enjoy their company, let alone their professionalism and talent, but they are very different players.
"Charlie is more the traditional number nine role, who is good at the basic principles of goalscoring by getting in the box a lot. Danny can player more open-mindedly, like a number 10 off the front and as a number nine, so he is a slightly more rounded player in many ways, but both are effective in different ways."
Looking forward to Saturday, and back to Harry. "It's a big game this weekend," he said. "Turf Moor is a tough place to go. Sean has done a great job there. They came up with ourselves and Leicester last season and have done well. They're a good team.
"There are no hidden secrets between the sides. We know what they're about and they know what we're about."
He added: "We've had a big run of these games at home against teams down there with us and done very well in them, and now we've got them away. We know our away form needs to improve and we're looking forward to going to Burnley and giving them a right good game."
Asked if it QPR is a big game, Dyche said: "I think it's just the next game and the reason why I say that is there were big games last year which were deemed big games but I said then there is no guarantee, you win that one and you have got to win the next, and win that one and then you've got to win the next.
"It was that relentless thinking that we spoke about so you don't rise and fall in these things, we have to stay on that nice balance where we are up for everything and we are, the way we have been going about it.
"You saw the performance away at Newcastle and the performance away at Man City, the home performance against Liverpool, we didn't win but I thought we were excellent. We've seen all those good signs so it is important that the performance level is there because whoever you are playing, eventually you have to keep getting wins or points on the table.
"We've been doing that and we have to do it again and that's against whoever comes our way. It's important, but it's important in the bigger picture to beat anyone we can."
He added: "We have made it quite clear or intentions, not by my words but by the way the team is operating. We have made it quite clear, the desire that is here to deliver performances in order to win.
"There is complete clarity within that from inside, from me, the staff and the players and that absolutely goes out there with the way the team's operating. I've been really pleased with that.
"We think there is a good balance to what we are doing at the moment and we look to achieve more by continuing to build on these performances."