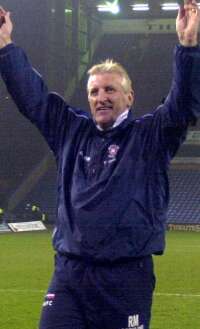 Ronnie Moore looks happy enough on the Turf Moor pitch at the end
I think it is fair to say that Ronnie Moore was carrying the biggest smile after the game. They had won at Ipswich a week earlier having been under the cosh for most of the ninety minutes but this time won and won handsomely. He couldn't hid his delight after the game and said,
"It was an outstanding performance, we took the game to them from the start and it made Burnley look a bit flat but that means great credit should go to our lads for the way they started.
"It was great for two former Burnley players in Alan Lee and John Mullin to score two goals each, especially John. He hasn't been in the side recently but his second goal was absolutely magnificent.
"Alan and John were brilliant but I also thought Richie Barker along with Alan absolutely tormented the life out of Burnley's back four in the first half. I left Stewart Talbot out to revert to our usual formation of 4-4-2. We had a game plan to beat Ipswich and we had another plan today and it worked, Talbot understands that.
"Nick Daws is doing a steady job and now we have John Mullin's freedom to go forward but we will have to change soon with four games coming up in ten days so everyone will get a game sooner or later.
"That was an absolutely magnificent performance from us and it takes us up a couple of places which is nice. We knew at half time when we were 3-0 up that Burnley would have to change things and I am just glad Stan Ternent didn't put our Ian on. Ian has had the Indian sign over us recently so I was glad he was sat on the bench.
"I took a chance to bring Darren Byfield on in the later stages because Burnley had gone two for two. They were pushing up to the halfway line and pumped a lot of high balls into our box. They got back into the game at 4-2 to give us a little panic which caused me to wonder how we could change it.
"Byfield's pace was the answer as he got himself two goals after Lee's second when Andy Monkhouse got in a great ball from the left. I felt a bit sorry for Richie because he worked ever so hard without a goal and Darren came on to get two.
"Mike Pollit produced two great saves when we were on the wobble a bit when Burnley threw caution to the wind. They penned us in a bit but when we used the ball right to get the strikers in we always looked as if we would get more goals."
Stan acknowledged that the Clarets were well beaten and told the press conference,
"It was very difficult this afternoon, we were second best all over the park in the first half and that's when the damage was done. For some reason, now and again, we seem to throw one in for no logical reason. We have no excuses though, we were well and truly beaten.
"I had to change it at half time because in the first half we were off the pace and didn't start well. We wanted to see if we could get back in the game and score some goals.
"In the end we went with two at the back and then the Skipper tweaked his knee and Lee Briscoe hurt his groin so it was unfortunately one of those days. Robbie Blake did well on the ball and their keeper did have to make one or two good saves.
"We will certainly do better than the first half today but don't take anything away from Rotherham. They are a good workmanlike team and as I am always saying this is a tough league."
"It is a pity John Mullin and Alan Lee didn't do it when they were here or they would still have been in my team. Nick Daws and Chris Swailes are also my lads from Bury so I must have taught them well."