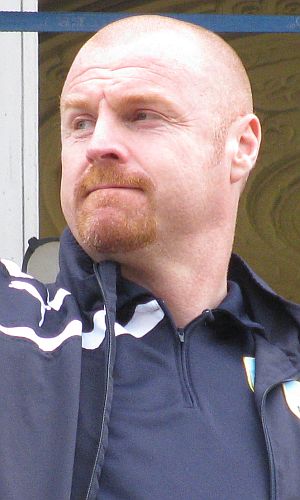 Dijkhuizen saw his side go down 1-0 to a Michael Keane header from corner but he said of his team's start: "In the first half we were by far the better side, especially in the first 25 minutes. It was good organisation, high pressure and good on the ball. We created good chances; it's just the finishing.
"The second half we put a lot of energy but didn't create hardly anything."
On the winning goal, he said: "We knew Burnley are strong with set pieces. Philipp Hoffman's opponent scored the goal, we're not worried but we have to pay attention to that, it cost our game."
Brentford were, of course, without Andre Gray who had moved to Burnley yesterday. "The last two games we had Andre in and we needed him," he said. "It's good to solve it because it was going on for three, four weeks, too long, so it's the best thing for all parties to get it solved and now we have to find replacements.
"It's difficult, with ten days to go, we're working very hard for it. AS you know, strikers are difficult in this window so we will see."
As for the Clarets. Dyche said: "I was generally happy, but there is still more to come from the performances. We were nice and solid, although a little nervous in the first half, which is understandable.
"We're all aware we needed that first win to get up and running, and there's some big clubs still waiting for that, by the way. It just creeps in a little bit and you can sense the fans saying ;come on lads, give us that first win' and we are thinking it too.
"The players were just a bit edgy, but we calmed the boys down at half time and in the second half we were more productive. We had some big chances and I can't really remember Tom Heaton having too much to do."
With new boy Gray watching in the stands, talk inevitably turned to transfers. "I've been saying all along that we have always been trying to spend," he said. "Just to answer a million questions about why we didn't spend this money last year, we tried. Trust me.
"I can assure you that all of last season we were in the market as hard as we could and as hard as we have been this summer. It's just that this summer those situations have opened up more readily for us.
"We have had to go strong to get this deal done and it's been going for a long time. People think it's happened in the last few days, but we always do our business respectfully and let the deals evolve to the point in which they get done.
"Some get closer and then get further away. This one had both, but we have always been pro-active. The board have always backed me and there's still work to be done.
"But when you think back to Steven Fletcher as the record signing in 2009 for £3 million, and where the market has gone since, then the Gray fee seems pretty good value for me.
"The fee is undisclosed but it's nowhere near the one quoted and when you think of the new heights that the market has reached in the last six years, then it's a pretty balanced view of where the club is today. That's why we pushed the button on this to go as hard as we can.
"Don't forget also that we have brought money in already through three players leaving. Danny Ings is still pending, so despite the business we've done I bet we will be in profit.
"So this is money t hat is sensible for the club and can be afforded by the club. It fits the business side of things, so we can still do all the good things you see, like the new training ground. There's a lot of thought goes into this, but we've still got money, so if situations arise, we will be active."