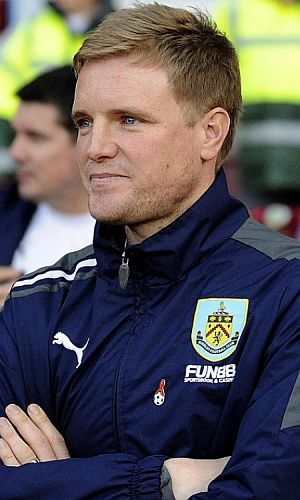 He saw his side get on top before half time and then go on and win it after the break, and he said: "I thought we were terrific in the second-half and we got the crowd on their feet which we didn't do in the first 45 minutes.

"There was no tempo to the game in the first-half and we didn't pass the ball at all well but we got into them at the break and the players were excellent after that.

"We told them to be braver on the ball, believe in themselves and Jet (Jay Emmanuel-Thomas) epitomises that, he was a real danger for us throughout the second-half. Chops took his goal well and his movement was very good but the whole team deserve a lot of credit.

"Burnley are a good team but they didn't really cause us too many problems in the second-half and we definitely deserved the win and it should have been by more."
He didn't even have any real argument over the late red card shown to Grant Leadbitter, and added: "It was the only disappointment on the night, that we will lose Grant for Saturday because he was excellent for us. I think he kicked the ball away and the ref saw it so by the letter of the law he had to go."
Eddie Howe, after the game, initially spoke about the closure of the emergency loan window today. "I think there will be some movement out for a couple of fringe players tomorrow, which is important for them, at this stage of the season," he admitted. "But I'm not sure how many will be coming in. We have a good group of young lads, as they have shown and I think it might be time between now and the end of the season to get them some games.
"If you play well enough and you are good enough you will play. I want nothing more than to see good young Burnley lads come through the system and I don't think we can expect too many deals to be done.
"If we do need players, I would much rather bring our own lads through and get them experience than perhaps bring in other club's players."
He continued: "We are well aware that for a lot of our players, they are just finding their feet and learning by their mistakes. There comes a time when we have to grow up and be consistent and look like we are improving.
"Today was a backward step and you do get them along the way, but we have to make sure this is just a blip. In some respects now we have to take each game on its merits, but maybe tinker and try things to win a different way.
"I actually thought in the first half we played ok, were well in the game and created a few chances, but in the second half we just didn't get going. Right from the kick off we were flat and Ipswich came on strong and I'm the first to admit we have to do better.
"It's hugely disappointing that we lost our edge. Even as the half wore on there was only one goal in it and I felt we could get back, but it just never happened."
"We're on a bad run and we've lost ground on the teams above us. For whatever reason it has all slipped away from us, but I believe in the players we have and I know we can do much, much better.
"Suddenly we have stopped scoring goals at a bad time of the season and we need to get that back. We have some great front players and we have just stopped giving them the supply. We need to ask more questions of the opposition and hopefully get back to the way we were."