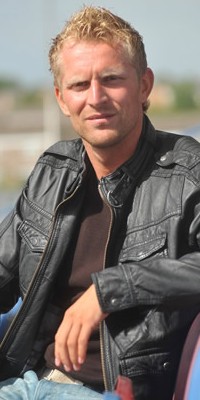 Remco van der Schaaf - expected to play part of the game
Coyle admitted that the reason for only one home game during the pre-season programme was to give the pitch as much time as possible to give us the best possible surface to play on over the next season.
He said: "Purposely, we've only arranged one home friendly, and that's the last Saturday before the season starts. We could have had other home games but we wanted to give our pitch as much time as possible.
"If we have got plans to play football then we need a good pitch to do it. Latterly, towards the end of the season, it wasn't conducive to the way we wanted to play, so we've given the pitch as much time as we possibly can. And we would hope that by the end of next season, with the amount of games that will be played on it during the course of the season, that it will stay the way we would like it.
"Accrington allow us to play our reserve matches at their ground and financially they get to keep the gate receipts from Saturday. So if we get a good turn-out, they get a very good payday, so I think it's a win-win situation."
Speaking about the game he added: ""Having said that, it's only part of the preparation and we won't get too carried away. But you'd imagine there'd be a great number of fans there to see some of the players that will be introduced.
"It's another stepping stone along the way to August 9
th
in terms of moving on the preparation. We've not really been able to work on things day in, day out because we've been in and out of games.
"I think we can start formulating an idea and the shape of the team and different things. We've messed about with a couple of systems here and there, but now, with the couple of games coming up, we can start to bed in what we're looking to do next season."
Although there are doubts surrounding the fitness of both Chris McCann and Kevin McDonald there is good news with Remco van der Schaaf returning to fitness and it looks as though he will feature for part of the game this afternoon. "He certainly won't play the 90 minutes but he might get an hour, which is great," said Coyle. "He's been working hard. We brought him to the club with a tremendous pedigree so it will be good to get him on the pitch."