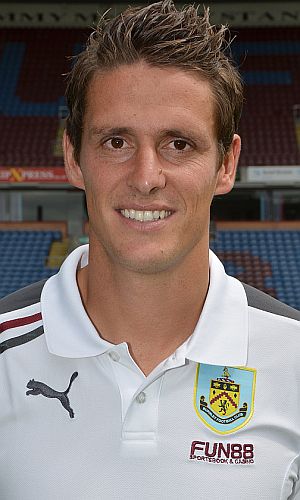 Nigel Clough has seen his Derby team win their last five games, four of them in the league and one in the FA Cup, but he's well aware that they face a Burnley team also on a good run.
Clough said today: Burnley have a lot of good attacking options and they're a good all-round side. I think they're at their best at Turf Moor and like any Eddie Howe side, they're an attacking outfit that likes to score goals.
"Burnley have had a good run of late and will be playing with an awful lot of confidence, very much like ourselves.
"We proved at Hull we can go away from home, keep a clean sheet and nick a goal at the other end. We know we can score goals, but the main priority will remain keeping it tight, trying to get a clean sheet and building from there."
He added: "We hit the 40 point mark earlier than previous seasons and the next target for us is to try and get to 50 as soon as we possibly can. 50 points signifies safety and if we can manage that as soon as possible, it gives us a platform to kick on in the remaining games of the season.
"The players have worked incredibly hard in the last few weeks and whilst we haven't been at our absolute best, we've continued to get results and that shows we're working extremely hard to stop the opposition creating chances and scoring goals.
"That has been the key factor to underpin the results we've had in the last few weeks. We've had a really good run of not conceding but we will concede goals, that will always happen in football, but teams are finding it a lot harder to score against us, or even get a chance.
"We can play better and produce more fluid football, but I don't think we can work harder and defend better that we are doing at the moment. The back four are defending very, very well and there's a belief around the place and we're not putting our fans on the edge of their seats in the closing stages, like in previous seasons."
Four of those Derby wins have been by a 1-0 scoreline, something that hasn't gone unnoticed by Burnley's assistant manager Jason Tindall.
"I think you have to give them credit," said Tindall. "I remember back in the days of George Graham with a successful Arsenal team the amount of games they won 1-0 and won trophy after trophy so you have to give them a lot of credit for achieving that.
"But if you look at us, we are a team that has had the most shots in the Championship and a team that likes to attack and likes to score goals. Hopefully it should make for an entertaining game and hopefully we will be the team that scores more than Derby do.
"It was a good game when we played Derby at Pride Park and hopefully it will be the same again and the same outcome."
Tindall was also keen to speak about our current form and how that inconsistency of winning a couple and losing a couple has come to an end. "In recent weeks we have managed to address that and put that right and we are playing with a lot more confidence and performing very well," he added.
"We are scoring goals at one end and not conceding too many at the other end so all in all it's been a good couple of months. The important thing now is to keep that focus, keep working hard, keep our feet on the ground and keep the run of form going.
"Derby are just a point above us so it's a big game for both sides. They had a great start then a little bit of a dip in form at a similar time to us, but they have picked up and are on a good run of form which will hopefully make it an entertaining game.
"The fans were terrific at Middlesbrough. They made so much noise and really got behind the lads so hopefully that will be the same against Derby and we can send them home happy."