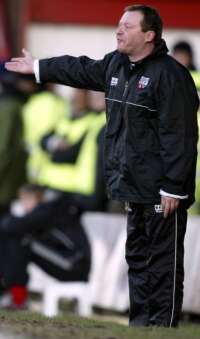 Wally Downes - during Saturday's game
Brentford boss Wally Downes was the man pointing the finger at himself for making a substitution with twelve minutes to go. He brought on a forward for a defender but then saw his side concede two more goals. To be honest it wasn't the lack of a defender that brought about the crucial second goal but the lack of control from one still on the pitch.
Downes said after the game, "I look at that substitution and I am choked for the players. It really was stupid of me to make the change that I made. We were one down with twelve minutes to go, putting them under pressure and I though take a defender off and put a striker on.
"We could not have had them under any more pressure and I did them a disservice by doing what I did. It was a bad decision by me because we were still in the game at 1-0 and they go straight down the other end and score from where I took the kid off from.
"The players could not have done any more. We were still in the game with the best part of twelve minutes to go, plus injury time and I took the opportunity away from them to push on and get one little flick or anything, and we are back in the game and still in the hat.
"With the couple of injuries we had in the first half you look at it and think it's not going to be our day. We played well enough in the first half. You've set yourself up to go on and win the game.
"The first goal was a little bit of a gift from us. We made a mess of a corner and they've gone and scored down the other end. I was thinking then it perhaps wasn't going to be our day and we're pushing on and the chances were coming. You just think it's not your day and I don't think it was today."
Stan meanwhile paid due credit to his opposite number Wally Downes with whom he worked at Bury but was also quick to heap praise on goalkeeper Marlon Beresford after an excellent performance.
"It was very tough out there and I did think Brentford were excellent, there were a credit to Wally and if they can that sort of form into their remaining league games then they will be a threat.
"It was a real battle but we had the luck in the second half when we struggled to get out of our own half at times.
"I thought Marlon Beresford was outstanding and his save on the line was world class.
"But we defended well and we got them a few times on the break at the end of the game. We showed a lot of resilience and lesser teams than us would have gone under.
"The game was played in very difficult conditions with a strong win and a pitch that was not conducive to our passing football. But we are in the hat and it is nice to be there. We'll be looking for a home time now and a full house at Turf Moor."
Blake bothers Bees
Stuart Barnes (Observer)
Brentford were flying the FA Cup flag resolutely for the Second Division until it was lowered by a moment's hesitation on the part of defender Andy Frampton. Dwelling on the ball just outside his own penalty box, Frampton was muscled out of the way by Robbie Blake, who advanced to drive decisively beyond goalkeeper Paul Smith.
To their credit, Brentford strained every sinew to compensate for the mistake. They went agonisingly close to an equaliser several times before conceding two breakaway goals in the final few minutes.
In the end, Burnley's superior finishing proved all-important. Yet they would be the first to admit that the scoreline was somewhat flattering. It was scant reward for a wholehearted performance by their opponents.
Burnley shaded the first half, thanks largely to the enterprise of Robbie Blake. His skidding 25-yard free-kick early on demanded a full-length save by Paul Smith. Then Blake's snap shot in added time was kept out one-handed by the goalkeeper. Leo Roget's header from Stephen Hunt's free-kick, tipped over by Marlon Beresford, was Brentford's best effort. It was also one of Roget's last contributions before he had to be replaced, his team's second casualty after the loss of Kevin O'Connor in a nasty clash of heads with Frenchman Drissa Diallo.
Despite Frampton's error, Brentford dominated for long spells after the break. Jay Smith's header was touched over by Beresford. Rowan Vine and Scott Marshall were denied by clearances near the line. The cruellest blow of all came when Vine's header hit the post and Hunt's follow-up effort was saved at point-blank range by Beresford when a goal seemed certain.
The introduction of Glen Little sealed it for Burnley. First he set up captain Paul Cook to bend his shot inside the far post. Moments later, Little went through himself to beat Paul Smith, who got a hand to the ball, but could not prevent it going in. It was that sort of afternoon for Brentford.