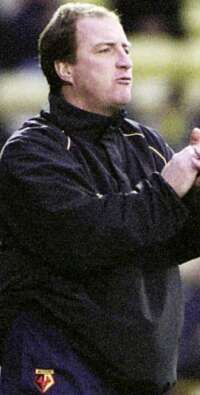 Ray Lewington at yesterday's game
The result and the performances of the teams brought differing views from the two managers with one happy with the result and the other with the performance although Stan had things to say about the referee.
Watford boss Ray Lewington was a relieved man to see his side finally get back to winning ways and said after the game,
"We did it the hard way. We dug deep and we had to because we didn't play well and it was a poor performance in many ways, but we were never lacking in spirit.
"I'm not pleased with the way they played, they made some dreadful, dreadful mistakes. I think we have got to set our standards a bit higher than that but I've said from day one that we may not be the best side but we certainly give it a go.
"We kept going, didn't drop our heads and beat a decent side. The overall picture is that we got three points from a big game.
"We sat back a little once we got the second but them having ten men sometimes goes against you. Logic tells you that it shouldn't but it is surprising how many times it does."
But Stan felt the Clarets should have won this game and was disappointed not to have done,
"I'm frustrated and disappointed not to have won this game but we created enough chances and we only have ourselves to blame. We really could have had three or four goals by half time and we had enough chances to have won the game.
"I think overall we played well and we had a good attitude and passed the ball well. I do think we were the better side on the day and it's disappointing that we have got nothing.
"Their penalty was offside, their guy was standing two yards in front of Mark McGregor who had his hands up claiming. And this is all because the linesman made a wrong decision in my opinion. It was a big turning point in the game.
"It will probably be after my time but the incompetence and lack of professionalism of referees needs to improve because they are a constant headache."