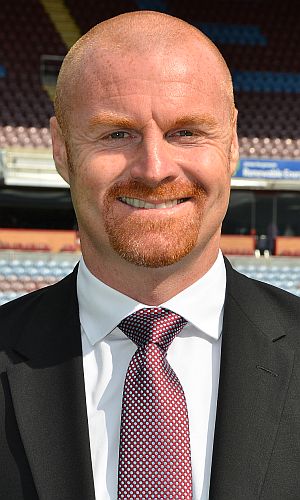 Even so, he knows it is going to be a difficult afternoon for his team and has warned his players that it will be a tough task for them.
He said: "Sometimes it is difficult to play a team that is playing for nothing in the middle of the table but this will be a tough game as Burnley are fighting to stay in the Premier League.
"It will be a difficult pitch but we need to get the three points.
"They play in a very clear way, so we don't expect them to change the way they play. They are well organised, strong, run a lot, make a lot of effort and have a very clear idea of the way that they play under their philosophy.
"It is not easy for them to stay in the Premier League, but they have to give their all and fight in every game. They know they have the possibility to stay, so we need to go and give the best to try to win the three points."
Dyche has said this week that he believes we will still be a Premier League club next season. "I've never been one to prove people wrong," he said. "It's always been about proving yourself right and how you conduct yourself.
"We have a clear way of working and wins have been hard to come by because of the jump in quality, but we think, slowly but surely, we've refocused on what the job is and I think we are now delivering good performances. I have total belief that we will be in the Premier League.
"We have had a run of games where people said we wouldn't get a point. Well, we've got four and we want more.
"I think opponents know we are willing to give everything to win a game. They know the energy and physical desire of the team and behind that, the people who are really in the know realise there is quality there.
"It makes for a good mix, but we know we need to win more games. We beat Manchester City, but we need more of that. Tottenham and Arsenal are certainly tough games, but we will be ready."
It's Tottenham before Arsenal and Dyche added: "There's eight games left and we will be playing hard in every one to get the points to remain in the Premier League. There's no slowing down in our belief, so we will be training equally as hard, if not harder on certain days, to be ready for the challenge.
"We have total belief in how the team operate and we have always been honest with the challenge ahead of us, but we think we are a good side and we had a big win against City, which is fantastic for all.
"That builds belief in the crowd and we want to get the town buzzing again. I can never define what makes the atmosphere. Sometimes you just sense it and against City you just sensed it. The crowd were massively up for it and we're going to need that, home and away.
"We need that belief and continued support because I must make it clear I've got great admiration for our supporters. I asked for them to be positive all season and they have been, so I'm proud of our supporter base and it must continue because I strongly believe it gives the players the freedom to go and play, no matter what."
He concluded: "We have a healthy group who want to keep playing. The players are in good shape and I think they are enjoying the challenge. The mental side of the game is indefinable, but I think our players have adapted to the demands of this league well.
"Earlier in the season it was all new, but as the season has gone on they get more familiar with walking into big, full stadiums and the whole feel of the media scrutiny. We have a clarity though and I'm looking for that to carry on in the next few weeks.
"The challenge is quite evident, but the fact we were written off by so many at game 10, compared to where we are now is a marker that we are in there with every chance of doing it. The challenge though is not words, it's getting points on the table."