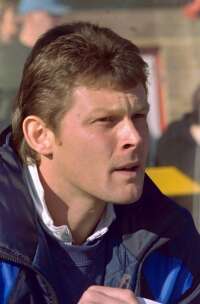 Steve Cotterill - Cheltenham manager
Cheltenham boss Steve Cotterill was obviously delighted to see them reach the 5
th
round, and an away game at West Brom. He said after the game,
"This is a very proud day, it is fantastic. Just to get into this round was an unbelievable achievement. We started well and went 2-0 up but to be honest I though we should have been ahead before then, a couple of chances went begging.
"I said on the bench that we had to score while we were on top and we did finally get the breakthrough. All credit to my players, they were great credit to the football club today. We attacked well down the left and we thought we could use Jamie Victory and get him in.
"What's happened here in the last five years has been fantastic. Cheltenham Town in the fifth round of the FA Cup, fantastic. If we played Burnley ten times we would lose nine of them so it was just great that today was the tenth one."
Russell Milton who starred for the home side and scored the first goal from the free kick added, "We have been waiting for a free kick in that position for more than 12 months. It is something we have worked on in training and as soon as we got it I knew what I wanted to do. To beat a club like Burnley is brilliant for us. Steve Book made some good saves but I thought we defended well."
I don't seem to remember the Cheltenham keeper having to make great saves although I do remember him getting down to one Gareth Taylor effort in the second half.
Stan was not happy and to be honest could anyone have expected him to be? After the game he was very critiical of his players,
"It's a very disappointing day, a very disappointing performance. We had far too many players who didn't perform today and Cheltenham fully deserved to go through to the next round. We make no excuses, we were miles away from where we should have been. We got exactly what we deserved for the second week running.
"It is not just losing, it is how you lose. Today I felt a lot of players were found wanting when it came to battling and scrapping and earning the right to play. If we play to the standard we are capable of we are a match for anyone. When we play like we have today, that is not good enough."
"We have 18 League games to play and, if we play like that, we're going nowhere so we have to sort it out. We got what we deserved, just like last week. It's down to attitude, endeavour, will, desire and if you don't have them, that's what happens."
Obviously the National press have focussed on one of the newest clubs in the Football League reaching the 5th round for the first time and we couldn't expect any one of them to give us any credit on this occasion.
Cheltenham make the most of a Greek tragedy
Matthew Hancock at Whaddon Road (Guardian)
It was already the biggest day in Cheltenham Town's Cup history, and that was before they put on an astonishing show to see off a side 52 places above them in the league and pushing for the Premiership.
At the final whistle Cheltenham's players sank to their knees with relief while Burnley, who have already been knocked out of the Worthington Cup by Rushden this season, slunk away cursing lessons not learnt about passion and determination.
A first ever fourth-round appearance had stirred the locals in this charming spa town more used to thundering hooves than thunderous volleys. More than 7,000 turned out to see for themselves as Russell Milton and Julian Alsop gave them a handy lead and, by defending doggedly, Cheltenham never needed to look back.
They had enjoyed a spot of luck after only 16 minutes when Burnley's goalkeeper Nik Michopoulos, a former Greece international, tore a calf muscle in gathering a shot from Milton and dolefully limped off. A Greek tragedy of sorts, though striding on in his place was Luigi Cennamo, one of the quirky characters the FA Cup adores - born in Munich to an Italian father and a Greek mother and plying his trade in Lancashire. Usually that's a cue for a fairytale, but yesterday he was outfoxed twice in quick succession.
Milton teased him with a clever low free-kick from outside the area that swished past the wall and out of reach at the near post. The buzz around Whaddon Road hit another level when Alsop headed in Milton's left-wing cross five minutes later.
Almost immediately Alan Moore deflated a little of the excitement by puncturing Cheltenham's defence and setting the tie back on edge. Alsop, Cheltenham's man mountain of a centre-forward who thinks nothing of dropping back into defence with a helping head where needed, might have added his second when Cennamo fumbled a cross at his feet only to gather it in the nick of time.
You wondered if it was Burnley's day when, after the break, Kevin Ball missed a gaping goal and Gareth Taylor, in space in the area, sent his effort drifting wide. By the end Cheltenham were content to hit and chase.
"To get into the last round was an unbelievable achievement for this club, but to get through again - it's a dream really," their manager Steve Cotterill said. "They put us under a fair bit of pressure in the latter part of the game and my heart stopped when five minutes' extra-time went up. But we suffered it and weathered the storm."
Stan Ternent, by contrast, stood head bowed, arms folded. "We got what we deserved," he said. "Sometimes it comes down to endeavour, commitment and will to win, and if you don't have those you lose."
The genteel giant-killers go simply historical
By Nicholas Spencer (Daily Telegraph)
It has taken 110 years, but Cheltenham's footballers have finally learned to stop sharing the town's reputation as a genteel weekend retreat and slay some giants. On their first appearance in the fourth round, they achieved their best FA Cup result in beating the fourth-placed side in Division One.
So, in the space of three weeks, Steve Cotterill's Third Division side have seen off as many League teams from higher divisions as in the whole of their previously undistinguished FA Cup history.
After ousting Oldham and now Burnley, the uncharted territory of the fifth round awaits, though Cotterill's chief ambition appears to be a live TV appearance after five years of evolution encompassing two promotions and an FA Umbro Trophy win.
Seven of the starting line-up are survivors from the club's days in the Conference and four have been around even longer, since Cheltenham played in the Dr Martens League.
"It's difficult to pick a highlight. I was proud leading them out at Wembley, I'm proud of how they conduct themselves in the Football League and just being part of a lucky team that has come together and where everybody at the club is very close," said the one-time Wimbledon striker.
"Cheltenhamshire", as the majority of the 7,300 crowd are fond of toasting, was put on the map when goals from a former Arsenal apprentice, Russell Milton, and journeyman striker Julian Alsop, bridged a gap of 52 League places.
They could not hold the lead and before the half-hour Alan Moore halved the deficit but Burnley, who lost to Rushden in the Worthington Cup, seldom threatened.
Their manager, Stan Ternent, criticised his players' attitude and commitment. "It's a very disappointing day," he said. "We had too many players who didn't perform and Cheltenham fully deserved to go through. We were miles away from where we should be. We have 18 League games and if we play like that, we ain't going anywhere."
Given the appalling weather, groundsman Mike Heather had prepared a wonderful playing surface but there was nothing anyone could do about a strong wind which determined that the play was predominantly at the end Burnley were defending, albeit disjointedly, in the first half.
Cheltenham's first chance for victory fell the way of left-back Jamie Victory, but his shot lacked conviction. However, fortune smiled on the home side in the 16th minute when Burnley goalkeeper Nic Micholoulos tore a calf muscle.
Burnley had little confidence in his debutant replacement, Luigi Cennamo, whose first task was to collect Milton's shot from his net. The aptly-named former English teacher, one-time team-mate of Brazil's Socrates in Hong Kong, added another line to his CV by curling a short free-kick around the wall.
The impressive Tony Naylor then found Milton, who picked out the 6ft 5in Alsop with his cross. Alsop said later: "Russell put it on a plate for me."
Alan Moore's response, a subtle finish with the outside of his left foot at the end of a slick run, promised more than Burnley were able to deliver. Their second-half pressure, which was considerable, foundered on the inspirational presence of home captain Chris Banks.
Cheltenham cash in on their moment in the limelight
By Peter Lansey (The Times)
IT MAY have taken Cheltenham Town a hundred or so years to start savouring the full delights of the glory game, but just lately they are starting to get the hang of it. A triumphant debut in the fourth round of the FA Cup yesterday, after their five-year rise from Dr Martens League also-rans to Nationwide League third division play-off contenders, was fully deserved as they outfought and out-thought Burnley.
Russell Milton, who used to play in Hong Kong with Socrates, the former Brazil captain, scored with a superb free kick and Julian Alsop, who used to play for Halesowen Town, headed home as Steve Cotterill's well-drilled team ran up a two-goal lead inside half an hour.
As the mists rolled in over the Cotswold hills overlooking the Whaddon Road ground and Alan Moore pulled a goal back, Burnley threatened to puncture the dream, but Cheltenham held on, right through the five minutes of added time, to take their place in the fifth-round.
They are the lowest-ranked side definitely through and yet, until they beat Shrewsbury Town last season and Oldham Athletic this, the Gloucestershire club had beaten only one Football League club in the Cup since their formation in 1892. Where Carlisle United, in 1933-34, had fallen, so Burnley followed.
Burnley, as a top-flight side in 1975, had succumbed to Cotterill's former club, Wimbledon, then of the Southern League, but this defeat to a side 52 league placings beneath them had Stan Ternent, their manager, questioning their attitude and their chances of sustaining a promotion challenge in the first division.
For Cheltenham, a club that had planned for a £200,000 deficit this season and has not spent more than £25,000 on a player, this victory is as important in financial terms as it is for sheer glory. "This is fantastic," Cotterill said. "It's an unbelievable achievement for the football club. The big thing is, the money for the round is massive for us. At least the directors and the chairman don't have to worry where the next penny's coming from."
The £75,000 prize-money for reaching the fifth round takes Cheltenham's Cup revenue this season close to £250,000. Landing a live television match would more than double that.
On this evidence, there would be no shortage of entertainment. Cheltenham, beaten twice in 25 games, cut swaths through a diffident Burnley defence that was further undermined when Nic Michopoulos, the goalkeeper, was substituted with a torn calf muscle. One of the first acts for Luigi Cennamo, his replacement, was to retrieve the ball from his net after a well-worked free kick culminated in Milton, once of Arsenal and South China, curving a twenty-yard drive round the wall.
It was Milton, receiving Tony Naylor's looping pass, who crossed from the left flank for Alsop, all 6ft 5in of him, to stoop and head his seventeenth goal of the season. "Russell put it on a plate and I didn't move, just put my head on it," Alsop said.
Though Cheltenham committed the cardinal sin, of allowing a team on the ropes to hit straight back when Moore cut inside from the left wing to score two minutes later, Cotterill's men had built a winning platform.
With the wind in their favour in the second period, Burnley resorted to kitchen-sink tactics, ending up in a 3-3-4 formation, but Gareth Taylor, denied by an outstanding save from Steve Book, was foiled from their clearest opening. Cheltenham deserve their place in the spotlight.