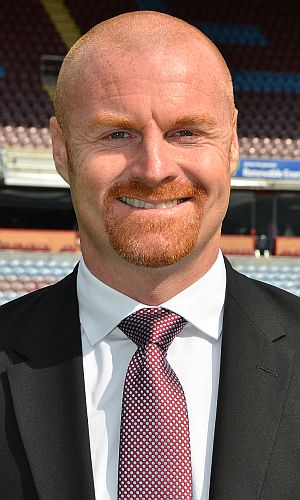 Martinez is in his second season as Everton manager and found it a bit tougher than last season when they finished fifth, but they are moving up the table after a difficult start.
Ahead of tomorrow's game, Martinez said of the Clarets: "The biggest threat that they carry is they play with a real enthusiasm and enjoyment. They see an opportunity to achieve their aim. That's the way they play.
"In their last game against Arsenal they showed that. They only lost by one goal, they had a very good draw against Spurs and they beat Manchester City, so the last few games at home they have been really strong.
"Away from home, I think they are capable of hurting any team. They were unfortunate against Southampton where they had three or four terrific chances.
"Looking at this game, it will be one which is open with both teams creating chances and it will be about who takes theirs early and gets ahead.
"The teams that are getting promoted from the Championship aren't drifting away after February as if they are not part of a competitive league. Now every team is well equipped and know how they can compete. Burnley and Leicester have shown that and that will make it a really strong fight to avoid being in the bottom three.
"I don't think there is a fear of relegation and that is a big advantage against other teams who may not quite be in the relegation zone but have something to lose."
Speaking about the Burnley boss, he added: "Sean has shown a real stubborn way of allowing his team to play football, which is a real strength when you are in that position and sometimes don't get results. You could start doubting but they have been really consistent since playing against West Brom.
"That's the most impressive aspect of Sean as a manager, he's had real clarity from the beginning and has allowed his team to go into the final six games with an opportunity to achieve his aim. They are going to put in a lot of good performances between now and the end of the season, and we need to be aware of that."
Sean Dyche said yesterday: "Our strong mentality has stayed firm all throughout the season and I'm really pleased with that. The will and desire to improve has been there all along and we've got some big results.
"Now we've got six big and important games for many different reasons to make sense of it all and deliver performances.
"My belief is absolute in this team and what it can do this season. I feel it can be in the Premier League again. I did after the first whistle, I did after game ten when everyone said we've got even less than no chance and I still do now.
"We've done a lot of work to be where we are after being written off so heavily and we're certainly in the pack. Performance wise I've been pleased. We know we have to win games of course because that's the nature of the business but there has to be a foundation there.
"We've delivered good performances against some very, very strong sides recently. Your hope and demand of the players is to take those performances into games against teams who are flying in the division. We want to put all of the things we've learned in the season so far into these last six games now."
He added: "The performances are only markers. When the whistle blows for the next one it isn't guaranteed it will be good because of your last, but they are markers that reinforce the belief in what we do as a group and how they operate and I think that is a key thing.
"I spoke to Arsène Wenger in private after last week and he was very impressed with the shape of the team, the energy and some of the quality. We have to add more than that because we have created chances and now it's like early season when we weren't scoring as freely so you have to create even better chances."