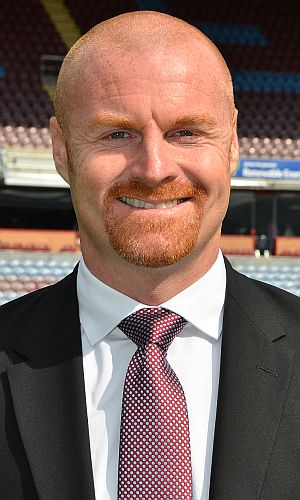 City, like Burnley, had no game last week having been eliminated from the FA Cup. "The break was very useful," Pellegrini said. "We played games without the result we wanted against Barcelona and Liverpool.
"After that we played against Leicester, when we didn't play very well but earned an important victory. After that it was a good break for the players. We worked very well and we are going to have now two weeks without a day off thinking about the games we must play.
"We must focus our minds in the game. It's important for the whole squad to approach this as a difficult game. We must not think about what happened in the past in other moments or what will happen in the future in the Champions League. It is very important for the squad to just focus our minds on one game."
Despite the recent run without a win, Dyche has said that Burnley will remain positive in their approach to games.
"There is a mindset to tactics," he said. "When people talk about 4-5-1 and the like, you still have to be productive. It's very difficult to win football matches unless you attack games and score goals. That's often your best form of defence.
"We want to be effective in attack and it stands to reason that two centre forwards gives you a better chance than one, but if we were playing 4-5-1 and not winning games, people would be saying play 4-4-2. You are damned if you do and damned if you don't.
"There is a mythical thing that we just pick the same team, but trust me we debate every team and tactic and I look at games after the event and how they stat up. I then sit and watch them again cold, with no crowd noise, or emotions to it.
"We add all that into the melting pot and the feedback from the players. We do a lot of work behind the scenes and I think people trust us on that. Not many people have questioned me directly on it, but the facts are we are looking for results in a format that we think is one that can go forwards.
"We have been close in certain games and it's come down to the details, not tactical formations. There is planning and preparation and we want a format that works, but that's not forgetting the opposition which has improved radically from last year.
"Some of these teams we are going up against, no matter what the format, it's still a big challenge because they are very powerful. I say it a lot, but we all wanted these demands and challenges. So when these games are on top of you and hard to get results from, you have to be ready.
"Manchester City are coming to Turf Moor and that's fantastic. It's all part of the package of the Premier League. Obviously this was a tough run on paper and it's proven to be that, even with good performances, but that's the challenge."
Dyche saw his side earn a point against City at the Etihad in December, coming back from 2-0 down to draw 2-2, but he warned: "It doesn't guarantee anything this time around.
"We know the spending power of these clubs and they are a highly motivated group of players still in the hunt for the league and right up there with a fantastic manager, so it's obviously a big challenge.
"They have a big came coming up on Wednesday (they face Barcelona in the Champions League), but they are a very talented group, so I don't over think their challenge. I think more about ours."